'Prime Time Crime' by Vrushali Telang is a Crime fiction, set in the year 1999 in Mumbai (then Bombay) – the land of Mafias. This is a story of an ambitious Journalist Ritika Khanolker and a Mafia Gangster.
A.T. Ritika Khanolker is a media intern in City News – a local cable news station. She's young and ambitious and wants to be on top of the Journalism world. She is waiting for her big break. And she finds one in A.T. She gets to meet A.T. for the first time during a court case.
A.T. is a top-notch Sharp Shooter in Khalif Ahmed's Gang. He is manipulative and a smooth-talker. He uses Ritika for a perfect kill of the rival Gang Leader Usmaan. The only thing A.T. hates is dying a slow death.
Because when death comes knocking, it better be quick, over and done with.
Both fall in for each other, or is it just a farce? Their toxic relationship is full of lies, death, deception, and manipulation
What did I like about the book?
The author has done excellent and thorough research for the story. It has a very filmyish essence to it, which I really enjoyed and it kept me hooked till the end. The plot is very refreshing to my palate and a bit different from the recent books I have read of Indian authors so far. The end was very unexpected and totally gave the book a boost on the 'Good books that I read list'. The language is very smooth and easy to understand. Characters are well carved and each has a distinct personality in the story.
What I didn't like?
The story was a bit dragging. And I felt that a little spark of chemistry was missing between A.T. and Ritka.
Do I recommend it?
YES! I recommend this book to every Crime fiction lover.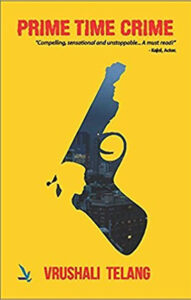 About the AuthorVrushali Telang
From reporting with NDTV and CNBC-TV18, producing shows for MTV, Writing a column for Marie Claire India to screenwriting for indie features-Vrushali Telang in on a joyride. She is writing novels these days and lives in Mumbai with one daughter and husband. Prime Time Crime is her 3rd novel.
.   .   .   .   .
Hope you loved the review and if you did, then do give it a share. Also, do let us know in the comments below about the best crime fiction novel you've ever read.