With the festive season around the corner, join us as we list down some of the best Navratri Vrat recipes that you can prepare and enjoy during the festive season.
So, finally, Navratri is around the corner and I cannot keep calm this year guys. Post-Covid this is the first year when we will finally get to do away with the "non-celebratory" mode and sway to our heart's content like before. Agreed, we cannot let our guard down this year too, yet, things have never been so hopeful as this year when we are finally turning our backs on the pandemic. getting on with our normal course of life.
Let me share an interesting tidbit with you before we proceed to mouth-watering essentials(ya, what else would you call those when all the Navratri fasting dishes do are fill you up with goodness and health too, not to forget how yummy they are. Sigh, drooling already !!)
So, whilst Navratri is celebrated twice a year, once in March-April and the other in September-October, the first one is also known as Vasantha Navratri and the second one is called Sharadha Navratri. In south India, the latter celebrates the victory of Shakti aka Durga over the demon Mahishasura whilst North India observes it as a victory of Rama over Ravana. Clearly, the victory of good over evil in both cases.
Fasting
So, fasting which is a great way to cleanse one's body and also tone down the harsh aspects of one's soul, if not done correctly can also lead to fatigue as well as irritability. And what's more, this is not a single-day, one-off rather it is a 9-day long affair. So, what do we do?
Fortunately, there are many recipes which are not only tasty, and healthy but which will fill you up properly, supplying the required energy and nutrition to your body and also helping you stick to your religious guidelines. So, I thought let me first get together a little list of the foods you must avoid during Navratri fasting. Anyways, they also happen to be those which are not allowed to be consumed during this fast:
Wheat flour, Jowar, Besan, Rice Flour and almost all types of other flours.
Pulses, Lentils and Dals.
All green leafy vegetables except mint and coriander. Albeit many prefer to avoid those as well.
With the exception of a chosen few, the majority of the vegetables we have every day.
What foods are allowed/preferred during Navratri?
Rajgiri/ Arrowroot flour
Buckwheat/Water chestnut flour (Singhade ka atta)
Sanwa Millet
Sabudana in any form
Sweet Potato/Potato/Purple Yam. Some people have carrots and bottled gourd too, albeit the majority avoid them. Likewise, mint and coriander too are a matter of inclusion depending on one's choice.
All fruits.
Dry fruits like almonds, cashews, etc. Some people eat coconut too, in barfi form albeit again majority avoid it.
Sendha Namak is used in food instead of regular salt.
Milk and milk products like Curd, Mawa, and paneer too albeit the majority avoid these too.
So, now looking at the list I am sure you will agree that a host of items can be made to help you stay up and about your work during the fasting period. So, here are some of the best Navratri fasting dishes that you can prepare and enjoy during the festive season:
Sabudana Vada
One of the most traditional fasting snacks, this one which hails originally from Maharashtra is popular throughout. The crunchy peanuts used in the vada add to the taste as well as the nutritional value of this deep-fried food. To prepare this one, all you need is 3-4 hours of soaking the Sabudana and using it to mix it with boiled potatoes, Sendha Namak, Peanuts, a bit of black pepper or green chilli whichever you deem fit as per your religious setup and you are good to go with an amazing snack.
Farali Dosa
Replacing rice and urad dal with Rajgira atta and Sanwa millets and mixing the two in sour buttermilk for 2 hours and then fermenting it for 8 hours can help you get the batter ready for the Farali Dosa, a popular form of Dosa in South India. Alongwith being tasty, this one is healthy too. You can make this one a complete meal by serving a peanut and curd chutney alongside.
Kand Puri
A crisp yet soft, savoury Mathhi, this one is a mouth-watering option both to satiate your hunger as well as add a bit of flavour to the element of fasting. Albeit remember, rolling these requires a little patience. Also, do remember, owing to the absence of flour they have to be served as soon as cooked and not stored. Purple yam is used to make them. You can also finely slice the kand to make deep-fried or air-fried Kand wafers.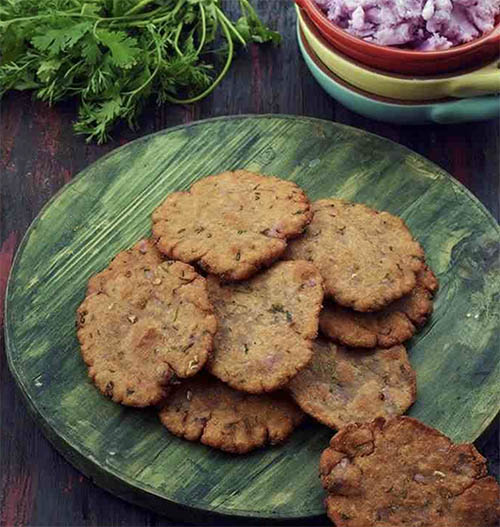 Farali Pattice
Made with potatoes and arrowroot flour, this one is stuffed with coconut and sometimes dry fruit and finally deep fried for the best-desired effect. A universal favourite with young and old alike, this one again is a hot favourite for fasting in the majority of households. Senior citizens favour this over Sabudana vada too.
Sabudana Khichdi
Ok, this one is a universally accepted fasting dish. Be it Navratri or even any other fast, these little white-colored balls are full of nutrition as well as a healthy way to keep yourself fuller and active too, during the fast. This dish also forms a part of one of the most popular Maharashtrian street foods. You can substitute the Sabudana with Sama too, another great substitute for grain-based khichdi.
Rasewale Alu
Whilst many prefer the dry version made as a dry side dish with minimum tempering, I usually prefer this one as it tends to keep me fuller for longer. Made by simmering a curd-based gravy, you can alternatively also make this without curd by thickening the gravy by adding some Rajgiri flour slurry to the vegetable. Add some purple yam to the potatoes too, for a brilliant combo. This one pair very well with Rajgira flour puris. ( Psst, a secret tip here. Add some banana to the puri batter and you shall have an amazing texture of the puris to the club with the Alu!) Alternatively, you can also skip the Alu and stick to a regular Kadhi instead with the only difference between the regular and this one being instead of Besan, Rajgira flour is used to thicken it and basic tempering is used alongwith Sendha salt.
Kesar Elaichi Shrikhand
Saffron added to this one accentuates the taste of its manifold along with cardamom. You can also substitute this one with the famous Mango shrikhand or Aamrakhand as it is fondly called to keep you satiated as well as fuller throughout the day.
Sweet Potato (Shakarkand) ka halwa
Super-fast sweet meat for Navratri, Elaichi and saffron too used in this one as well as the nuts used for garnishing make this super delicious and healthy recipe an instant hit with young as well as old alike. The challenge? Well, you have to serve it as soon as it is prepared as it turns dry very soon.
Dry Fruit Milkshake
Want to fast without any of the above and yet remain full throughout the day? Simple, have this amazing milk shake made by adding dates as well as nuts and dry fruits to milk. Have it hot or cold as per your preference. Healthy and yet rich too!
Gujarati Piyush
A popular Gujarati as well as Maharashtrian drink, this one is prepared by mixing plain buttermilk, whole milk as well as flavoured shrikhand together. A drink which is healthy, as well as taste, rolled in one, this is a very popular drink served during all festive occasions.
So, hope you are drooling already. If not, you will soon indeed. In the meantime, stay tuned with us right here at Booxoul, India's best book review and lifestyle blog for more exciting stuff coming up this festive season.
In the meantime join me and say Jai Mata Di!