Karan Johar's Bollywood film K3G aka Kabhi Khushi Kabhi Gham is a perfect example of fine, exemplary cinema – which is the perfect blend of emotion meets family drama meets romance. A blockbuster of its time, here are 5 iconic moments from K3G depicting why we love it even today, after 21 years
A perfect example of fine, exemplary cinema –Karan Johar's Kabhi Khushi Kabhie Gham is a Bollywood film which is the perfect blend of emotion meets family drama meets romance. A blockbuster of its time, here are 5 iconic moments from K3G depicting why we love it even today, after 21 years
The movie opens with a cricket match, a hot-looking hunk, uff. throwing a full toss to another hot hunk(correction Greek God). What follows forms the first scene and also marks the entry of Hrithik Roshan aka Rohan, a lady charmer with those drop-dead good looks and green eyes, those chiselled muscles and oomph (loads of it). I tell you, peeps I might have skipped a heartbeat or possibly a dozen, don't know but this guy has always been my heartthrob (no seriously, I am prejudiced for him, like crazy). One of Bollywood's biggest heartthrobs, Hrithik has been my fav for ages. Sorry, got off the point, ain't I?
Well, coming back to this Bollywood film, K3G has been an example of some extremely fine cinema created over a long, long time. Not only the characters, the actors, the story and the music, but Karan had also ensured that this timeless exemplary work of cinema is nothing short of par excellence in every aspect. I mean come on guys, be it Kajol's Chandni Chowk look, Jaya Bachchan's regal, ethereal one, Amitabh Bachchan at his stellar best(hardly a surprise, he is the king I mean), Shahrukh in one of the best roles of his life, The lovely Poo(Wolf Whistles, ermmm) and the cutie Duggu aka Hrithik ( see, I am prejudiced I told you) in a brilliant role, Karan got the equation perfectly balanced.
You know I always feel that we need a movie like DDLJ, Hum Apke Hai Koun, Kuch Kuch Hota Hai, Chandini, and Lamhe every few years. Reason? Arey bhai, we need PDA and love too in our lives and it is only the pinnacles of the industry like Yash Chopra, Yash Johar, Sooraj Barjatya and such others who have ensured that we keep getting our dose of this love. Love for me least has always been chiffon sarees, Swiss mountains and romancing your heart out there courtesy of Chopra Saab. Yes, love as emotion itself has been immortalized and iconized thanks to him.
Coming to the 2000s, after the phenomenal success of Kuch Kuch Hota Hai by Dharma Productions, when Karan Johar decided to make this cinematic venture, he knew that this was surely going to be no mean feat. Having cast some of the biggest artists from the industry, he surely had a host of challenges trying to establish as well as maintain the perfect equilibrium between them. And yet, never have I ever seen such perfect chemistry, such brilliant camaraderie, such amazing rendezvous amongst actors ever. A movie I shall cherish for a lifetime, today let me give you all 5 iconic moments from K3g depicting why we love it even today, after 21 years to its release:
1. The Chopper Scene
Oh, yes isn't that one a unanimous favourite you peeps? A visibly younger Shahrukh stepping off the whirlybird, casting aside those killer shades is like Mmmm. And when Jaya Bachchan realizes he has arrived? "Hey, Maa, tumhe hamesha kaise pata chal jaata hai..?" is like every mom ever isn't it? I, every time can virtually like feel the adrenaline pump whenever he runs from the chopper towards his destination. And that song, one of the best ones I feel, sung by the ever Eternal Lata Didi.
2. Tum Mere Bete Nahi Ho:
The scene where Amitabh tells Shahrukh that he is not his son was earth-shattering. What ensues is some of the most beautiful emotional moments I have experienced in one single frame. Jaya ji was amazing hands down, Shahrukh was exemplary and Kajol too was innocuously best at her naivety. Uff, I love this one!
3. Sonia Ka Bhai Aaya Hai:
When Hrithik enters Rahul's household right after Poo informs them of his arrival was like literal goosebumps to my soul. Imagine the deep chasm of pain in Rohan's heart whilst meeting his estranged brother after 10 solid years, uff Maar Daala! Hrithik was mute but those eyes, man, they were killing. The emotion was so palpable and raw, I dare you to be able to have a dry eye in this one, you guys.
4. Tum Itne Patle Kaise Ho Gaye?":
Another iconic scene, shared by the 2 most stellar actors of Bollywood. It was a mellowing experience of sorts, seeing this 2 dissolve into pools of emotion. And the way Shahrukh snubs Hrithik on lying is like literally every big bro. Mush! I, for a fact, have really enjoyed the camaraderie between the two in each and every frame they share throughout the movie.
5. Mera Pati, Pati Parmeshwar Nahi Keh diya na, bas, keh diya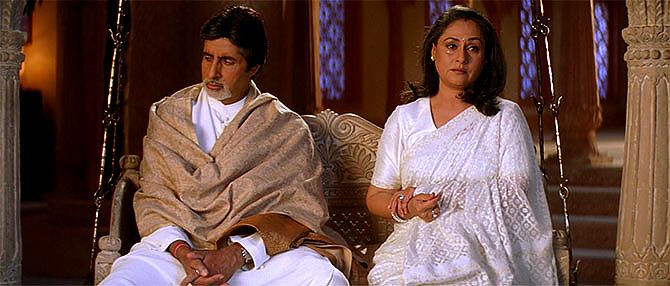 Man, this one was a bomber! The way Jaya Bachchan has acted in this one, one word for an it-standing ovation for her! I could sense the raw enigma radiating from her and the broken mother inside her crying for the heavens and yet symbolizing a strange, sort of power.
Also, did you know an interesting fact?
Karan actually fainted after shooting the shot where all 6 characters come together in the song "Le Ja, Le ja". He said in an interview that "Most memorable song of my career! My first working opportunity with the legend @SrBachchan and the coming together of such an incredible talent! @iamsrk @Hrithik @Kajol and @Jayabachchan #bebo choreographed by the one and only @TheFarahKhan." (he was super nervous guys!)
Waise, there are many other iconic moments in the movie. Be it the scene where Amitabh slaps Hrithik when the latter tells him Aap Bhaiyya se bahut pyaar karte hain or when Shahrukh tells Anjali Kaun Ashfaaq Miya, or when Hrithik says tumne dono pairon mein galat jutte pehne hain or several others, but these were 5 of the most iconic ones from my favourites.
Hope you guys liked my article about why we still love the Bollywood Film K3G aka Kabhi Khushi Kabhie Gham by Karan Johar after 21 years.
Stay tuned with us right here at Booxoul for the best in the field of entertainment, lifestyle, travel, tech and gadgets, fun, finance, fashion, education and much more.
Ciao Peeps!