Book Review of Manwaan-The Awakening by Abhishek Krishnan
Imagine fighting anxiety issues on one hand, being full of consciousness and self-doubt, and then discovering that you have been brought to this life for a reason and your purpose is much higher than you can even begin to comprehend on the other. Sounds paradoxical, right? Well, a fabulously crafted modern-day mythological thriller, Manwaan-The Awakening by Abhishek Krishnan, is your next perfect serial mythological thriller, for sure.
You know I am perhaps one of those few voracious readers who really enjoy her way around reading mythological fiction, especially one that is created with a twist, incorporating all exciting elements such as creating superlative, out-of-the-box characters, phenomenal world-building, larger-than-life premises, a fantastical plot conceptuality, and such other exciting facets. In fact, I have always maintained that such books, especially those that are written in parts and serialised, actually give the readers a chance to be a part of a world that, although fictitious, is something they love to explore and have a rendezvous with, even though it may be virtual.
So, in case you guys are wondering which book has caused me to appear in front of you guys today in such a flurry of excitement, well, Manwaan-The Awakening by Abhishek Krishnan is a work of mythological fiction, more along the lines of a fusion incorporating ideas of a battle between the good and the evil, written in a refreshing new voice.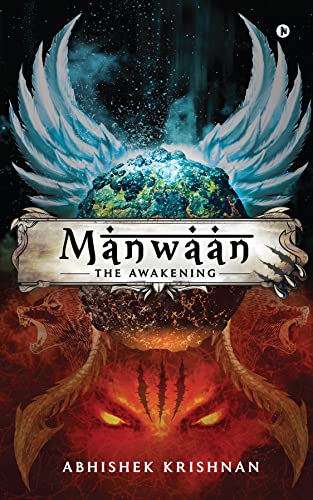 Written by Abhishek Krishnan, who is an actor, producer, and director of motion pictures himself, this sensational book, which is the first in the series, has a plot that mainly revolves around establishing the ideologies and the world-building as far as this one goes. As the story begins, the readers are introduced to the fantastic idea of the Gateway of Hell being opened and also the possibility that there are Gods and Angels as well as Asuras and Rakshasas who actually exist and are in a battle against each other. As the Gods try to win this war, they begin creating their own army of Manwaans, a cross between half-human and half-celestial warriors. It becomes evident that there is more to this face-off than just a battle of wills and power. While this one, which is the first part in the series, primarily focuses on how Rinad, who BTW is a Manwaan, finds his purpose, navigating chaos along the way, and whether he can balance his own inner chaos and turmoil and concentrate on stepping up well to his duties to help defeat the Asuras, that is something that you have to read further to find out.
Coming to the language and writing, there is simply no doubt that this is a fabulous piece of writing where each and every element -be it the gait, world-building, characterization, plot direction, or the core idea—has been given proper attention and executed in the finest possible manner. Having been written in such a manner that it is actually carved into one's thought process, Abhishek has pulled off an excellent piece of work.
As far as the descriptions are concerned, a crisp writing style along with a pictorial depiction of each and every frame make this book an excellent read. Fast-paced and action-packed, this one keeps up to the pace as the plot hurtles along, ensuring that not only are we updated on what is happening as far as the main plot goes, but the current scene is given equal weightage too. For instance, the fact that Rinad is still being brought to terms with the fact that he is a Manwaan by Guruji in this one nevertheless in no way slackens the speed of the main plot where all the Asuras are plotting and working towards total destruction and overtaking humanity, which is something that Rinad, being a Manwaan, has to stop at all costs. Rinad's character for me was very well created, relatable, and most importantly, believable, since usually in sci-fi mythological fiction of this sort, often the characterization comes across as so over-fictitious that the writer many times tends to lose out on the kind of idea and person he has been trying to put across. Fortunately, here, Abhishek has created a brilliant character, and that too in a modern-day setting, which makes for an interesting and indulging read, I feel.
With the plot revolving around good and evil, the level of complexity imparted to the narrative is intriguing as well as exciting, and this first part in the series, having been written fabulously, works merely as a cursor towards whetting the appetite for reading the further course of the story. Hopefully, the next one in the series will be out sooner than I can ask for. Till that time, go for this great work of mythological fiction if you enjoy reading mythology with a good fusion of sci-fi too.
So, I hope you guys liked my thoughts on this one. Stay tuned with us right here at Booxoul for the best in the fields of entertainment, lifestyle, food, fun, finance, education, fashion, tech, and gadgets, as well as all things bookish.
Adios Amigos!