Everyone deserves a good night's sleep after a long and tiring day. An excellent and cool room, a soft bed, cozy blankets, dim lights, and soothing music are just the things one needs for a sound sleep. But other than that, what you wear at night also greatly impacts the kind of sleep you achieve.
Wearing tight clothes such as jeans and full-sleeved T-shirts or dresses is not the right choice of clothes to wear to bed. These clothes restrict your movement in bed and hinder your sleep, thus ruining your total quality of sleep. If you want to make sure you slip into a sound slumber, you must wear the right women's night suits to bed.
There are many women's night suits available on the market, but most of them are made of synthetic fabric, which is not appropriate for bedtime. Cotton is the most comfortable fabric that you can choose because it is adaptable to changing temperatures. In the summer, cotton will keep you nice and cool, while in the winter, it will prove to be a warm insulator.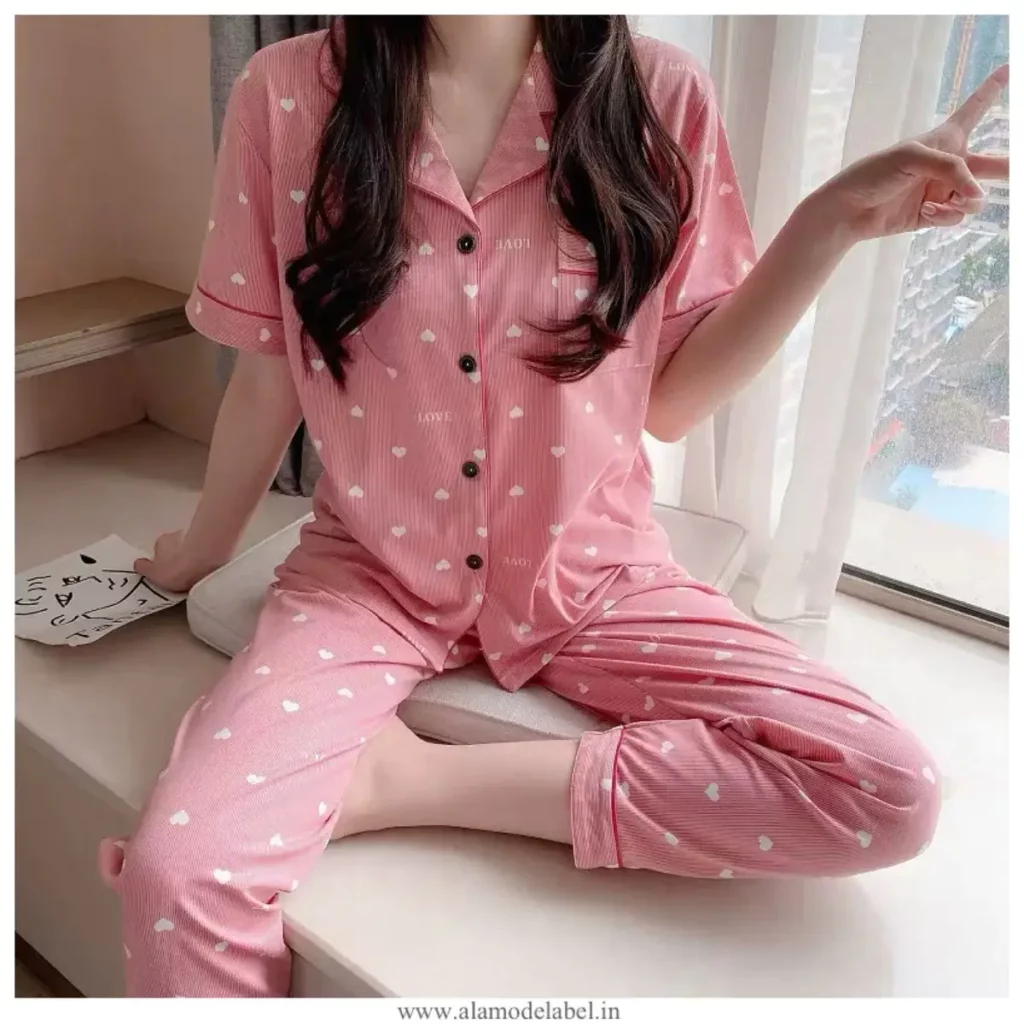 Cotton embroidered nightsuits
The cotton embroidered night suit is one of the best-selling nightwear items. This exclusive nightwear features an embroidered cotton top and a matching pyjama to go with it. Colours such as light blue, light pink, and light peach are soothing to the eyes, and let's not forget the kind of comfort they offer.
Luxury loungewear set
If you want to keep things heated in your bedroom, you can shop for their luxury loungewear set, which features five outfits in one. Whether you want to look sizzling in a babydoll, keep it cosy in a robe, or be comfortable in a slip-and-shorts set, and a pyjama too, this satin loungewear set screams 'luxury'.
Cartoon-printed night sets
Keep it chic and comfy during the nights by getting yourself cosy nightwear featuring a cartoon-printed T-shirt and matching shorts to go with it. This nightwear is a perfect choice during the summer.
Luxury satin nightsuit
A nightsuit doesn't have to be boring. This luxury satin nightsuit lets you turn your nights into a sexy affair. Wear this satin shirt featuring feather details around the cuffs with matching pyjamas, to enjoy a cosy night in with your beau where you both can 'Netflix and Chill'.
Fleece nightsuits
When a blanket isn't enough to keep you warm during the chilly winter nights, you can get cosy in a pair of fleece night suits. This fleece night set available in two different shades of nude features a crew neck T-shirt with a cute teddy detail on the top and matching pyjamas.
If you are looking for the perfect women's night suits, you can shop online at a la mode, where you will be amazed to see the vast collection of night suits they have. These night suits are totally within your budget, so whether you are someone who likes to keep it simple, wants to get the girl-next-door vibe, or wants to keep it hot and sexy, shop from a la mode's exciting range of nightwear.
I hope you liked my article on Check Out These Comfy Women's Night Suits for a Relaxed Evening
Stay connected with us at Booxoul as we continue to bring you the latest and greatest in entertainment, lifestyle, food, fun, finance, fashion, education, tech, gadgets, and everything bookish. Our dedicated team is committed to providing you with insightful content, exciting updates, and engaging experiences.

So, keep your bookmark locked on Booxoul and be ready to immerse yourself in a world of captivating stories, informative articles, and valuable insights. We've got you covered across a wide range of interests, ensuring there's something for everyone.

Thank you for joining us on this journey, and we look forward to sharing many more incredible moments with you. Adios Amigos!