Ganesh Chaturthi is a lavish celebration in which special food is prepared for bhog. But what comes to your mind first when I say Bhog? I know what you're thinking: a smorgasbord of the most delectable, mouth-watering Modaks. But, you know, you can make a lot more than Modak, so here's a quick list of some Bhog dishes to try during Ganesh Chaturthi 2022.
So, Ganpati Bappa is coming finally! With all gusto and a riot of colours, say hello to one of the most awaited as well as celebrated times of the year. With the festival of Ganesh Chaturthi just around the corner, there is enthusiasm as well as excitement this year along with a warm fuzzy feeling of sorts (hey the previous two years did not let us experience this, courtesy of COVID lockdown and restrictions). I know we still have to be on guard with the pandemic not having gone away completely.
Oh, how I missed the decorations, the exquisite pandals, the scrumptious food, the talks and the laughter, the prayers we used to have together, singing at the top of our voices. COVID surely took a lot from our lives huh?
And yet I cannot help but feel all smiles and glow as my dearest Elephant headed darling deity prepares to visit our homes in an 11-day long celebration of offering our prayers to that who signifies the "Aarambh" aka the start of all good things in life.
So, today I thought let me also start the series of festive blogs by giving you guys the most important list of the festive season aka the bhog dishes one simply cannot miss out on.
Ok, I know you will be like Bhog. Well, Bhog is the Naivedya aka the food you make and virtually offer to the Lord as you prepare to welcome him to your homes these 11 days of the Ganesh Utsav. Nqaivedya or the ritual of offering delicious, scrumptious and delectable foodstuffs to the deity is an indispensable part of the celebration.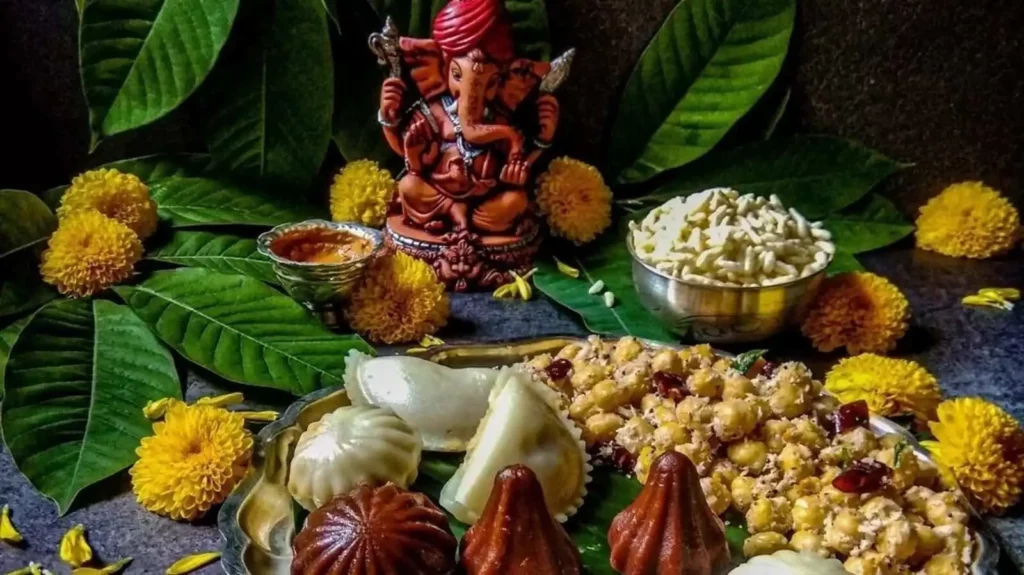 So, here you are. Straight into the list giving you some of the most mouth-watering Bhog dishes, one cannot miss out on this Ganesh Chaturthi:
Modak
Did you know the reason why Ganesha also being known as Modakpriya? Well, it is a popular belief that Modak which is a sweet dumpling made from flour, jaggery, coconut and also in many other variants is one of Ganesha's favourite sweets and hence has to form a "compulsory" part of the Bhog.
Moving away from the more conservative variety, there are several other variants including Ukadiche Modak, Chocolate or Dry Fruit Modak, Ragi Modak, Kesar Mawa Modak, and Bamboo Rice Modak (yeah this is a novel one huh) which you can plan and prepare.
Laddus
Hmm, Ganesh Utsav and Motichoor laddoos go hand in hand. I mean it is simply a match made by the Lord himself. You can actually spot a Modak or laddoo in the hands of every idol you lay your eyes on. Albeit people have also started drifting away from the usual Motichoor Laddus to Dry Fruit, Besan. Choco Sago. Coconut and many other healthier variants. These tiny balls of happiness are not only soothing to the Lord but to his devotees too(hehe).
Gujiyas
Also known as Karanji, one bite of this is enough to satisfy the taste buds of all those who have a sweet tooth. Preferably served hot, these can either be made with all-purpose flour aka maida or suji with a crushed dry fruit filling, jaggery and khoya. A universal favourite, this one has its roots in tradition too and is an important Bhog item.
Shrikhand
A sweet dish prepared from sweet fermented curd and crushed dried fruits, adding a dash of cardamom and saffron, this is one of the most delectable sweet offerings one can possibly offer the elephant god, I say. Nothing beats the blues of hunger and exhaustion during the long festive hours as great as a bowl of Shrikhand. It is one of the most traditional offerings too, having been offered for a long time.
Puran Poli
A sweet chana dal roti made with jaggery stuffing, coconut, butter, cardamom and ghee or butter, this one is an utterly delicious one and is a major Bhog dish. This melt-in-the-mouth Poli is surely the dream of many including the revered Ganesha. The best part about this one is that it requires minimum ingredients and in spite of that it can be made wholesome as well as mouth-watering.
Apart from these, there is also Kice kheer, Pedas, Malai Barfi, Gulab Jamuns, Sandesh, Rasgullas as well as a host of other sweets which form a part of these special festive days.
So, these were some of the most popular Bhog dishes one cannot miss out on during the festival of Ganesh Chaturthi.
Stay tuned with us right here at Booxoul for more exciting stuff coming up every day this season of Ganesh Chaturthi 2022 alongside the best in the field of entertainment, lifestyle, travel, food, finance, fashion, tech and gadgets as well as all things bookish. Only here at Booxoul, India's best book review and lifestyle blog.
Ciao and join me in saying Ganpati Bappa Morya! Laddu Peda Khau ya!!