The Inspiring Journey of MasterChef Judge Vikas Khanna
Michelin Star Chef Vikas Khanna is unquestionably the best chef in the country today, and he does not need any introduction.
One of the most versatile personalities in the culinary industry, with a portfolio that is matched by few, was hosted last week by author Chetan Bhagat at ABP's "Ideas of India" event. At this event, Vikas reminisced about how his passion for this industry blossomed from being a small-town boy in Amritsar to owning and operating multiple restaurant chains around the world. Attributing his better understanding of food to the magnitude and scale of the Golden Temple, he shares how people from all walks of life come and sit together and have food all at once.
Sharing his experience of feeding Prime Minister Narendra Modi, MasterChef Judge Vikas Khanna shares about how, when the Prime Minister was throwing a dinner party at the Waldorf Astoria in New York for some of the most powerful CEOs during the UN General Assembly, being in command was an amazing experience.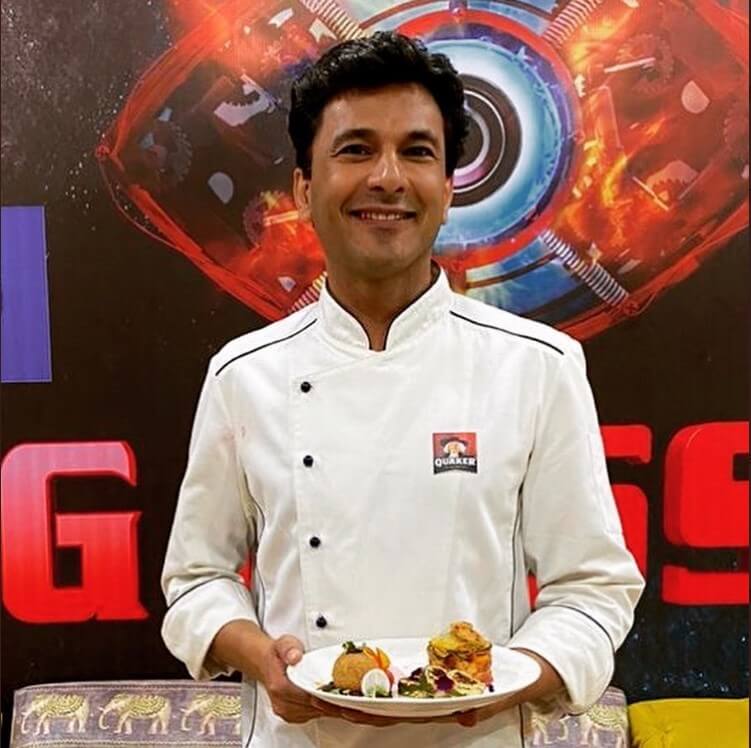 From Rs 10 to a Michelin Star Chef, having prepared one of the most expensive meals, namely, 39000 dollars per person, Vikas candidly states, "When you work internationally, you are judged by your origin, colour, and background," referring to his difficulties at the time. This aspect, which has been one of the driving forces pushing him and his efforts over the edge and compelling him to perform nothing less than par excellence, has led him to become an acclaimed Michelin-star holder and one of the most celebrated chefs across the globe. From Deutsche Welle naming him one of the world's 10 most iconic chefs to having been featured at Gordon Ramsay's Kitchen Nightmares and Hell's Kitchen, The Martha Stewart Show, Throwdown with Bobby Flay, and Masterchef Australia, this handsome chef has many feathers in his distinguished cap.
Although, I must confess, his journey is nothing shorty of phenomenal, I'd say. Born with misaligned legs , he was told by doctors that he would not be able to walk without special shoes. Called the club foot, he would have to wear the wooden shoes growing up. This deformity led him to even face ridicule and jabs from his peers. Vikas, who often sought refuge in the kitchen with his biji(grandmother), found comfort in cooking. His biji encouraged him to learn the art of cooking. Starting with selling chole-bhature with his mother to schools in his locality, he even got to selling hand knitted sweaters to start his catering business at the age of 17.
Coming a long way, this brave heart saw humble beginnings in the streets of Amritsar, moved on to catering business and eventually thanks to his uncle who took him to Maurya Sheraton Delhi for dinner, he got to get a taste of life beyond his catering business. Proceeding to learning hotel management, he moved on to work at The Leela in Mumbai and eventually after his catering business being shut by cops, went ahead to the USA where after herculean drive, persistent hard work and dedication, he finally opened his first restaurant Junoon in 2010.
His journey to success which is straight as if from a movie, he then proceeded also to start his own takeaway business called Tandoor Palace near Wall Street , New York, selling affordable Indian meals to professionals. Here, he was noticed by a producer from Kitchen Nightmares who was looking out for an Indian chef. This was his ticket to foray into television and appear on many TV shows like Masterchef Australia, Hell's Kitchen, Throwdown with Bobby Flay, The Martha Stewart Show and many others.
Coming back to the current season of Master Chef India, while taste, innovation, and presentation are the threefold parameters upon which the contestants are being judged and assessed, the season has its usual exuberance and dose of charm unlimited courtesy of Vikas Khanna (of course), as well as Michelin-star chefs Garima Arora and Ranveer Brar. In this season too, Vikas created a sensation by bringing a young home cook, Nayanjyoti, aka @thetravellercook, all the way from Assam, having discovered him on Instagram, as well as Baa, the 78-year-old chef who is already a rage on Youtube, thanks to her culinary skills. Sharing their inspiring stories, having travelled thousands of kilometres simply to discover and bring hidden talent onto a platform where it is properly acknowledged and celebrated, now that is what we feel makes Vikas such a great personality as well as a great human being.
Although the judges have recently faced backlash for favouring contestant Aruna in one of the episodes, allowing her to cook with paneer instead of meat due to her Jain heritage, netizens were outraged that when Baa, a Gujarati, was told to work with eggs and step out of her comfort zone, or Priya, the vegan champ, who was also being compelled to do so, no leverage was given in their cases. Well, that said, one still cannot deny the fact that Masterchef India season 7 continues to be one of the most watched shows around today, and Vikas Khanna, along with the other celebrity judges, is undoubtedly one person whose presence we have come to celebrate, acknowledge, and accept in our kitchens as well as our drawing rooms through our TV as well as our lives. Three cheers to this man who has brought India to the world map, celebrating Indian cuisine as well as the nationality of our country. Not to forget , he is also a best selling Author of over 30 books including Utsav , the most expensive cook book in the world whose copies have been gifted to major leaders of the World like PM Modi, Barack Obama and Amitabh Bachchan. Also a gifted film maker and producer of multiple documentaries, his works have been screened at the Cannes Festival , with his debut film "The Last Color" also being listed for the Oscars.
Kudos!
So, I hope you guys liked our thoughts on "The Inspiring Journey of MasterChef Judge Vikas Khanna: From Small-Town Boy to Michelin Star Chef."
Stay tuned with us right here at Booxoul for the best in the fields of entertainment, lifestyle, food, fun, finance, fashion, education, tech, and gadgets, as well as all things bookish.
Ciao Peeps!