A mystery or a Myscovery aka mystery with a bit of self-discovery? Well, Alex Nero's latest thriller Buried Under the Mist is a quest that not only paves the way for a thriller but also a tale of the discovery of one's self which we surreptitiously tend to ignore many a time.
A company is something that can actually make or break a person. It is up to him to see if he perishes or decides to thrive under the same, with resilience up his sleeve.
Indeed, this is what came to my mind when I was reading April G Donas and his character in the latest thriller mystery Buried Under the Mist by Alex Nero. A wrong company has made him into a person one might not want to become. Absolutely lost, his arrears are increasing and he doesn't seem to be doing too well in his Engineering course either. When he decides to help his friend with the project she wants to do, he realizes there is more to it than it appears. Neither April nor I did realize beyond this that the plot would become so intriguing and consumable beyond this point. A more than a 100-year-old murder mystery, this one kept both of me as well as April on our wit's end. But boy, am I complaining? Certainly not!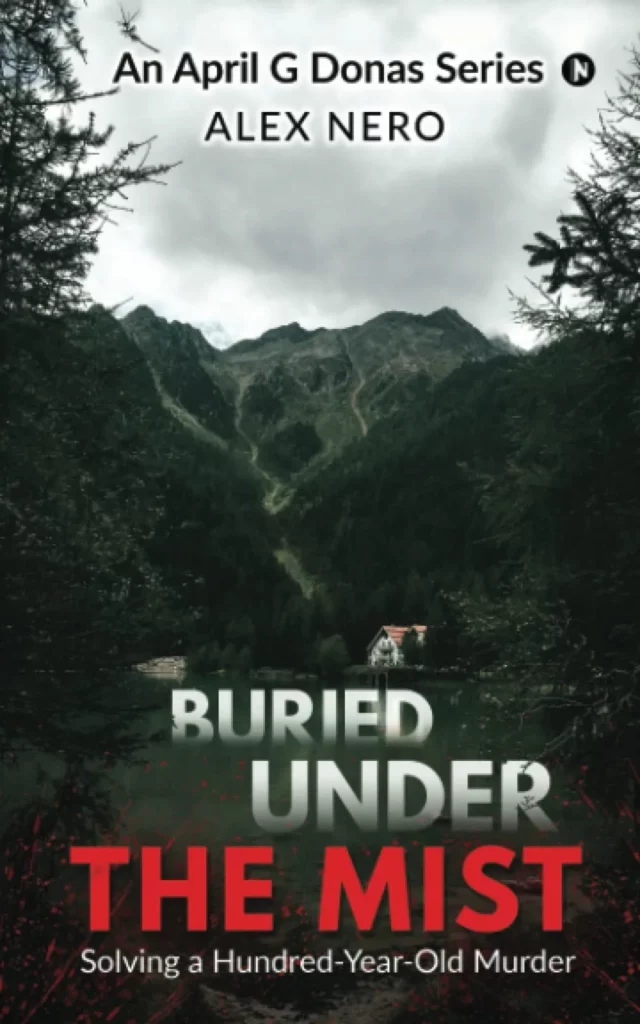 With restricted means of finding out stuff, exploring and discovering things that long ago, it is naturally a piece humongous task which both of these characters aka April Donas and his Professor have set out to undertake. In the process, will April turn a new lease on life, realizing the lackadaisical attitude he has been harbouring for a long time? Or will he continue to live life in the same old terms, while away all that he has?
First and foremost, the mystery element in the book is refreshing as well as addictive. Agreed, it has been a bit stretched at some places, giving it overly informative details at some spots but hey that's exactly how a thriller is supposed to be right? A little bit intoxicating, a little bit addictive, a bit musing, a bit overwhelming isn't it?
With college-like vibes to it, the story as well as the characters were created in a manner I fondly refer to as my favourite "youngish jaunt" as each and every character and instance had this ability to take me back to the old days, making me revisit those old days when life was all but a carefree, big blob of nothing but dreaming away and not even bothering to do much about those dreams. Yeah, that is precisely what we do, don't we? Dream away and then wait to lie around merrily, waiting for things to happen themselves miraculously, while we loll about, carefree, simply unbothered or unaffected?
Well, coming back to the book, Alex has done a good job, managing to create a good level of thrill, ensuring that not only is the story met out with reasonable justice but also the character building is done with a lot of attention, slowly yet subtly building upon each and every facet of April G Donas, his Professor as well as all those involved in unfurling the case. I liked how the two get together, challenging boundaries, solving problems along the way, as well as discovering their own mysteries and solving them too, in the process. That is true, the strangely uncanny thing about life. One might set out to do something else and eventually land up finding something else albeit worthwhile. April, in the process of helping out to unravel the murder mystery, solving it out eventually lands up discovering answers to those mysteries of his life that he didn't pay attention to, earlier.
Having taken inspiration from the likes of brilliant authors like Stephen King, and Alexander Dumas, Alex Nero has delivered a fine thriller which meets expectations not only on the grounds of thrill but also all those aspects which make a book an indulgent, great read.
The manner in which the plot has been tied as in the sub-plotting and also collating of the two subplots together shows brilliant command over conceptualization and plot creation by Alex. The narrative is gripping and the language is simple and easy to understand. Like I had said earlier it felt a teeny bit stretched at times, but then what is a good thriller without a bit of detailing right?
Related: Top 5 Suspense Thriller Novels You Must Include in Your TBR Next
A good thriller read.
Buried Under the Mist
Summary
A small mistake becomes a major turning point in the life of April G Donas. He finds himself in the midst of a mysterious murder case that can never be solved. But with his professor, April relentlessly pushes all boundaries to find the hidden answers. Finally, they solve the case with the help of an unexpected piece of solid evidence. Solving the case unravels some mysteries of our lives too.



Do let me know in the comments below if you have any recommendations for me.
Get your Book Reviewed by Booxoul – Connect Now
Stay tuned to us right here at Booxoul, for the best in the field of entertainment, lifestyle, tech and gadgets, food, fashion, travel, finance, as well as all things bookish.
Ciao peeps!