So, it is finally up and about! Yes, India's very own humongous culture centre, NMACC aka the Nita Mukesh Ambani Cultural Centre which has been inaugurated at the Jio World Drive in BKC is going to be the latest "the" spot for all art lovers as well as culture enthusiasts. With sweeping theatres and large spaces, enough to incorporate hundreds, this one is a place I am personally excited to visit. Presenting all we know so far about India's biggest cultural hub.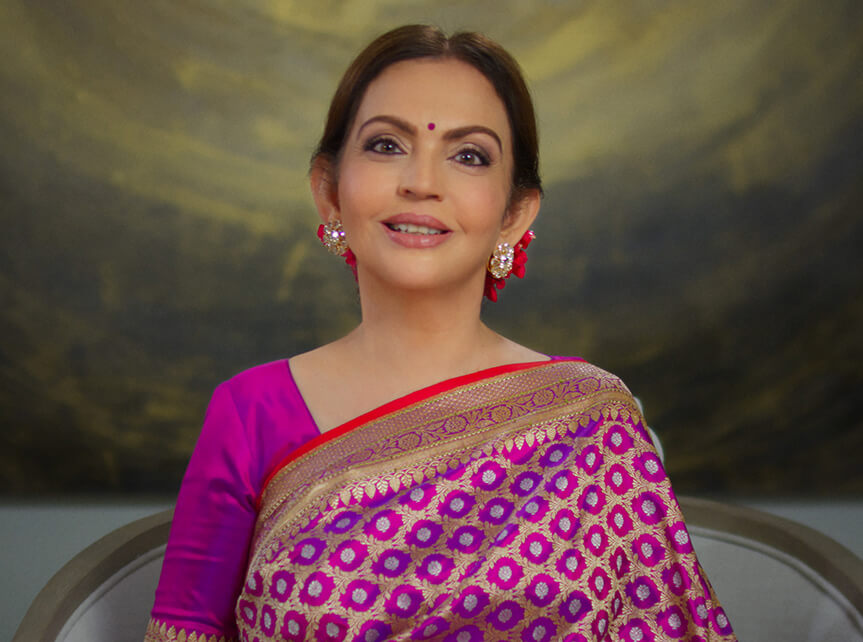 In a bid to display some of India's finest cultural history and its rich heritage through, costume, visual as well as performing arts, the Ambani family have inaugurated and established the NMACC aka The Nita Mukesh Ambani cultural centre in the Jio World Centre at Bandra Kurla Complex Mumbai.
This marvellous infrastructure includes a 2000 seating capacity grand theatre, a 4-storey art housing structure, a Pavilion- a museum-like convertible area of almost 53000 square feet for art shows and exhibitions and also a studio theatre.
The founder Mrs Nita Mukesh Ambani, who candidly shared her vision behind setting up this wonder said,
The time has come to mark a new beginning for our longstanding commitment to art and culture. With immense joy, I am delighted to present to you the realization of a life-long dream – the Nita Mukesh Ambani Cultural Centre. The NMACC is a space that hopes to bind the community through the common thread of the arts. It is a tribute to India's glorious legacy, traditions, and heritage. For the last few years, my daughter Isha and I along with our team have immersed ourselves in this dream project. The NMACC is envisioned as a platform to spotlight Indian arts and culture at its best, both for the audience and the artists. A truly inclusive centre for performers and visitors, for dreamers and creators, for one and all. With world-class infrastructure and robust programming, our aim is to make the arts accessible to everyone. An ode to our nation, the NMACC is our commitment to preserving and promoting Indian arts. I hope our spaces nurture and inspire talent, bringing people together from across India and the world.
The centre which witnessed a grand puja and opening at the hands of Nita Ambani had almost all of Bollywood in attendance alongside all members of the Ambani clan as well as the Piramal as also the Merchant families. A glittery, star-studded affair here is a little look into the spaces the centre offers:
The Grand Theatre
This theatre which has an exceptional lighting system (fully customizable) also boasts a world-class combined Dolby Atmos surround sound system and a Virtual acoustic system. Did you know Swarovski diamonds have been added to the latter to improve it and offer a completely distinctive and multi-dimensional experience? This theatre can accommodate around 2000 people at one time.
The Studio Theatre
having a seating capacity of 250 people, this one boasts a flexible stage, as well as an integrated Dolby Atmos, surround sound system, an LED-driven theatrical lighting system, assistive listening devices and a host of other specializations.
Dhirubhai Ambani Square
The pride of place, this one contains a lotus-inspired Fountain of Joy which actually celebrates the vibrancy and the spirit of our very own Mumbai city. Poised to offer excellence, this one is all set to deliver a rich, unique collection of beautifully choreographed performances all around the year.
Art House
A 4-storeyed structure, this one is a 16000 sq. foot dedicated to visual arts space, displaying the work of international as well as Indian artists. A humongous addition, this one is a true step towards splaying art as well as getting it forth in front of art lovers.
So, which are the exciting events to catch here?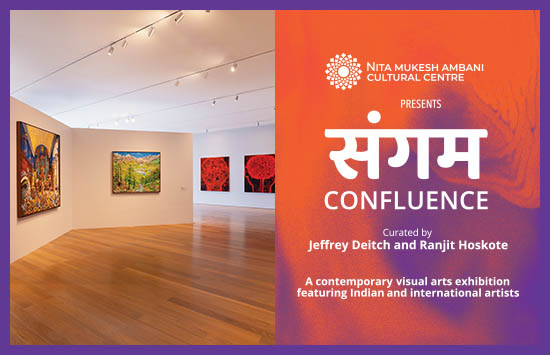 The Great Indian Musical: Civilization to Nation
An immersive musical production, this one traces India's journey through its rich cultural heritage of dance, art, drama, and music. A production featuring over 350 artists it also includes a 55-piece live orchestra led by the Budapest Scoring Orchestra as well as noted Indian names such as Ajay-Atul, Mayuri Upadhya and Vaibhavi Merchant too. You can catch this one by 23rd April.
India in Fashion
A first-of-its-kind exhibition curated by Hamish Bowles, the global editor for Vogue and The World of Interiors, this one examines the impact that traditional Indian dresses, textiles and crafts have had on the international fashion market since the 18th century. Catch this one if you wish to trace the evolution of the contemporary Indian fashion community. This one is on till 4th June.
Sangam/Confluence
A space dedicated purely to art this one has artworks by Bhupen Khakhar, Anselm Kiefer, Cecily Brown, Bharti Kher, Francesco Clemente and so on. The exhibit is a joint curation by American curator Jeffrey Deitch and Ranjit Hoskote who is incidentally India's leading cultural theorist catch it on the 4th of June.
Voctronica
India's first all-vocal ensemble, they will bring forth their signature-a blend of beatboxing, Indian classical pop, blues as well as rock to the stage giving the audiences eclectic as well as groovy and splendid vibes. You can catch it on 21st April.
Keep watching this space peeps as we promise to keep you updated with a lot more excitement coming up here at NMACC, India's own cultural heritage centre.
Stay tuned with us right here at Booxoul, for the best and latest in the field of arts, culture, lifestyle, entertainment, food, fun, education, fashion, tech and gadgets as well as all things bookish.
Adios Amigos!
This post is part of the #BlogchatterA2Z challenge