Want to read a romance about people who are straight and simple, revelling in the niceties of life and their tiny pursuits towards finding love and happiness? Read this little musing by me to discover such a beautiful romance-Book Lovers by Emily Henry.
Those were the endings I found solace in. The ones that said Yes, you have lost something, but maybe, someday, you'll find something too.

Emily Henry, Book Lovers
Romance has always been a delicate yet intricately fragrant piece of reading for me. Having always enjoyed romance as a genre, I am usually the one who prefers the slow burn, intense stories contrary to the high school and adolescent infatuations which generally form a part of such narratives.
Thus, I was pleasantly surprised to discover the best beach read which in its entirety is something absolutely unique from these 2 different spectrums. A plot which is a romance of a unique kind here comes the tale of Nora and Charlie to swipe you off your feet, making you discover all those facets of life which do exist but which you somehow do not tend to acknowledge or give substantial weightage to.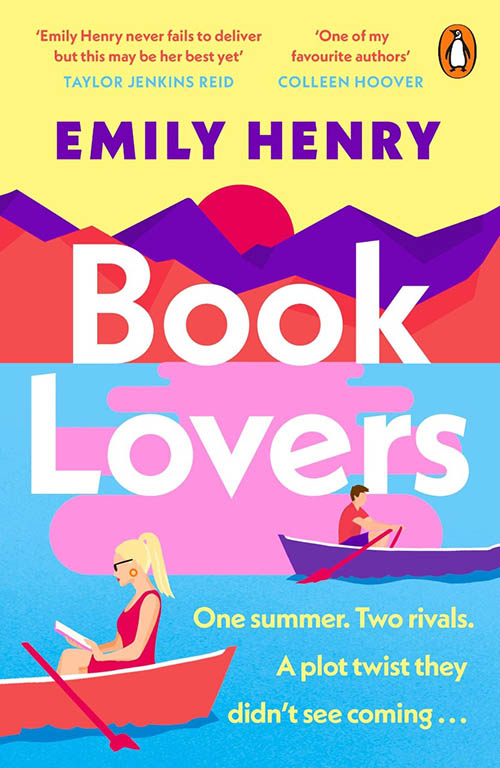 The story which revolves around Nora Stephens and Charlie Lastra is a love story which is not something you see in an ordinary set-up. If there is magic, there is also realism in Emily's writing and that is what has exactly held me speechless, leaving me hooked on to this simple but deeply intense love story, something which is not on the likes of a slow burn either completely.
When I first picked this one up, I was pretty much intrigued by the title of this one. Book Lovers, these words themselves made me think that this one could be something I would relate to majorly, being an avid book lover myself. It felt that it would surely be a window of sorts which would open up a kaleidoscope of feelings, emotions and all those hues which make life so vibrant, so flamboyant.
I was not at all disappointed given the multitude of emotions this story has managed to encapsulate. It is not like this one was a complete slow burn but it was something on those lines only. A story that had so many vantages that I could see the complete spectrum Emily has tried to convey across with the characters of Nora, Charlie, Libby as well as others.
Especially the New York city v/s the small town thing, made me want to go back to those little things in life I love and miss simultaneously. That is the thing about listening to your soul, giving it those tiny little TLCs of happiness and contentment whenever they need it.
Nora's character has been created in such a fine manner that I couldn't help but feel that most of us will surely relate to it and connect with it in a manner which is deep down connected to herself and ideologies. Ditto with Charlie's character which tends to be a layered surprise, each one unravelling as we proceed along the path.
Do you know the best feeling I could possibly associate with this book? The fact that I could simply retire with this one on the couch, preparing to be nothing but simply smitten for the weekend, losing myself between its pages. Delving and re-emerging from the crowning tides created in the lake of Nora and Charlie's emotional journeys, a part of me wanted to go back and jump again and again, whilst simply remaining dissatisfied to just remain on the edge and view it.
 It is a great romantic read, go for this one if you want to get that warm, fuzzy feeling of hot chocolate on a cool rainy day, and want to get back to the delicate intricacies of life—one of the best by Emily Henry.
By the same author: Beach Read by Emily Henry-a Perfect Romance Fiction for This Season
Book Lovers
Summary
Nora is a cut-throat literary agent at the top of her game. Her whole life is books.

Charlie is an editor with a gift for creating bestsellers. And he's Nora's work nemesis.

Nora has been through enough break-ups to know she's the one men date before finding their happy-ever-after. To prevent another dating dud, Nora's sister has persuaded her to swap her city desk for a month's holiday in Sunshine Falls.

It's a small town straight out of a romance novel, but instead of meeting sexy lumberjacks, handsome doctors or cute bartenders, Nora keeps bumping into…Charlie.

She's no heroine. He's no hero. So can they take a page out of an entirely different book?

Brimming with witty banter, characters you can't help but fall for and off-the-charts chemistry, BOOK LOVERS is Emily Henry's best novel yet.
Do let me know in the comments which other titles would you like me to read and review. Stay tuned to catch the latest in the field of entertainment, travel, lifestyle, food, fashion, tech and gadgets as well as all things bookish.
Adios Amigos!