From The newest season of Never Have I ever to A Model Family in the web series tangent to The Nice guys and Benediction, Netflix is coming up with a super exciting August 2022.
Hi my loveliess, whassup with y'all? What are you all doing apart from working, cribbing, mulling, staying happy etc in this life? Netlfixing' right?
Okie dokies, miss Toodles umm just mentioned to me that there seems to be a rumour doing the rounds that Netflix has apparently lost a big chunk of its customer base in the last trimester. I doubt though as Stranger Things season 4 is here and I believe that alone is a killer material to keep the audience base hooked on for a while. To add a cherry to the cake, this OTT platform is apparently also in thought to launch its own franchise, something on the lines of Disney's MCU (Marvel Cinematic Universe) which surely would be a superb addition.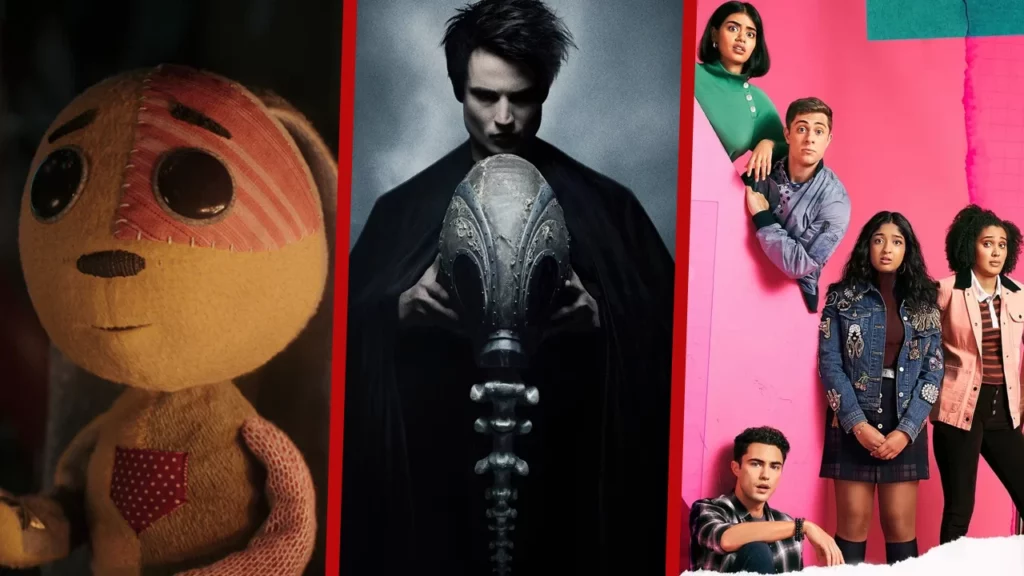 All in all. let me ahem, give you a bit of the scoop nevertheless. August is around the corner and so is Netflix's list of an exciting array of TV series to binge-watch on in August 2022. Check to out the list for yourself peeps:
Never Have I ever – Season 3
A coming-of-age drama following the life of an Indo-American high school student Devi who has to deal with her father's sudden demise, thrown off balance as she becomes a paralytic for a while. Having been forced to deal with grief, her individuality and several other issues, this one is a plot pretty relatable. The story will presumably end in the 4th season which makes this one a must-watch. Coming on 12th August 2022.
The Girl in the Mirror
A Spanish supernatural series, this is the story of a sole survivor of a bus accident Alma, who gets up disoriented after the ordeal, suffering from amnesia. As she tries to piece together the pieces of the past the plot gets more thrilling and murkier. A crackling thriller, this one has to be on your next watchlist. This one premieres on August 19th.
A Model Family
A South Korean series this one revolves around the character of Dong-Ha who is on the brink of both bankruptcies as well as divorce. Eventually getting involved with drug cartels, he gets down to realizing the importance of a true model family against all odds. A K-drama, this one is being waited for with bated breath, I presume. Coming on 12th August 2022.
Locke and Key Season 3
This being the final season, a fantasy horror which started way back in 2017, this one is based on a comic. Revolving around 3 children and their stepmother, it portrays how when they move in after the father's death, they discover a lot of Keys in what they call the "Key house" that seem to unlock different demon-like personas. An amazing one, I'd say, this one too is on my watchlist, releasing on 10th August.
The Sandman
Ok, I am going, to be honest, this one is one of my favs, I mean this one is written by Neil Gaiman and produced by DC comics, it is again, based on a comic series. A fantasy drama. A roller coaster ride, this one is a must-watch for me at least, with a huge caste and character lineage and larger-than-life depictions. Premiering on August 8th, check this one out guys.
Along with these, there are several good movies coming up too, in August. Have a peep, you guys:
Rise of the Teenage Mutant Ninja Turtles, the Movie: Coming on 5th August, this one follows the story of the mutant Brothers who are on the mission of saving the planet from a super deadly alien species-the Krang.
The Nice Guys: This Ryan Gosling and Russel Crowe starrer are possibly one of the best buddy cops flicks ever produced, I feel. Amazing action, slapstick comedy, stellar combo, I'd say for the duo.
Benediction: The true story of soldier Siegfried Sassoon, this one is a documentation of what transpired during the war by documenting the same through poetry. Amazing performances by Jack Lowden, and Peter Capaldi, this is a stunner.
Day Shift: An action-packed, fun movie, this is the story of a vampire hunter posing as a pool maintenance personnel. Starring Jamie Foxx, Snoop Dogg and Dave Franco, this is one of the most awaited releases coming on 12th August.
Carter: An agent suffering from amnesia, after facing a bio attack from North Korea, is in the midst of a great mystery, a mission he is a part of. A relentless action flick, this one is an amazing watch for sure. Coming on 5th August.
August 1st
Big Tree City
28 Days
8 Mile
Above the Rim
The Age of Adaline
Battle: Los Angeles
Bridget Jones's Baby
Bridget Jones's Diary
Constantine
Dinner for Schmucks
Eyes Wide Shut
Ferris Bueller's Day Off
Footloose (2011)
Hardcore Henry
Legends of the Fall
Love & Basketball
Made of Honor
Men in Black
Men in Black 3
Men in Black II
Miss Congeniality
Monster-in-Law
No Strings Attached
Pawn Stars: Season 13
Polly Pocket: Season 4: Part 2: Tiny Taste Adventure
She's Funny That Way
Space Jam (1996)
Spider-Man
Spider-Man 2
Spider-Man 3
Top Gear: Season 29-30
The Town
Woman in Gold
2nd
Flight
Ricardo Quevedo: Tomorrow Will Be Worse
3rd
Buba
Clusterf**k: Woodstock '99
Don't Blame Karma!
Good Morning, Verônica: Season 2
4th
Lady Tamara
Kakegurui Twin
Super Giant Robot Brothers
Wedding Season
5th
Carter
Darlings
The Informer
Rise of the Teenage Mutant Ninja Turtles: The Movie
The Sandman
Skyfall
6th
7th
8th
Code Name: Emperor
Team Zenko Go: Season 2
9th
I Just Killed My Dad
The Nice Guys
10th
Bank Robbers: The Last Great Heist
Heartsong
Indian Matchmaking: Season 2
Instant Dream Home
Iron Chef Brazil
Locke & Key: Season 3
School Tales The Series
11th
Dope
DOTA: Dragon's Blood: Book 3
Stay on Board: The Leo Baker Story
12th
13: The Musical
A Model Family
Day Shift
Never Have I Ever: Season 3
15th
Ancient Aliens: Season 4
Deepa & Anoop
Learn to Swim
16th
UNTOLD: The Girlfriend Who Didn't Exist (2 Parts)
17th
High Heat
Junior Baking Show: Season 6
Look Both Ways
Royalteen
Unsuspicious
18th
He-Man and the Masters of the Universe: Season 3
Inside the Mind of a Cat
Tekken: Bloodline
19th
The Cuphead Show
Echoes
The Girl in the Mirror (Alma)
Glow Up: Season 4
Kleo
The Next 365 Days
20th
Fullmetal Alchemist The Revenge of Scar
21st
23rd
Chad and JT Go Deep
Untold: The Rise and Fall of AND1
24th
Lost Ollie
Mo
Queer Eye: Brazil
Running with the Devil: The Wild World of John McAfee
Selling The OC
Under Fire
Watch Out, We're Mad
25th
Angry Birds: Summer Madness: Season 3
History 101: Season 2
Rilakkuma's Theme Park Adventure
That's Amor
26th
Disobedience
Drive Hard: The Maloof Way
Loving Adults
Ludik
Me Time
Seoul Vibe
29th
Under Her Control
Mighty Express: Season 7
30th
I AM A KILLER: Season 3
Untold: Operation Flagrant Foul
31st
Club América vs Club América
Family Secrets
I Came By
So, this was the haul for August 2022. Hope you guys have made your watchlists. Get on if you haven't. Also, stay tuned for the latest in the field of entertainment, travel, food, finance, fashion, tech and gadgets and all things bookish.
Ciao my lovelies!