10 Bollywood Weddings: Celebrity Couples that left us Awestruck
Haan Bhai, I know what you are thinking my lovelies… Aa gayi ek aur blog, filled with Vickat ki news, unke wedding ke charche, right from the beautiful nature inspired Kaleeras worn by Katrina to Vicky ke dashing, dapper, debonaire looks: sab kuchh toh padh liya.. What's new then?
Sabar Karo Baalak !! So technically, this is not the only exciting wedding we have had in a long while so as to speak the truth. There have been many others that have given us soo much more. Dressing inspirations, couple goals, the grandeur and animosity, you name it and Bollywood has always been at the forefront when it comes to leading the masses. Be it the designer Lehengas worn by these charismatic ladies, the amazingly opulent venues they choose to say " Yes, I do.", the resplendent jewellery the bride's show (not to mention those huge "rocks" they sport on their fingers in the form of engagement rings, each and every aspect of these Bollywood weddings is a trendsetter by itself.
So today, I thought let's do something fun. A jog down the memory lane reminiscing some of the best Bollywood Weddings that have left us awestruck by their grandeur and resplendence dazzling our hearts and blowing away our minds. Yeh rahe kuchh notable mentions:
Saif Ali Khan and Kareena Kapoor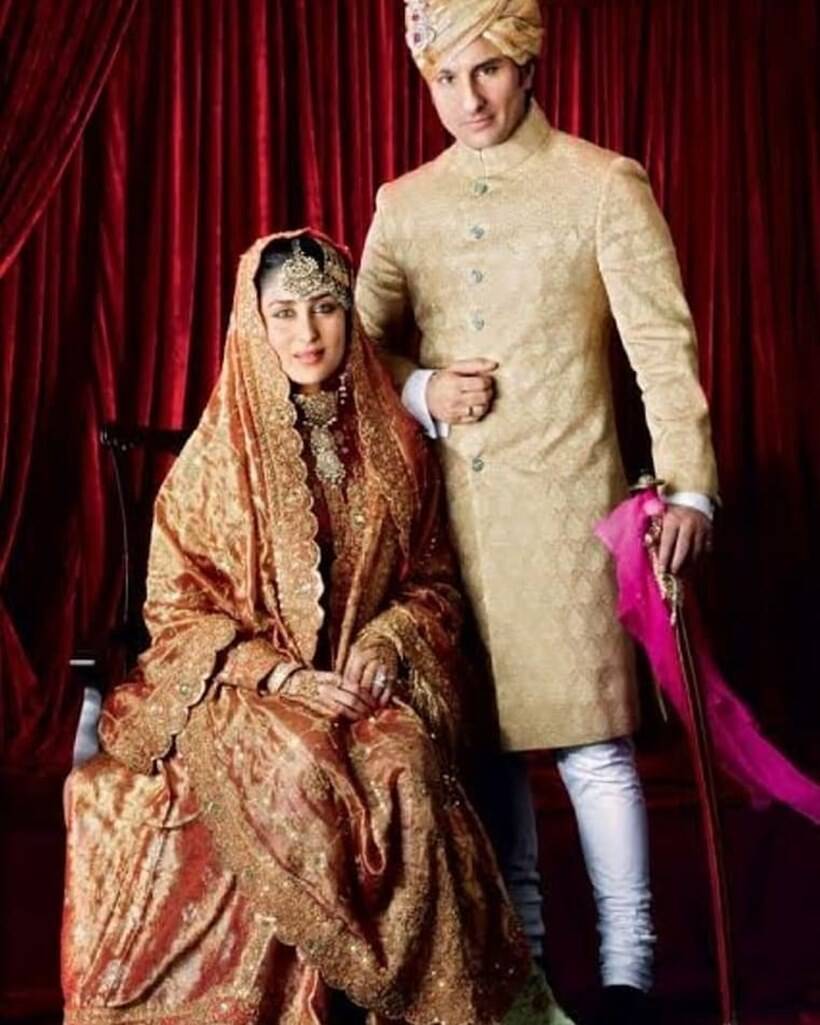 The couple who actually got the trend of the name combo hashtags in vogue aka #Saifeena. The duo had a prenuptial gala followed by a court wedding bringing it up with 2 mega receptions. We love you Saifeena!!
Shahid Kapoor and Mira Rajput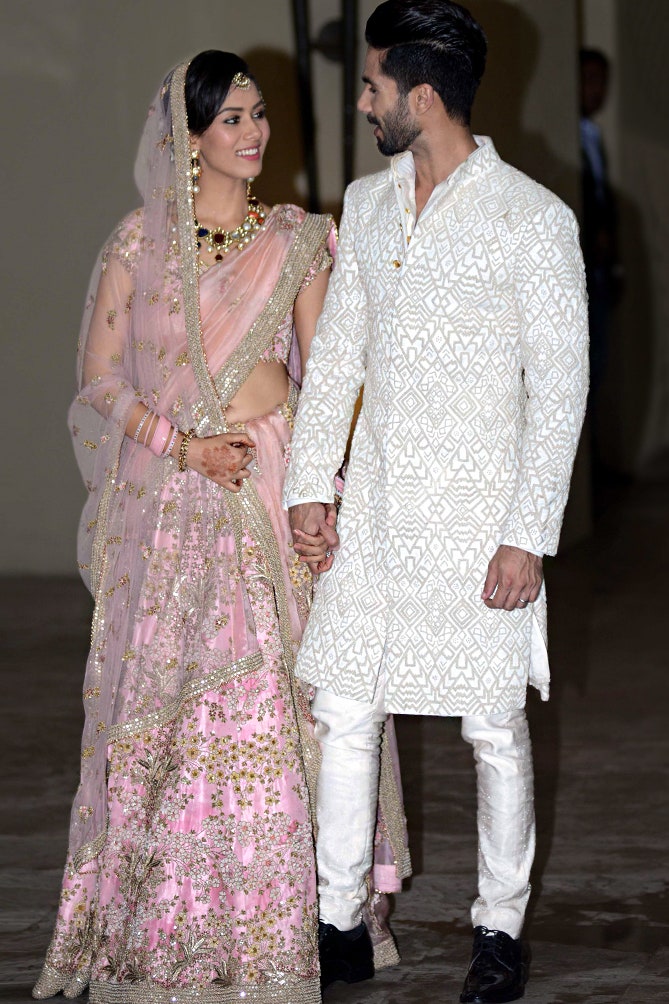 Probably one of those few couples who took the 'arranged' route to marriage. In a beautiful function held in Gurgaon, the wedding was a memorable affair attended by close friends and family. Though a hush-hush affair, this one was a major hit on Twitter with #Shahid ki Shaadi.
Virat Kohli and Anushka Sharma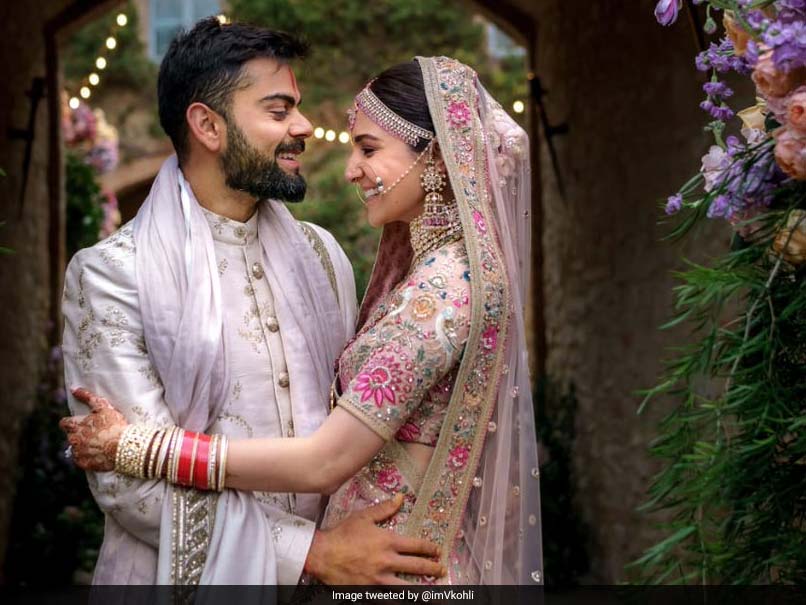 Quite a fairy tale affair, the much–in–love couple gave strong relationship goals besides the superb location, astounding décor, not to mention Anushka's amazing wedding day look. Virushka Rock!! Their functions were star-studded too, with both the Cricket as well as Bollywood fraternity being a part of.
Ranveer Singh and Deepika Padukone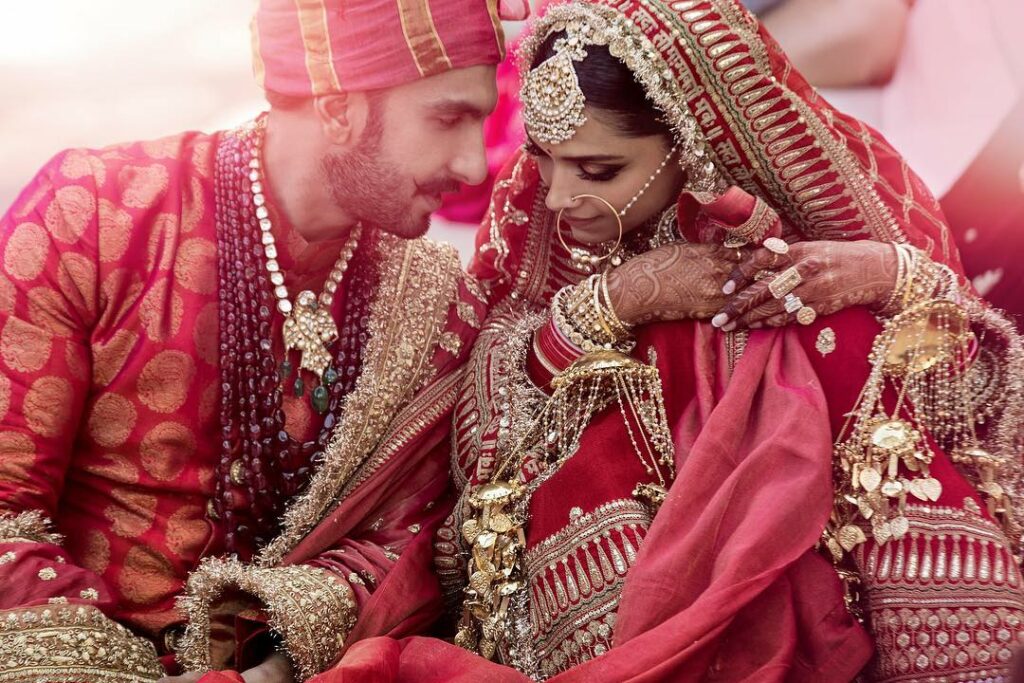 Possibly one of the most talked-about, the wedding of the "It" couple of Bollywood, this powerhouse Jodi went out all guns not only with their dreamy choice of venue-Lake Como, Italy but also with their dual receptions held in Mumbai as well as Bangalore too. Flamboyance at its lethal best!!
Akshay Kumar and Twinkle Khanna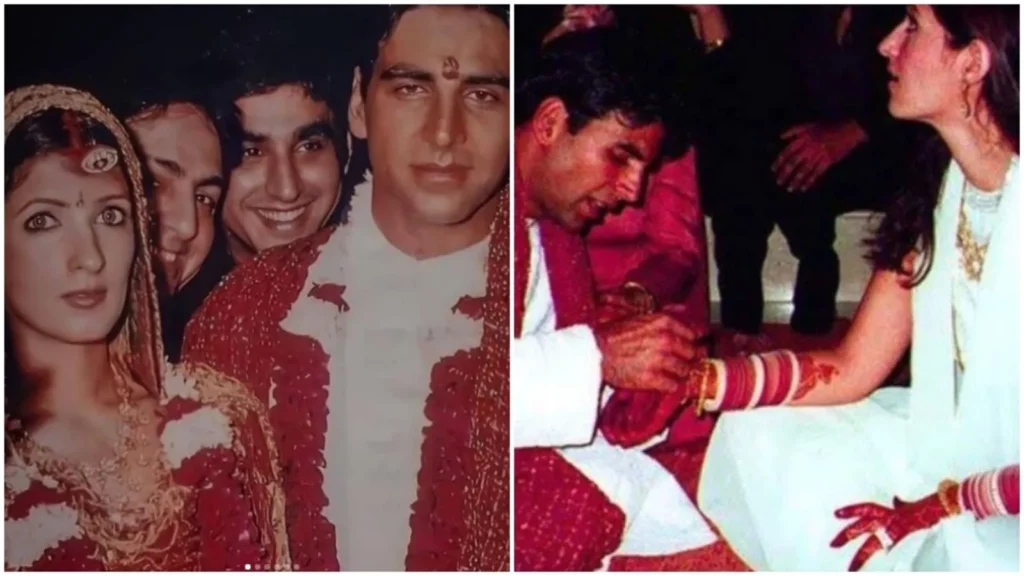 A month following a gala engagement attended practically by all the Biggies of the B-town, this couple after coming back from a shooting trip decided to speed up things and tied the knot in an intimate affair at a private terrace of a family friend. Phew so much for the most handsome eligible bachelor of B-town in the '90s. Sigh! The Ultimate Khiladi!
Abhishek Bachchan and Aishwarya Rai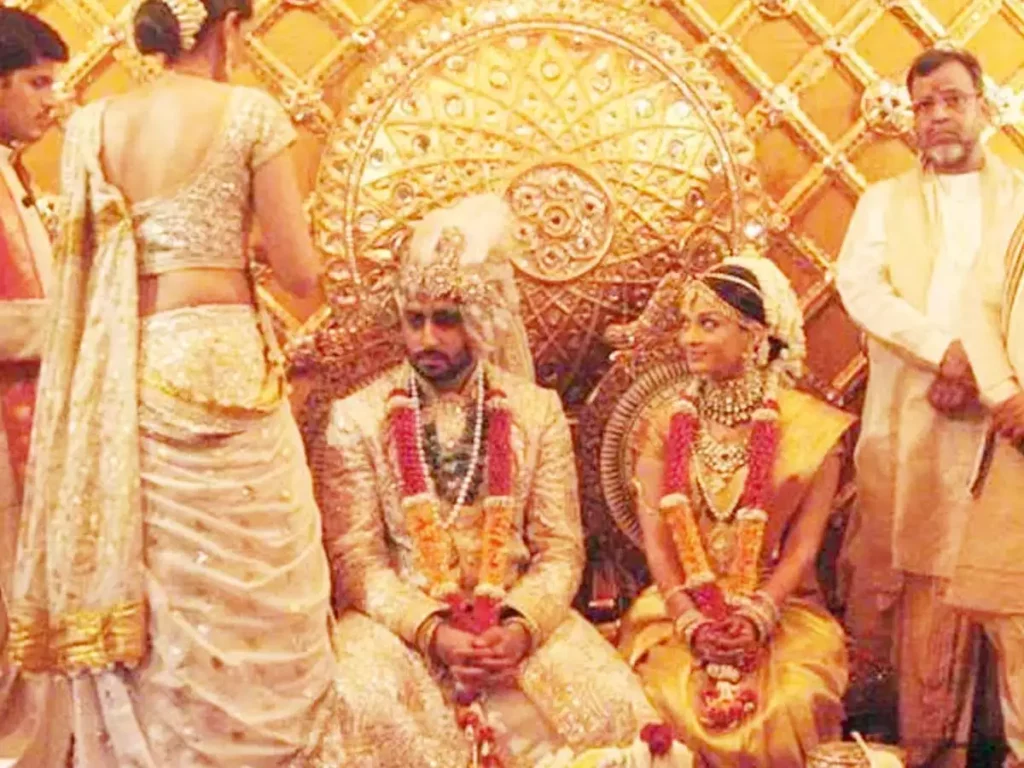 This one was a real big bang. From talks of the kundalis not matching to a deranged young lady slashing her wrists outside the wedding venue claiming she was dating Abhishek, this wedding was the talk of the tinsel town back then. For us, it was sheer heartbreak, I mean c'mon one of the most 'eligible bachelors' and the most beautiful woman in the World !! Haiyyy!! Kyun, (Double heart break) ho gaya na !! Ahem, no pun intended !!
Ajay and Kajol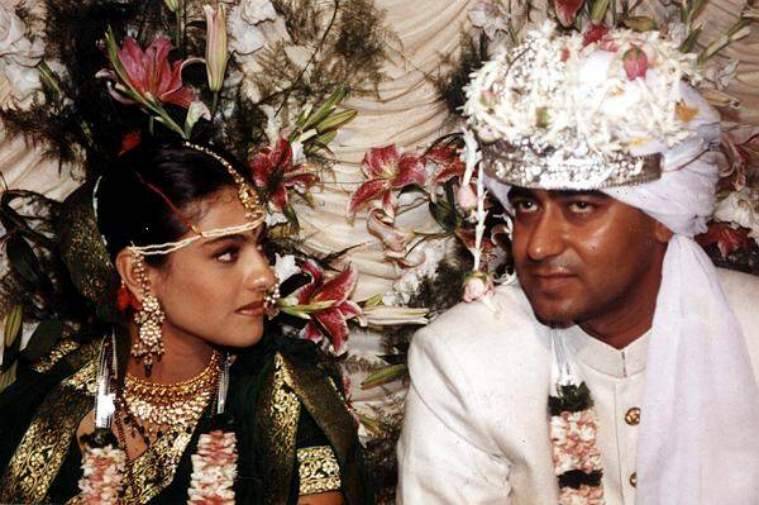 Bollywood's perfect 'Made in Heaven' jodi, this pair was touted by the media as an unlikely pair. But the two got married and hitched against all odds, in a traditional Maharashtrian style ceremony at the Devgn residence. Rumour has it that when a leading newspaper revealed where they would wed, the proceedings for the nuptials were shifted at the last moment.
Mahesh Bhupathi and Lara Dutta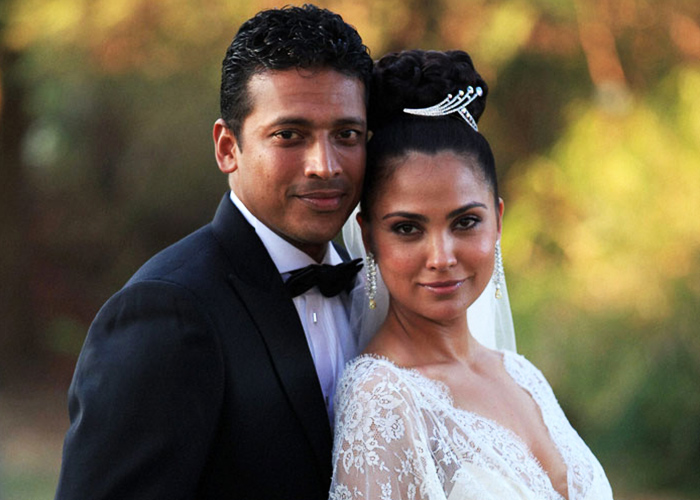 Another sport meets Bollywood alliance, this couple chose a destination wedding to one of the best sought after locations – Goa. From holding a Sangeet at a resort at Candolim Beach to a Christian style wedding at Taj Aguada, this was one exotic wedding of the decade.
Riteish Deshmukh and Genelia D'Souza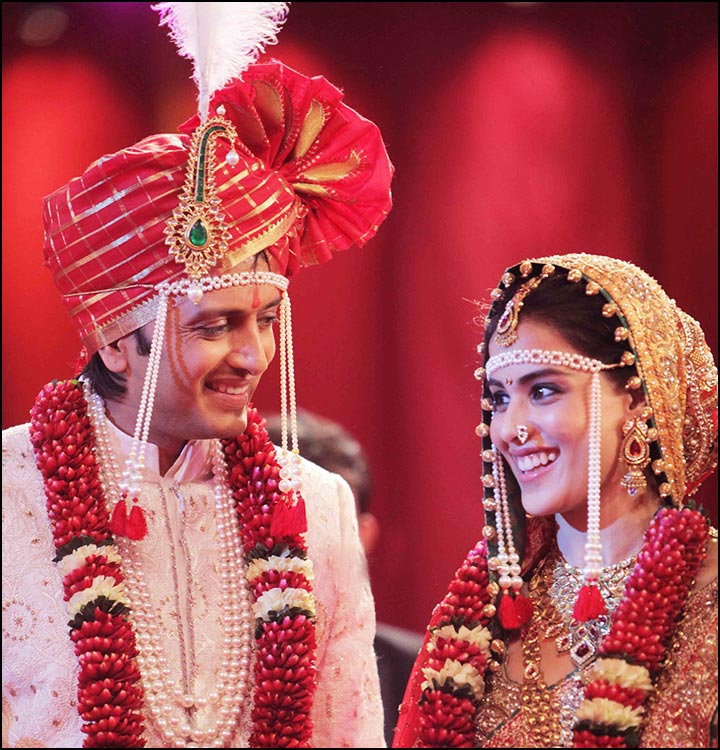 Possibly the cutest couple we know till date in b-town, theirs was a grand Maharashtrian wedding at a five star followed by a Catholic one at a Local Church. Sach!! This is one cutie patootie couple, which even today, after more than 9 years of marriage look like newly married love birds!!
Vicky Kaushal and Katrina Kaif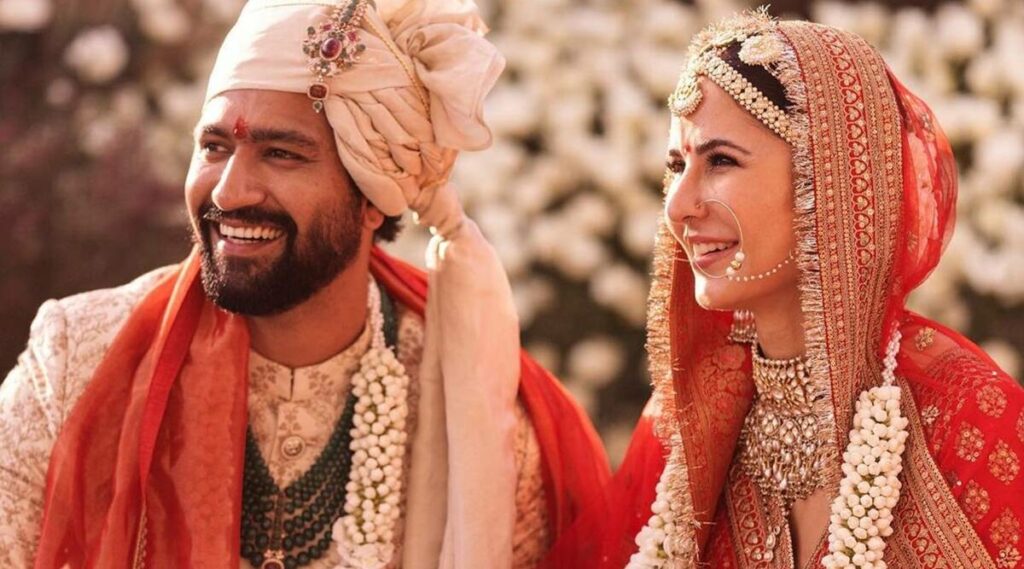 Well, the latest one which has the paparazzi spinning wild outta control is the Vickat wedding !! Right from the awe-inspiring freedom themed kaleeras Katrina chose to the personalized gift baskets (including Desi Ghee Laddoos), to even Kangana Ranaut the Bindaas Bollywood Beauty giving her 'Badhaai' to the power couple for breaking the age-gender stereotypes, this one is practically the event of the year. Well, must agree though the pics coming in from all the functions are simply cuteness overload !! Kaala Tikka for these two blessed newlyweds people.
So, this was a little recap teaser of sorts for you. Arey band Baaja Baarat ho toh Bollywood wedding style warna kya mazaa? Waise we can't wait to see our Hottie Ranbir Kapoor getting hooked officially to lady love Alia Bhatt as well.
So that is it for a little bit of Bollywood wedding fun trivia time from us at Booxoul. Stay tuned coz we are gonna be back super soon with something we promise will not only be exciting but something quite useful as well as beneficial as far as wedding planning, shopping, ideas and execution is concerned. Keep watching this space and do share the article in case you like it. Let's all get together here at the Booxoul community for the latest and the best content in Lifestyle and Books.
Keep watching this space.
"Mere yaar ki Shaadi hai.." aur pssst " lehenga, haan haan Lehenga sajaake rakhna .."
Keep Guessing dearies …..
Hope you enjoyed reading this article 10 Bollywood Weddings: Celebrity Couples that left us Awestruck