As we finally gear up, preparing to celebrate another festival after a hiatus of almost 3 years, here's presenting the 5 Best places in Mumbai to visit for Dandiya and Garba this Navratri.
Jai Mata Di! Jai Kara Shera wali Ka, Bol Saache Darbar Ki Jai!
Nahi Samjhe? Bhai, Navratri is approaching and I cannot keep calm. Finally, comes the festival of dance, Masti and music which I am sure each one of us has been yearning to celebrate for a long time now.
Whilst the city enthusiastically gears up for another fun-filled festival celebration after Ganeshotsav 2022, with Navratri around the corner the city is decking up and prepping away like never before, especially as this festival is being celebrated after a hiatus of 3 years, thanks to the COVID 19 pandemic having taken away the liberty from us of celebrating the festival with gusto and a riot of colour and fun.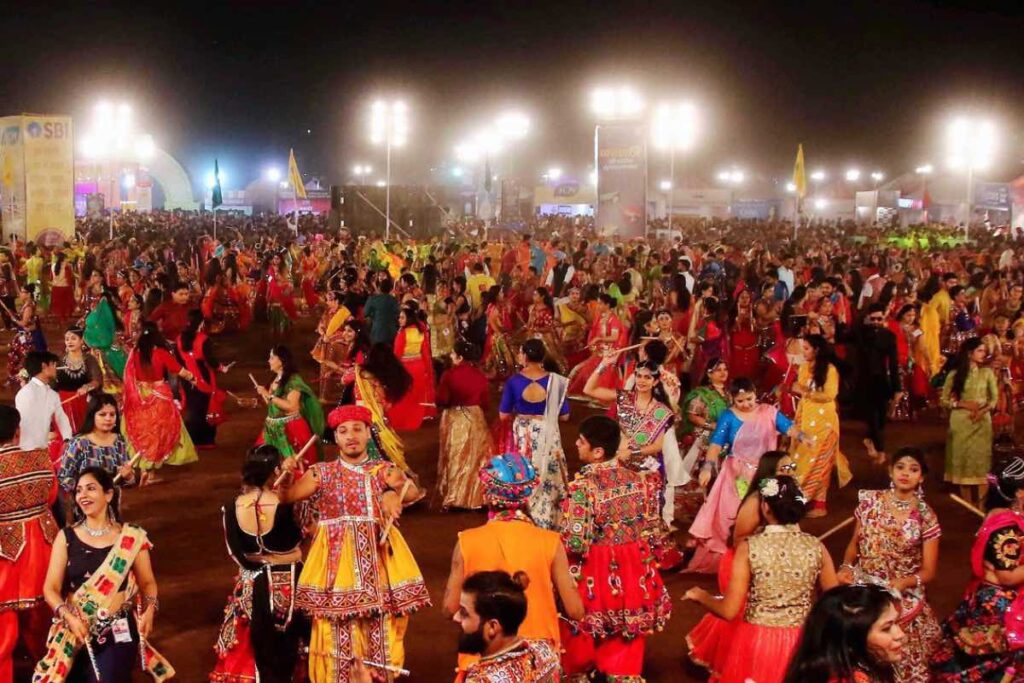 Navratri in Mumbai is always incomplete without Dandiya Raas and Garba celebrations, I feel. For years, Mumbai has been hosting an array of some of the best Dandiya and Garba Raas celebrations spread over a period of 9 days, an ode of dance, music, Masti and devotion to the supreme Goddess Durga. For decades, Mumbaikars have been conducting as well as wholeheartedly participating in some of the best-organized and executed celebrations in the country. 
The 9-day festival that starts on 26th September goes on to October 4th this year. And as it is back after a long, the biggest names that form a part always are making the appearance this year too.
So, here is the list that I promised of the best Navratri Garba and Dandiya places in Mumbai this year.  Have a look and prep and plan your jaunts to these phenomenal places accordingly. Make sure to book your tickets in advance for these star-studded events which are sure to be "Full on Dhoom machhale" this year:
Falguni Pathak's event at Pramod Mahajan ground
Touted to be hosting more than 30,000 people at a time, this open-air event will be held at the 13-acre Pramod Mahajan Ground. The organizer says that they have installed a 2-lakh sq. ft. wooden dance floor, placed more than 100 surveillance security cameras, employed more than 200 bouncers to ward off any unpleasantness as well as made arrangements for parking for more than 1000 cars. The event also includes a fundraiser initiative for cancer patients this year. With Falguni being one of the best performers for more than two and a half decades now, there is no doubt that she being the unanimously acclaimed queen, this event is sure to be on the must-visit list of all Dandiya and Garba lovers across Mumbai.
Preeti-Pinky's event at Balasaheb Thackeray Manoranjan ground
To be held at the Balasaheb Thackeray Manoranjan Ground near Chikoowadi, the organizer Bhavan Parikh states that there is room for multiple artists to perform despite there being multiple artists and Garbas being concentrated here. Spread over a 1.25 lakh sq ft open venue, this one too has been religiously organized and held for more than two decades now.
Parthiv Gohil's event at NESCO Goregaon
An indoor air-conditioned venue with a capacity of 10000 people, Parthiv who is gearing up with gusto claims to follow #GlobalNavratri. Having a fusion of Dhol, shehnai as well as electronic music, this one called Rangilo Re, is surely the one to check out this year, owing to its fresh outlook and music.
Korakendra Navratri Naidu Club at Korakendra Borivali
I am pretty sure the suburban people will vouch strongly for this one. The huge ground also boasts of brilliant performances by established performers and singers all 9 days of the festival. Prepare to indulge in some of the best possible Garba and a beautiful flow of mesmerizing music. Psst, you know what? Groups who come and play here practice their moves for months before they play during these 9 nights. Amazing preps I tell ya! Also, FYI the Navratri usually held here has split in 2 with Ganesh Naidu hosting one function with singer Nirav Barot and Tushar Sinigra's Beat 16 group and his longtime associate Pankaj Kotecha launching his own version with other renowned artists.
Raas Rang at Modella Mill Compound, Thane
Want to boogie on the beats of Naitik Nagada and his troupe as they perform at one of the biggest dandiya nights in Thane? Touted to be one of the best and highly in demand, this is one dandiya performance you ought not to miss at any cost! Prepare to dance and sweat it out, grooving to nothing but the best possible music with Naitik and his gang. Raas Rang, as the name rightly suggests will liven and amp up the colours of Navratri, deluging you in a Raas aka a swirl of utmost happiness. So, Haalo Have!
Apart from these famous Navratri dandiya and Garba places, there are many 5-star hotels, cooperative housing societies as well as a host of multiple venues that are organizing the event this year. Be it the Sahara Star, Juhu or the Rude lounge, Malad or even Kotecha's indoor Garba at Opal Convention centre on Linking Road, I must say that each one is going all out, stepping up the preparations, wanting to host the best possible Dandiya and Garba Raas this year.
Related:
So, hope you found this helpful article to prepare and plan your Navratri hopping to nothing but the best possible Dandiya and Garbas in Mumbai this Navratri 2022. Stay tuned with us right here at Booxoul for the best in the field of not only entertainment but also travel, food, finance, fun, fashion, tech and gadgets as well as all things bookish. Till then, Haalo Have, Jamva Chalo jee!!
Adios Amigos!