Unbecoming – The Way Ahead by Angela Radhakrishnan can be categorized as a memoir, a spiritual guide and a self-help book. It is a perfect blend that will taste wonderful as you drink the words through the pages (metaphorically) and the taste will last even long after you have finished it.
The book follows the story of the transformation of Angela- then Arjun- who has been going through many changes from the very beginning of his life. Born a boy, the author is attracted more towards his own feminine side, and because of this fact, he is treated rather harshly by the society including his own family and parents. From his childhood itself, he has a somewhat deep understanding of spirituality and he continues on the path. The story is touching and very emotional and painful too, as such changes are not easily accepted by society. During the spiritual journey, the author discovers himself and his purpose.
I would say it was a very different and pleasant reading experience. As said earlier, you have to go through this book slowly, drinking the words. It is that kind of book that will calm the internal turmoil going through your head. I felt deeply connected to the author, her problems and journey. You can feel the emotions very clearly as they are very raw and depicted quite genuinely.
I think that the title is also very thoughtfully chosen. The author Unbecomes the part that she didn't want for herself or the parts that didn't define her. As for the writing style, it is beautiful. You just flow with the story. It is a great self-help book and you can learn loads from it. It will give you a chance to view yourself as what you are and not what you want others to see you as. Another thing that you learn is that changes are inevitable and you can't do anything about it other than just going through them. What's more, at end of every chapter we get to read a beautiful poetry by the author Angela Radhakrishnan and he also gives us a few questions forus to mull over. It kind of was a soul searching exercise for me.
Angela's spiritual journey is fascinating and you should definitely take a long walk through it.
Can't wait to read this magical book? Buy your copy of Unbecoming – The Way Ahead using the link below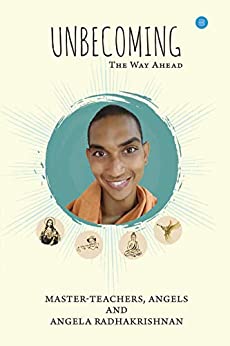 How did you like my book review of Unbecoming – The Way Ahead by Angela Radhakrishnan. A spiritual journey and a memoir worth a read.
YOU MAY ALSO LIKE: Book review of Unbroken by Nidhi Chaphekar