Hola people!! How have you been? Hope as good as you can get in these challenging times. Well, the truth is we gotta pull on and stay hopeful and positive, ain't we?
So have you been indulging lately or not? Well if truth be told, a plateful of your good ol' favourite meal has the power akin to a truckload of zest and zeal and can drive away the most baleful of emotions to nothingness in a matter of minutes. That's how strange and unique our system stands, always being able to kick back to the BEST with its favourite comfort food.
Though I must admit, in these times, even with takeaways being allowed and available, it just does not serve that comfort and purpose of what we can call a pre-covid times' Indulgent eatout any more. Be it even your favourite fast food or speciality cuisines, the amount of scepticism and qualm attached to it is still quite a bit to keep majority away from ordering from out.
Then how do we cope up? Rather how much and for how long can we keep ourselves away from delectable treats which are absolutely needed, time and again?
YUMMILICIOUS READ: Book review of Lallan Sweets by Srishti Chaudhary
Worry not, coz there is a simple solution. Here is a list of some yummy, easy one pot weeknight (pssst!! weekend also) dinners you can whip up in no time. Sumptuous, easy to make, these meals are sure to not only brighten up your day but give your tummy that wowwwwwzie feeling!! Lets dive straight into them, shall we ?
Courgette Lemon Risotto with sour cream (aka Crème' Fraiche)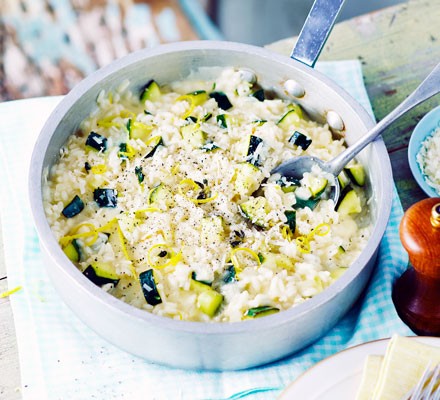 Fry some garlic and onion in butter. Saute the rice in it alongwith lemon juice and thyme (as per your taste and liking). Add boiled vegetable stock (you can simply drop in a cube of vegetable stock in a pot of boiling water to prepare this). Cook over medium heat, stirring carefully. Add courgette towards the latter stage before you add the final part of the stock water, leave it on simmer. Voila, super tender and creamy lemon risotto ready!! Serve it with some lemon zest, Parmesan Cheese and Crème' Fraiche. Oh, by the way did I mention Crème Fraiche is sour cream which you can very easily make at home too!! Simply combine cream with little buttermilk and leave it to rest, keep covered at room temperature for 12 straight hours. (1 tablespoon to one cup gives the best crème i.e 1:16). If you want a lesser sour variant, simply refrigerate it earlier. Mexicano at your service folks with minimal effort!!
Chicken Stroganoff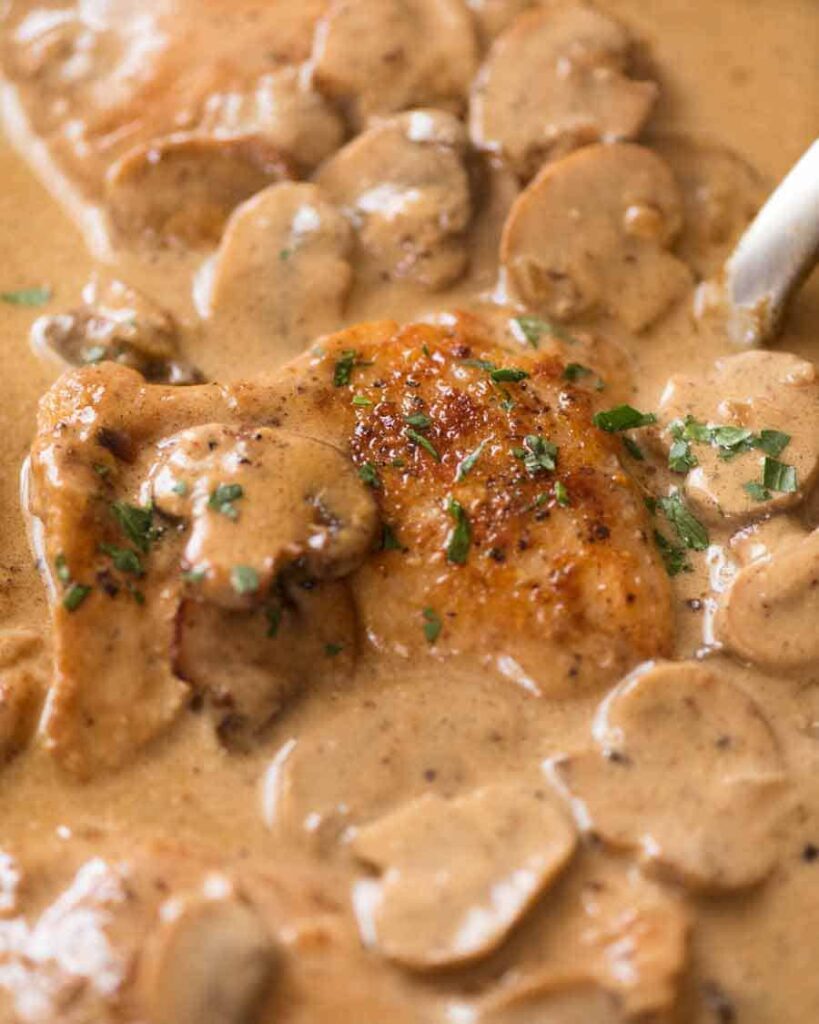 Okay, I This one is a super yummy one for the chicken lovers. Pan fry your chicken pieces for 2 minutes in olive oil with Kosher salt and pepper. Now remove and keep them aside and add sliced onions, mushrooms along with your choice of flavours such as black Pepper, Paprika, Thyme, Oregano and Red Pepper flakes. Then add chopped garlic. You can add some white wine for a more exquisite flavour but if you want to skip alcohol, simply use chicken stock instead. Remember to reduce it to almost half to continue cooking, in case you do use the wine. Reduction imparts a deeper flavour of the wine to the dish. Now add chicken stock, simmer and adjust salt. Add egg noodles and cook uncovered, stirring a bit so as to prevent the noodles sticking. Now pour in a slurry made from a tablespoon of all purpose flour and chicken stock to it. Turn off the flame and add the cooked chicken pieces, sour cream and mustard. Garnish with some parsley and enjoy it with your choice of green salads.
Peas Paneer Pulao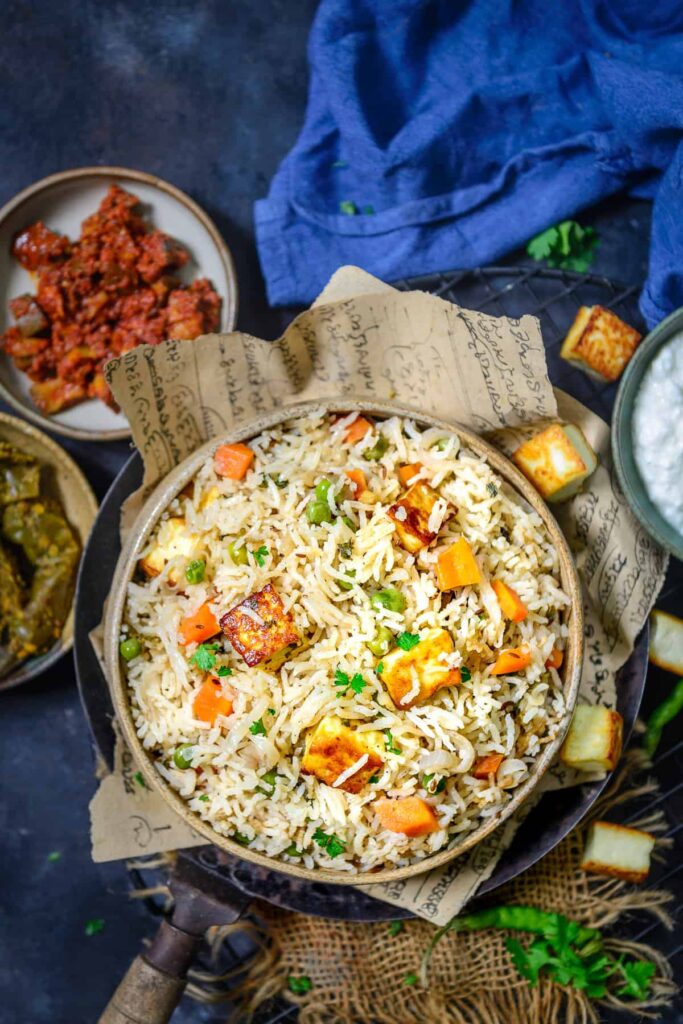 At the onset, pan fry the paneer pieces in a mixture of oil and butter and keep them aside soaked in warm water for further use. Now to the same residual oil mix add all whole spices such as cardamom, bay leaf, cinnamon, cloves and jeera. Add sliced onions. Next add ginger garlic paste and some more finely chopped onions along with turmeric, chilli and coriander powders. Now add garam masala and some kasturi methi powder along with some tomato puree and cook it for some time till the oil separates. Add a spoon of fresh cream, adjust the salt and add boiled peas and paneer at this stage. Now add in the soaked rice (basmati preferred) to this with almost twice( I recommend a little less) the quantity of water to it and give the mix one whistle. After the pressure of the cooker releases, gently fluff the rice with a fork, taking care as to not break the paneer pieces. You can cook this without the cooker too (better, I'd say). In that case use almost thrice the amount of water. There you are!! Exotic comfort on a platter!!
Creamy Spinach and Sausage Pasta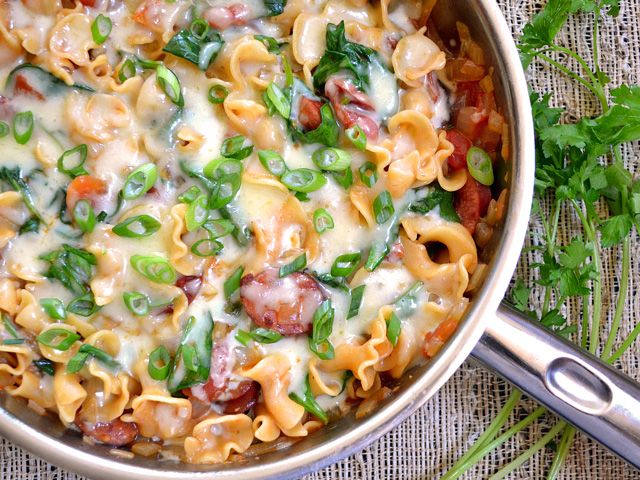 Ok this one's super quick, I promise. Saute thinly sliced readymade sausages in olive oil for 6-7 minutes. Add diced onions, cook for 5 and then add diced tomatoes with chillies and chicken broth. Now throw in some uncooked pasta and get it to boil. Reduce flame and simmer for about 10 or until pasta is tender. Add fresh spinach, one batch at a time, until it shrivels a bit, allowing the liquid to simmer and thicken. Finish with grated cheese on top and some spring onion greens. There you go !!
Chakoli /Sel Roti or Dal dhokli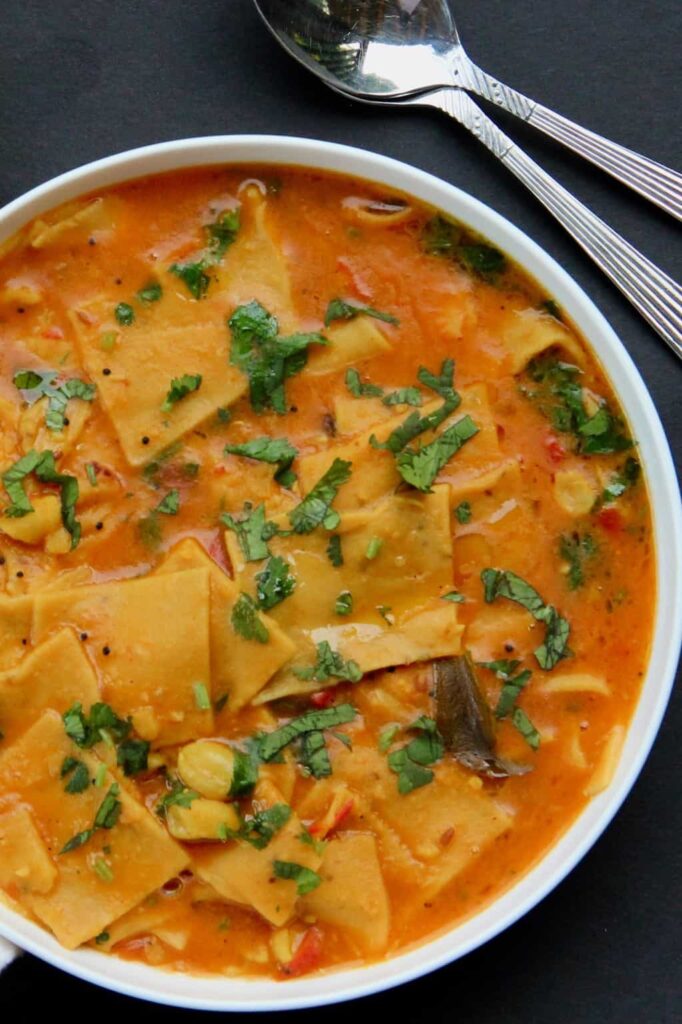 This is simply one of the Indian go-to comfort foods, especially when you are out of ideas for what to cook next. Simply combine your left over roti pieces in a brothy boil of your choice, cooking them till they are just about tender. You can make a broth with veggies of your choice, or even simply onion garlic and tomato. Get as creative as you wish with this one, no hard and fast rules. Remember to garnish it well and do not forget a good tempering like mustard or curry leaves and garlic, etc. Some folks even apply chutney mixes of coriander-mint to these and cook them like a stuffed roti sandwich. Mmmm, Heaven I'd say!! Top it with your local crumbled chips or the good ol' sev!!
Spanish Chickpeas Rice
Use a long grained white rice for this recipe. Fry minced garlic in olive oil along with cumin, oregano, cayenne pepper (normal if you don't have this ), paprika and freshly ground black pepper. Now add diced onions, then the soaked rice followed by diced tomatoes and artichoke hearts (yes you heard right!!), vegetable broth , salt and chickpeas (use canned if you haven't pre soaked them overnight). A little snippet of health info here:- Artichokes help to lower blood pressure and also the LDL aka Bad cholesterol and are good for the liver, loaded with nutrients. Cover and cook on simmer till done. Garnish with chopped parsley and lemon juice. Aaaahhh!! Food for my soul literally!!
Creamy Mushroom Ramen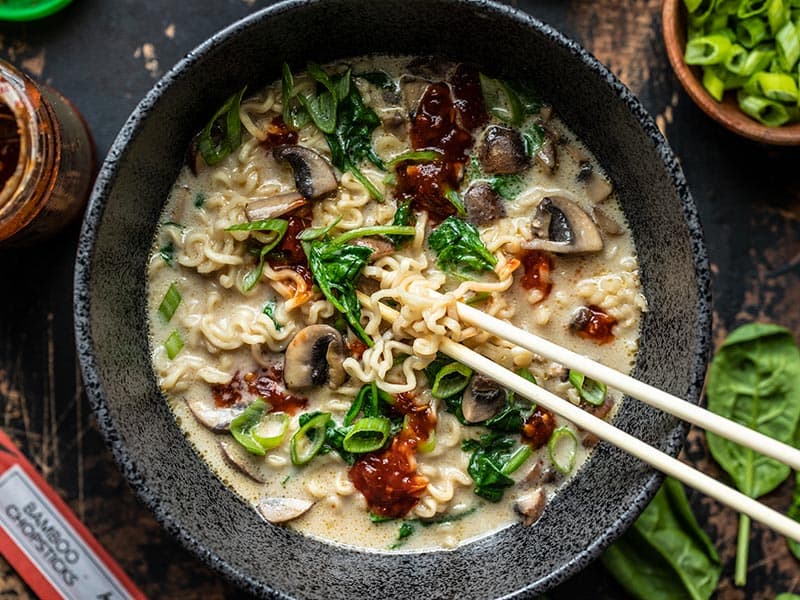 Ok, I guess I have a soft corner for mushrooms. By the way, I am one of those who used to hate them, back when I was a kid. Guess, I developed the taste and zing for them as I grew and understood their various health benefits and the flavour they impart to just about any dish you toss them into. This one is a classic example of one such dish. Saute mushrooms, add vegetable broth and cook your favourite ramen in it (without the seasoning). After they are cooked, turn off the heat and add spinach to it. After it wilts, add coconut milk and stir to finish. Serve with spring onion greens and chilli garlic sauce. Yummm!!!
So people, go get culinary creative, try these and enjoyyy Comfort In 1 Bowl: One pot Meals that would put even your FAV multi cuisine restaurants to shame! Let us know in the comments which is your favourite. Till then, Happy Cooking!!
Comfort In 1 Bowl: One pot Meals that would put even your FAV multi cuisine restaurants to shame
Comfort In 1 Bowl: One pot Meals that would put even your FAV multi cuisine restaurants to shame. Comfort In 1 Bowl: One pot Meals that would put even your FAV multi cuisine restaurants to shame. Comfort In 1 Bowl: One pot Meals that would put even your FAV multi cuisine restaurants to shame