One of Dan Brown's more relatable and enjoyable pieces of fiction, Deception Point is a story that unfolds in a manner that you may never be able to decipher, owing to its breakneck speed. With science, technology, ET (I love this theme, BTW), politics, and emotions all rolled into a single narrative, it is sheer fireworks again for fans of Brown since the man delivers another stunning thriller that will keep you gasping for breath and go zip zap zoom alongside Michael, Rachel, and the other characters in the pursuit of knowledge and truth. So, are you ready to take off?
So, basically, to tell you guys the truth, scientific discoveries, extraterrestrial life, NASA, and such significant scientific themes have always had a special connection as far as I am concerned. Not only from the actual point of view, but I also enjoy reading fiction, which tends to incorporate these aspects since a world full of technological advancements is something we have come close to living in reality, and reading what the future holds from a technological perspective has always been fascinating, more like science fiction with a scientific perspective but taking both current and future perspectives into account.
In case you guys are wondering what piece of reading has led me to give you this confiding insight, "Deception Point" by Dan Brown, one book that has been a thriller favourite of sorts with elements of science, suspense, and a whole myriad of other elements that also happens to be one of my favourites, is my musing for the day for you guys.
THE PLOT AS IT GOES
To give you guys the gist, this one revolves around a scientific discovery of magnanimous proportions where a NASA satellite discovers a rare object, claiming it to be a piece of a meteorite that holds real-time specimens and clues of extraterrestrial life. (Think ET, you guys!) When the White House wants to confirm the veracity of this claim, it summons intelligence analyst Rachel Sexton and a group of other experts, including scientists, scholars, and journalists.
Things become complicated and murkier gradually as it soon becomes evident that this "discovery" is perhaps part and parcel to a much bigger eventual political disruption that is evident owing to the impending US Presidential elections. And things get more intense since Rachel is Senator Sedgewick Sexton's daughter, who is in the presidential race too. She, however, works for the US intelligence service, a.k.a. under Zachary Herney, the current US president. Naturally, being devoted to her team, will Rachel prioritise the truth over relationships? Or will she fall prey to a bigger conspiracy, something that is beyond her?
THE CHARACTERS
To begin with, I have always admired the way Brown sketches his portraits. I mean, especially after Robert Langdon in the previous chapter, there is Michael Tolland here, the oceanographer who is a part of the expert group, a character I completely adore. The way the man handled the controversy, rifled through the clues, and handled the entire jaunt towards perusal and scientific discovery was brilliant. Likewise, a similar can be said for Rachel Sexton, who, being an intelligence expert, balances her personal and professional equations well, prioritising truth over blood ties. A headstrong, amazing character depiction, I could almost feel her sauntering through the mystique of the whole "scandalous discovery," if I may use the right connotation.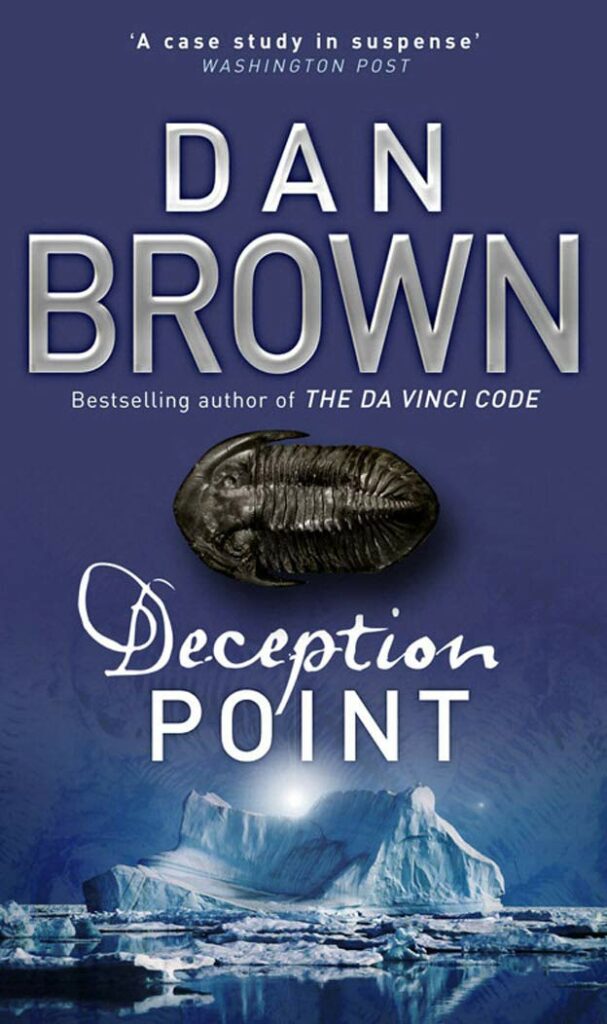 As to Sforator Sedgewick Sexton, the man is a real opportunist, valuing his political career and position even beyond his family. His shrewd nature is only matched by his infinite greed for power and his lack of emotion for even his own family.
William Pickering—now that is one character I absolutely admire and am in awe of. Indeed, "the quaker," this simple man, yields so much power that it becomes quickly evident that he has more to himself than what appears. Time will tell whether he is a hero or a Trojan horse.
There were several others, such as Norah Mangor, Gabrielle Ashe, Corky Marlinson, Ming, and others, who added their own hues to this brilliant kaleidoscope of suspense.
Coming to the writing, there are no words to describe this awesome roller coaster of thrills, science, drama, politics, and so much more that I am actually stumped as to why people celebrate Angels and Demons more, as this one has more of a real-world, commercial sort of feel to it, with the glitz and glamour it holds adding an element of interest to the entire story.
Related:
The story, which moves in a fast-paced manner in the usual parallel, multi-tap style, which I would say is the infamous Brown signature, does keep you on the edge of your seat throughout this fantastic rigmarole, making you want to read it quickly, trying to jump ahead and find out what transpires next in that particular tangent.
In fact, if I were to confess, the themes embedded in this one are much more appealing than those in the other Dan Brown novels, since the complexity is more commonplace and relatable than the other usual Dan Brown stuff, I feel.
This one is more appealing in terms of simplicity in thought and comprehension since, in spite of complex scientific terms related to science, extraterrestrial life, oceanography, and other such science trivia, it definitely will be more appealing to a larger group of audiences.
Get your Book Reviewed by Booxoul – Connect with us Now!
One of my favourite Dan Brown books, read it if you want to experience thrills in a whole new way, on a whole new level, soaking up science, technology, politics, suspense, and emotions all at once at breakneck speed. A thriller movie that possibly zips ahead, soaking you in almost all possible places, right from the snowy Arctic circle to the crowded city lanes of the USA, where politics and self-good go right ahead of one's better judgement in life and selfishness and deceit are perhaps a better sought-after virtue.
Hey there, fellow book lovers! I hope you enjoyed reading my thoughts on the book, "Dan Brown's Deception Point.
But the fun doesn't stop here! Stick with us at Booxoul for a never-ending stream of the best in entertainment, lifestyle, finance, fashion, tech, and gadgets. Plus, we've covered all things bookish, so you never have to go without your literary fix. Trust us, you won't want to miss a single post. So, until next time, ciao peeps!