Darling, Can We Start Over?: A Second Chance By Monika Meena, is a story of realizations, emotions, love, heartbreak and a lot more. Do you believe in second chances in life? Is destiny a mystic mistress whose dances are complex enough to comprehend? a story of realizations, emotions, love, heartbreak and a lot more.
So, tell me something, you guys. Do you believe in second chances? I mean do you feel that love as a relationship is a ground where second chances should be given? Say, for instance, the person you love and adore, the one you truly care for and are compassionate towards, the most in life-what if that person does not reciprocate towards you in the same manner. Then, what would be your stance? Would you still be willing to give him time to comprehend and start afresh?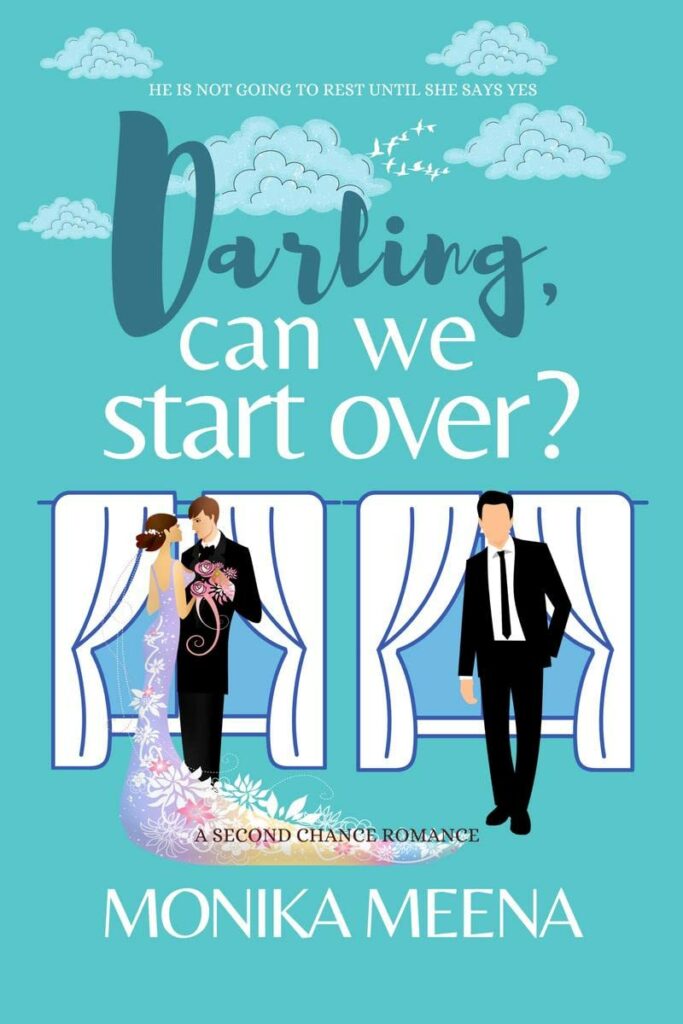 A romantic comedy by Monika Meena, Darling, can we start over? which I recently finished is one such tale encapsulating these emotions in a fresh, indulgent manner. This being the story of Sarah Walter and Ethan Stanton – it begins with Sarah's wedding day. Everything is perfect-the most endearing, heart-warming wedding preps one could think of. But, unfortunately, on the wedding day, the hall is burnt down, causing the festivities to be postponed by a period. To add more plight to this, Sarah happens to meet her ex-Ethan on the day of the wedding tragedy. Ethan, now desperately wants to get Sarah back into his life and will go to any lengths for doing so. Will Sarah choose to move alongside him or will she choose a different option in life, one more suited and better to her life?
I liked the way the story kept switching back and forth, between the past and present, giving me a foray into how Sarah and Ethan and their relationship blossomed and grew over the period of time. It was engaging to read how they were so much into love and yet there happened to be something which caused them to split and drift apart. The way in which Ethan tries to impress and woo back Sarah again, trying to win back her trust and making her believe that he is trustworthy was charming yet unsettling for me. I was mulling over whether she should forgive him for all the misery and pain he has caused her in the process. In fact, I personally was sceptical of sorts, for Sarah to give him the second chance.
Monika has done a splendid job of portraying those delicate emotions which definitely need a fine portrayal when such emotional narratives are concerned. You might say that being a romance it is not necessary that so much detail be stressed, it could very well remain to be a fun read, what with its romance and comic element in place. But, Monika here has done a great job, putting across all those emotions which are always there at the back of our hearts, yet which we do not put forth for fear of being misunderstood, vulnerability and a host of other reasons.
As far as the writing goes, well the Rom-com formula never ever goes wrong, I'd say and Monika has caught the essence pretty well, giving details wherever needed and making it a cosy, plushy sort of reading. Being her debut work, I must say that this one surely ticked quite a few boxes as far as the narrative, story, subplots, characterizations and emotions were concerned. The details for me, were a good breakthrough, as I feel detailing too, is necessary, sometimes to indulge in the minutest aspects of life. A very good debut. A perfect pick for your next Rom -com TBR, one which is perfect for a weekend binge read and when you surely want to read and catch up on that mushy dose of fun meets emotion.
Darling, Can We Start Over?: A Second Chance
Summary
Would you count on a second chance if the person already gave you enough reasons to never trust him again?

I invite you all to the beautiful wedding of 'Sarah Walter'. A warm-hearted wonderful girl who loves her family and believes in herself. Warning! Don't wear your best dress as an unintentional accident will burn the place down!
Sit back and enjoy the journey of 'Ethan Stanton, high school football captain and now the sole heir of a vast business empire, to win Sarah's heart which he ruthlessly broke earlier.

They say money can buy anything except love. Love is something to feel and understand. But Ethan always took it for granted… love was always a Plan B for him.

But he is a changed man now. Or is he?

The journey of his craziness, innocence, and his claim for his long-lost love. A story of realization and going beyond the limits to correct his past mistakes. He is not going to rest until she says YES. But, how to do all this in just 45 days when you are all alone and the world is against you?
What will Sarah choose?

Her first love or a new beginning? 
So, hope you guys liked this review of Darling, Can We Start Over? by Monika Meena? Let me know in the comments below which other romcoms have you read and also if you have any book recommendations for me.
Stay tuned for the best in the field of entertainment, travel, food, lifestyle, fashion, tech and gadgets as well as all things bookish. Only here at Booxoul, India's best book review and lifestyle blog.
Adios Amigos!