Are you equally frustrated with hyperpigmentation as I was and doing everything to get the Korean-like even skin tone?
For most of my life, I have been troubled by hyperpigmentation. Everyone including my cousins, siblings and friends, even my mom, for that matter has always had the perfect skin – a Korean like sheen to it. I have constantly struggled with hyperpigmentation, especially around the jawline and mouth area. I tried many products and realized that any skin issue needs a 360 degree turn around and only using external products is not the solution. A multi-faceted approach is needed.
THE CORE PROBLEM
India's climate is primarily tropical. Having said that acne, dark spots, tanning, and hyperpigmentation are some of the major challenges that women in our country face. Overpopulation in our country also is one contributor along with lack of proper sun exposure, improper eating habits, lifestyle habits and so on. Not to forget vegetarianism which actually is a catalyst to many deficiencies. Ya, I know you guys will be vegetarianism and nutrient deficient? But that is true guys. Vegetarian food is somewhat deficient in certain elements, especially as far as maintaining skin and hair nutrition goes.
WHAT IS HYPERPIGMENTATION?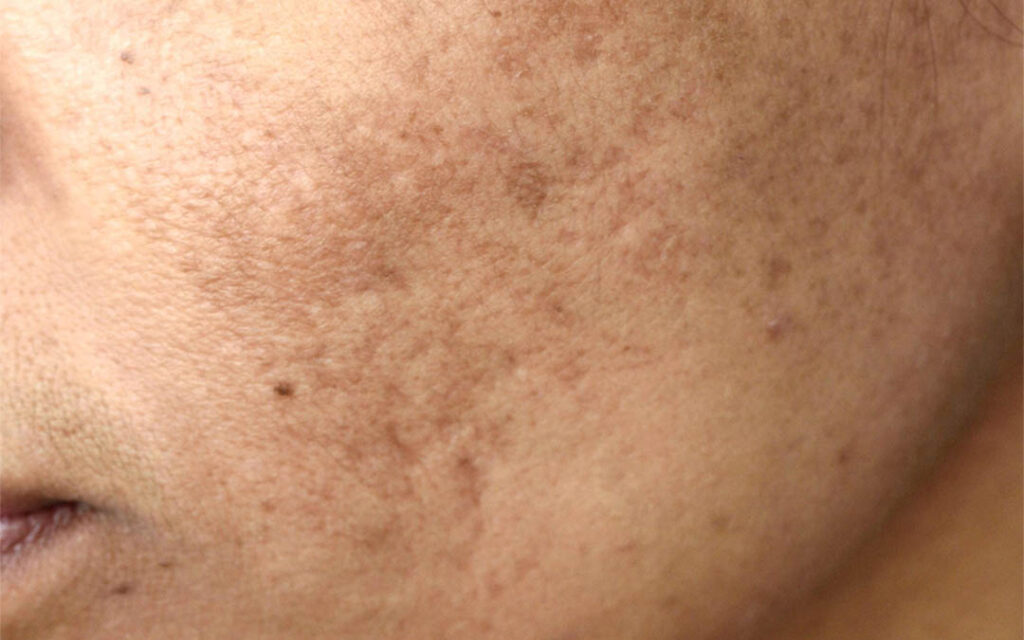 A common skin condition where one's skin has an uneven pigmentation and certain patches might appear darker than the rest. Generally, it could be attributed to an increase in melanin, also a disturbed pH balance along with the loss of Polypeptides in the skin. The most common forms of Hyperpigmentation include:
Melasma
Sunspots or age spots
Post-inflammatory hyperpigmentation.
SO, WHAT IS THE SOLUTION FINALLY?
In such a scenario, having a skin issue, it is very important to have proper skincare as well as health regime as far as breaking through its complexities are concerned. Hence, I worked out the multi-dynamic approach towards overcoming this hurdle and trying to crack the best possible algorithm one needs to adapt to achieve that nearly flawless skin. So, taddaaa, here are the 5 major steps I follow every day to maintain to fight pigmentation as well as keep my skin healthy and supple.

THE REGIME
Trust me guys, it is not so difficult to crack the correct beauty and personal skincare regime, at any point in life. Agreed, there are numerous fronts and challenges upon which you have got to work out in order to obtain that model-like look and skin tone but hey when was anything ever too easy in life?
So, here goes the correct regime serially laid out for you in a proper staggered manner. Remember, this one is my personal cracked code and it may or may not cater to you guys as many a times, different people having different skin tones and challenges, the same may or may not work.
Then again, it also may be possible that some other brands or products might appeal to you or cater to your individual requirement. Feel free to change it to suit your need. And also remember, skin is the true mirror and indicator of your physical and overall well-being, listen to your body and also most important, LOVE THYSELF
After several trials and errors, I landed upon the following. First and foremost, it is very important that pigmentation or any other skin challenge, remember to have at least 3-4 litres of water every day. Hmm, agree it's a tall claim but the majority of the toxins in the body are evicted and ejected thanks to your proper intake of water alone. Follow this up with a proper routine as I have enlisted below:
1. FACE WASH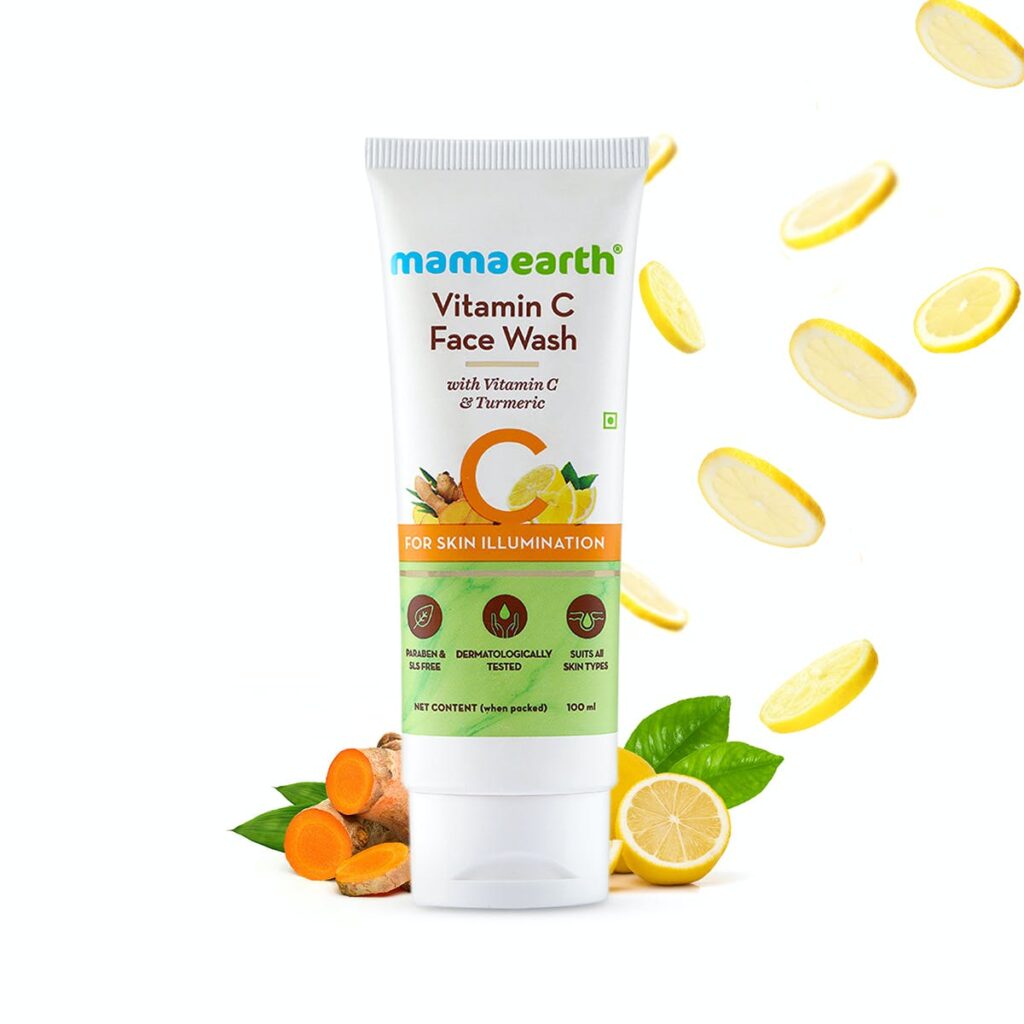 That would be the first thing I do after drinking 2 glasses of water every morning after I get up. My personal choice is Mamaearth Face Wash as it is not only natural, oil-free and Paraben free. Basically, being absolutely cruelty-free this one is also very delicate on my skin, giving it hydration and proper cleansing, which I need first thing in the morning. Actually, I have oily skin so it is crucial that there is recurrent cleansing throughout the day, at regular intervals, from AM to PM. Using some of it, in a circular motion I work it in the pores, taking care at the same time, to not rub my skin too much.
I want to reiterate here that do pick the face wash as per your skin tone and type. For instance, if your skin is sensitive and prone to breakouts you have to use a non-comedogenic face wash that also keeps it hydrated. Similarly, for oily skin like mine, with excess production of sebum, it is advisable to have a chemical-free, all-natural face wash. For dry skin, I'd recommend an organic variant that helps to retain moisture and protect your skin's natural oils.
2. Re'equil Vitamin C Face Toner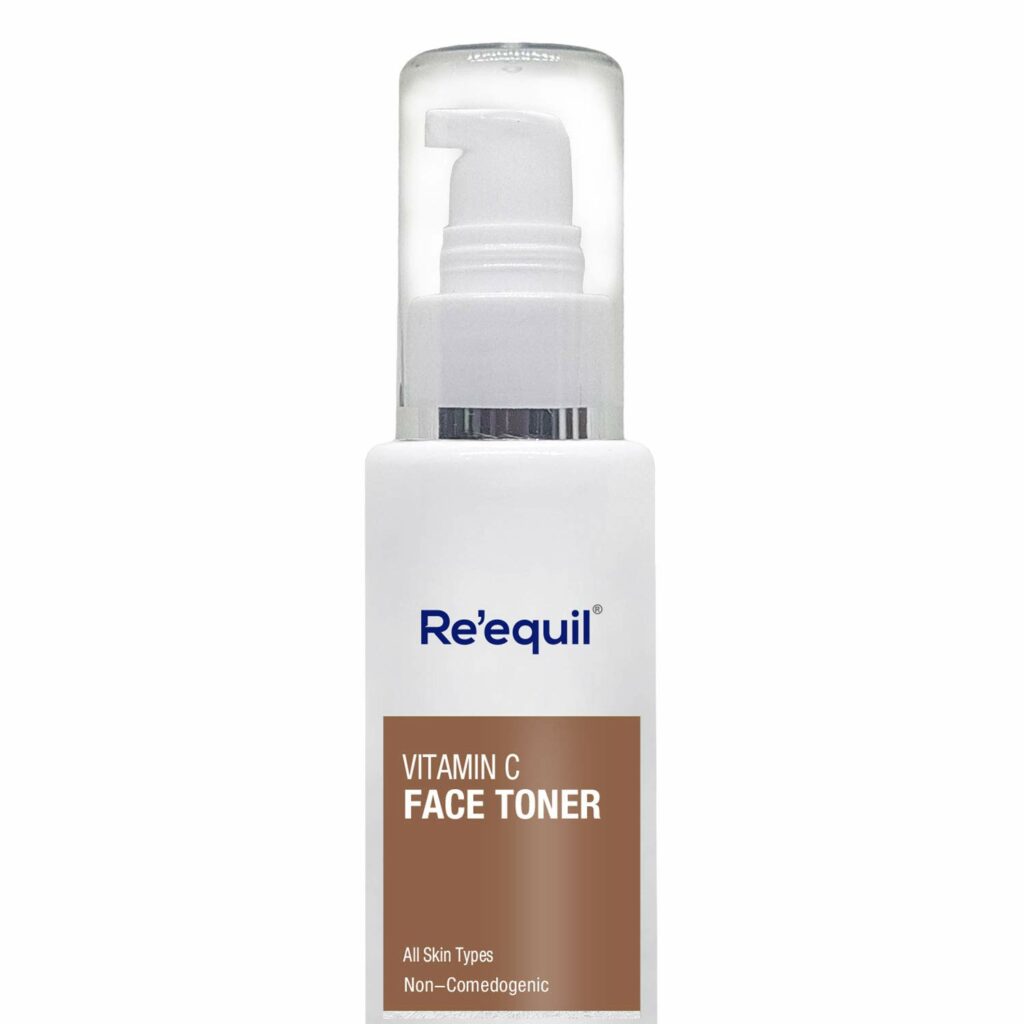 So this one technically targets opening the skin of the pores and clogs. Formulated so as to reduce pigmentation, dark spots as well as age spots, for me specifically this one I was using in the area around the jawline (that being my core dark, pigmented spot). After washing my face, I use this for the perfect food for my skin. Yes, you guessed it right. Vitamin C.
With alcohol-free formulation, this one helps cleanse pores, also reducing pigmentation alongside. Brightening the overall skin, also for me helped to reduce the dull, uneven skin tone of my face as well as boost the collagen production. It also helps in restoring the pH balance of my skin.
The Ethyl Ascorbic acid helps to support healthy collagen, brightening the skin and boosting its firmness. Also, the Aloe Vera juice boosts akin cell reproduction and regulates sebum too. You can check out other brands and their products too, which cater to your skin texture. Products from the Body Shop range are also pretty good, I'd say.
3. Dot & Key Vitamin C Glow Serum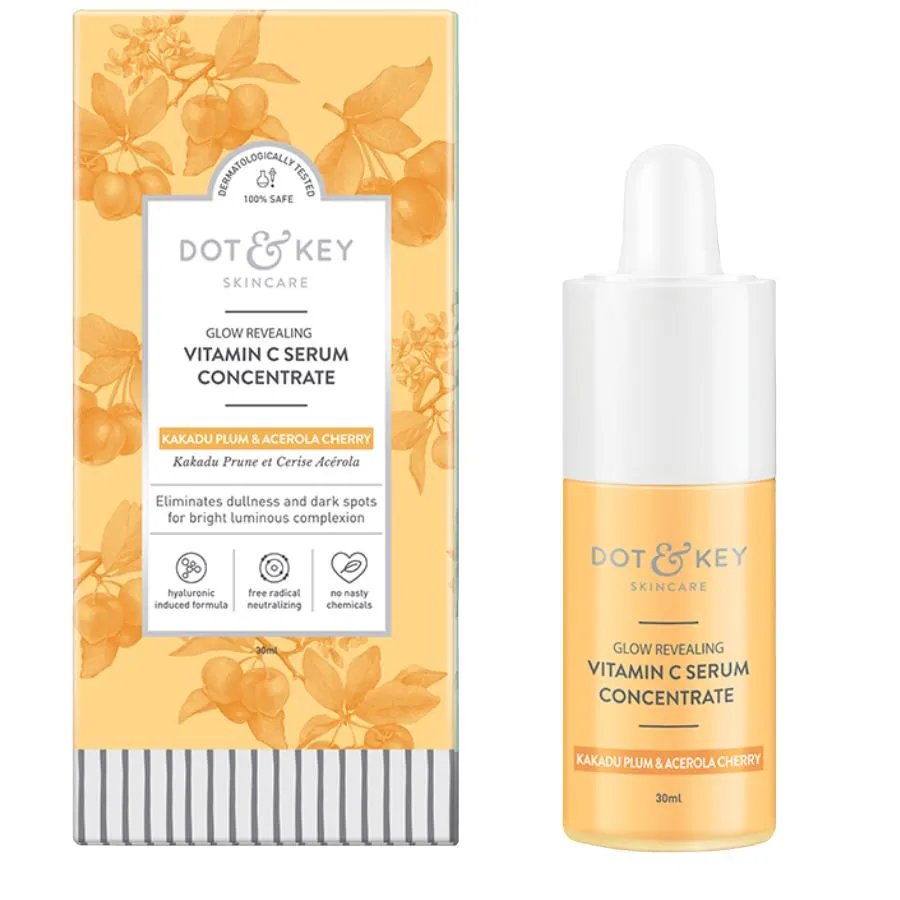 Next in line is the serum for my skin. This serum which has been specifically infused with Vitamin C is made from Plum, cherry and Hyaluronic acid. Neutralizing free radicals, this one helps to reduce the dull, dark spots making the skin appear even-toned, radiant and glowing. Also, it is lightweight in texture, water-based and thus ideal for all skin types, even sensitive skin. Statistically speaking this one actually boasts of an 87 % increase in skin brightness and almost up to 92 % reduction in dark spots. Thus, melanin regulation and a glow activating, quick-absorbing formula say goodbye to pigmentation forever.
I'd also recommend minimalist Multi peptides 10 % Face serum to anyone who wants to give a serious shot at solving this. Basically, Peptide also known as Polypeptide is Amino acid responsible for amping up certain proteins we need in our skin collagen. Collagen is made up of 3 types of polypeptide chains. So adding it to your skincare will boost your collagen production, thereby improving your skin substantially.
4. Re'equil Hyperpigmentation Cream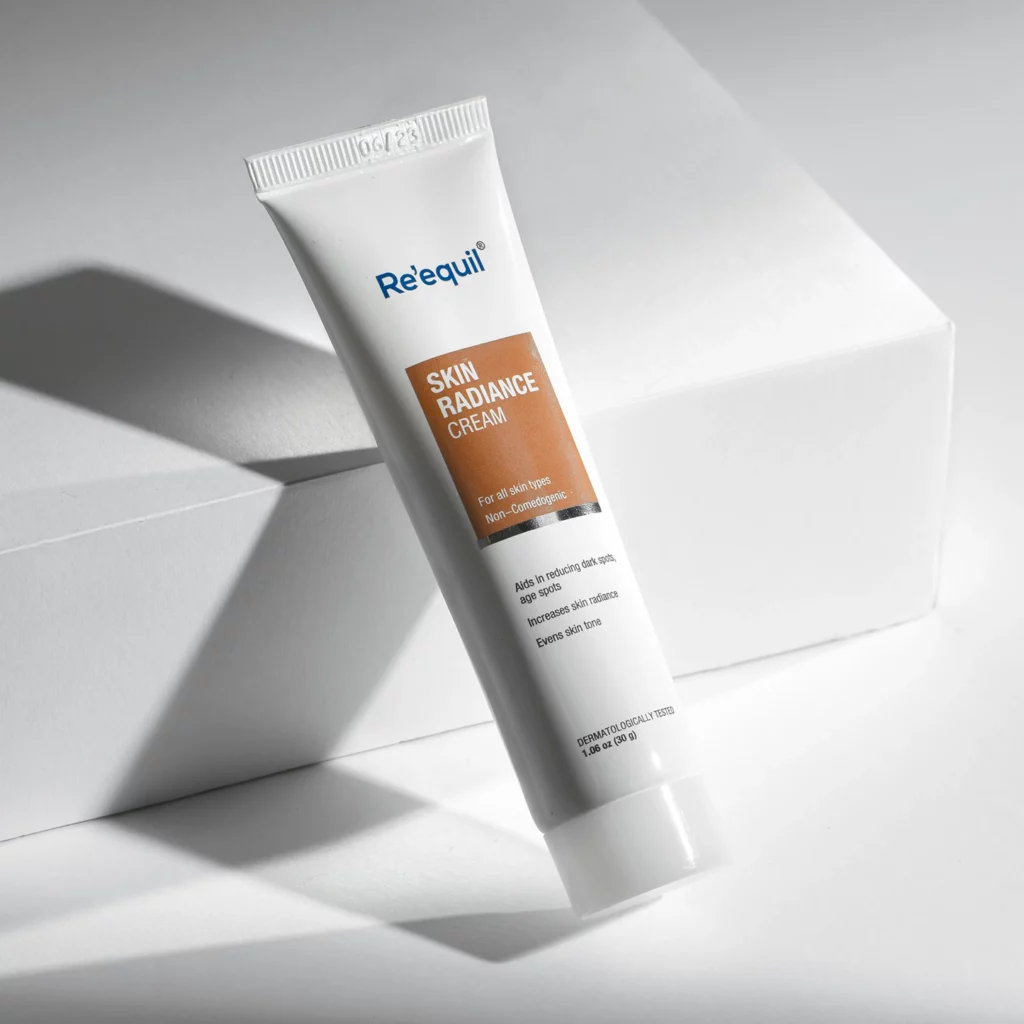 The next step for me is this one which specifically treats hyperpigmentation and dark spots too. Targeting the melanin imbalance, whilst improving the texture this one also helped me to achieve a better complexion. Specifically made with clinically proven ingredients, SLS and Paraben free, this Company actually make products targeting pigmentation from areas such as underarms, neck, knees and elbows too.
Along with Re'equil, Neutrogena, Just Herbs, Earth Rhythm, and Bioderma are some good brands to consider too.
5. Re'equil Sunscreen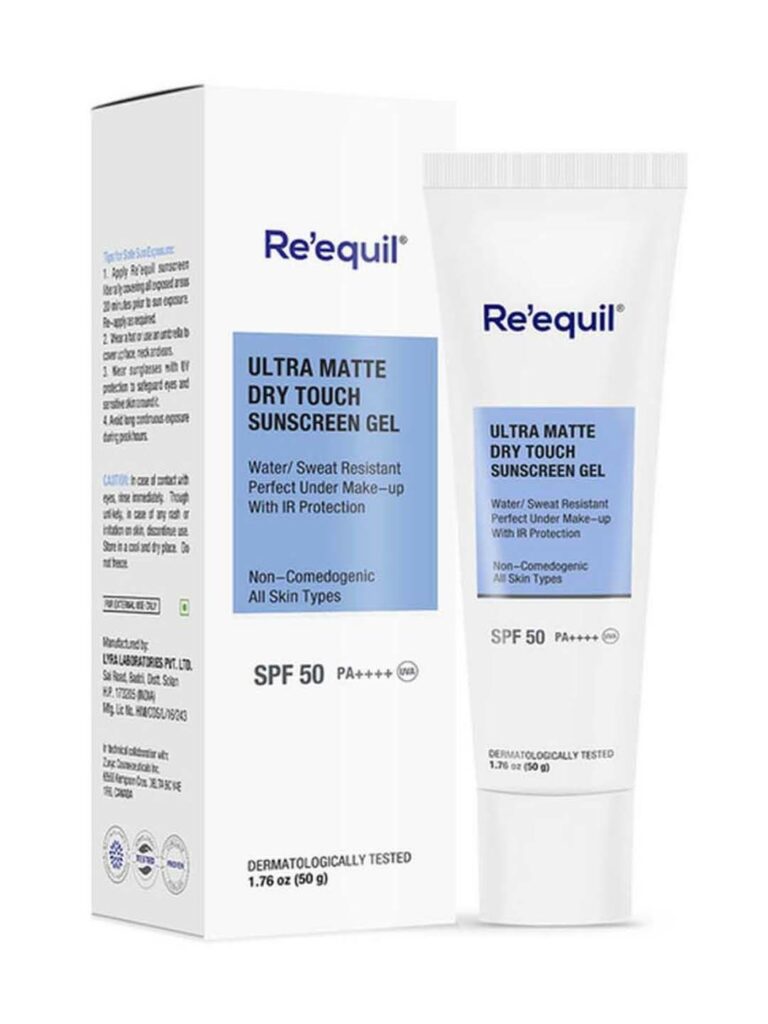 Ok, this is a must. Especially, in summers and in a polluted city like Mumbai, the harsh rays of the sun have short as well as long term effects on our skin. Thus, sunscreen is a must use.
Going for an ultra-light, non-greasy formula for oily skin especially works wonders. Not to forget that the sunscreen you choose has to be at least SPF 30 or higher. SPF or Sun protection factor is a number that indicates how long would it take for the sun's UV rays to redden protected skin when compared to unprotected skin. Nowadays, companies are coming out with products not only suited to the different requirements of people as per skin texture but also in accordance with geographic location. Remember, not only can the non-usage of sunscreen lead to fine lines, wrinkles, dark spots, ageing, and uneven skin textures but it is a very big factor responsible for hyperpigmentation too. So, choose your sunscreen wisely, keeping in mind your requirement and skin tone. Along with Re'equil, Mamaearth, Just Herbs, and Lotus Herbals are good brands to consider as well.
Agree hyperpigmentation takes a long to cure. However, consistency and patience are the keys.
Remember, the results might not be all that fairytale-like. Say 2 weeks and poof!! You are free of hyperpigmentation and so on. A problem of this magnitude takes a while before you completely solve it.
And one has got to keep trying to achieve that perfect glass skin. Coz they don't we all want that perfect Korean like skin with a sheen and shine huh?
Also, remember. A perfect balance of a properly balanced diet including all healthy fruits, vegetables and nuts along with adequate water intake and a good lifestyle is extremely crucial in order to overcome any challenge or skin issue.
So, hope you guys liked this skincare regime, I have personally curated to overcome hyperpigmentation and its effects. Let me know in the comments below what you think of them.
Keep tuning in to catch your regular dose of entertainment, lifestyle, food, travel, tech and gadgets, beauty as well as all things bookish.
Adios Amigos!