Will Ranbir Kapoor's stellar acting save the day? Or is it another flop caterwauling away to nothingness as another historic drama makes its way to tanking at the Box office? Booxoul explores 5 reasons why the Hindi movie Shamshera tanked at the box office as well in the reader's mind.
Hello, my lovelies. What's up with you all this weekend? Binge-watching web series or mall hopping?
Well, unless you are away on a stay-cation or under the rock you must be aware that Shamshera has released this weekend. Touted to be Bollywood's answer to RRR by The Print, this one has sparked a meme feast on Twitter. With the movie tanking brutally at the box office, apparently, Ranbir's brilliant acting, the larger-than-life script and characterizations, nothing could salvage the movie from tanking at the box office.
A period drama the story starts with Tribal leader Shamshera losing his life, trying to secure freedom for his tribe from Britishers. Rising to the same cause, 25 years later enters Balli( Ranbir in a double role) trying to avenge his father's death and also free his people from the grasp of the British as well as those leaders whose presence threatens to thwart their life and freedom.
To begin with, I will be honest. This movie is superb as far as the VFX visuals are concerned right from the first shot itself. It is inevitable that you will surely be sucked into the vortex of the fictional world this period drama creates in the period of the 1800s. Albeit the storyline is powerful, its execution and plot conversion are not as crisp as they should be, leading to a barely there field of interest, thanks to the snail's pace it crawls at.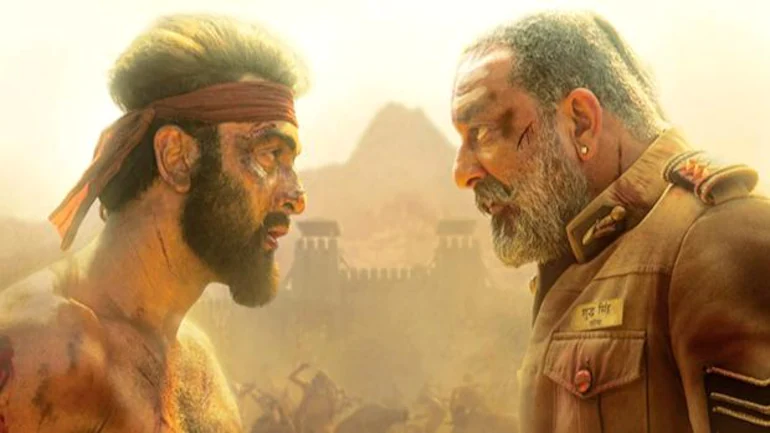 Ranbir is surely the salvage factor to this humongous white elephant. However, not even his acting alongside Sanjay Dutt can save the day thanks to the weak screenplay and even weaker dialogues attributed to the actors. Even actors like Ronit Roy, Iravati Harshe, and Saurabh Shukla fail to contribute their stellar quotient to this falling debacle with their characters barely having the detailing and attention they should have been given in the first place.
Coming to the action as well as the cinematography of the film, I must admit that a brilliant job has been done. Right before the interval and also in the climax, you cannot help but be glued to what shall transpire next. However, these add-ons seem to fizzle out when it comes to the weak storyline and even weaker execution when it comes from a director such as Karan Malhotra, who in spite of having a grand vision was not able to convert it aptly. With a canvas of this magnitude, a grandeur of this level waiting to be encapsulated, I am amazed the makers couldn't pull off a slicker one. With the stellar talent on board, some great music and hummable tracks and an amazing VFX and action, what is it that made Shamshera such a debacle?
Here are 5 reasons why I feel the Hindi movie Shamshera has tanked at the box office
Poor storyline: Even with a historic backdrop of the British era, the makers failed to induce that kind of an X factor to the film, making it a slow burn rather than a hard-hitting Historic drama.
Over board and larger-than-life aspect: Agreed the plot is enigmatic, but still a closer-to-life approach should have been done at many places to give the reels closer to life effect, I feel.
No proper streamlining: As I had mentioned earlier, from canvas to the screen, the plot has not been splayed finely, given the potentiality of its story.
Wastage of talent: Even talented actors like Ronit Roy, Iravati Harshe and othe.rs whose roles and characters should have been essayed better, seems to be all but drab in this one.
Underwhelming: In spite of all elements being humongous, it is still an underwhelming story with no synchronized execution and end result.
Sorry folks, but somehow for me at least, the end result is a drab debacle, indeed a fiasco in the form of Shamshera which could have been much better and evidently performed way better than it has.
Hope you guys liked this musing of mine on the movie Shamshera. Do let us know in the comments what you think of this and whether you are planning to go and catch up on this one. Stay tuned right here at Booxoul for more stuff coming your way, the best in the field of entertainment, lifestyle, travel, food, fashion, tech and gadgets, finance and all things bookish. Till the next blog, ciao and see you all real soon!!