House of Chikankari: Where Style Meets Comfort
Whenever summer arrives, I always have one essential concern-what to wear. I mean, what can possibly be my go-to outfit in order to beat the heat as well as keep my sass and style game bang-on without having to burn a hole in my pockets? Chikankari and Lucknowis are some of my favourites; it is the elegance of these, along with their sense of comfort and practicality, that always entices me to buy them, especially during the summer season. Fortunately, this year I have discovered House of Chikankari, the brainchild and vision of a brilliant textile connoisseur, Poonam Rawal, along with her daughter Aakriti Rawal, thereby creating House of Chikankari: one of the best ethnic wear brands, where style meets comfort.
With summer just having kicked off, I swear it has already been a sweltering rigmarole, what with the sizzling heat trickling its way down my head. And to make matters worse, this year seems to be much more cruel compared to previous years, and if news reports are to be believed, it is definitely going to get worse. In such a scenario, it naturally becomes essential to be at least equipped with the right kind of clothing, something that is cool enough to beat the heat as well as stylish too.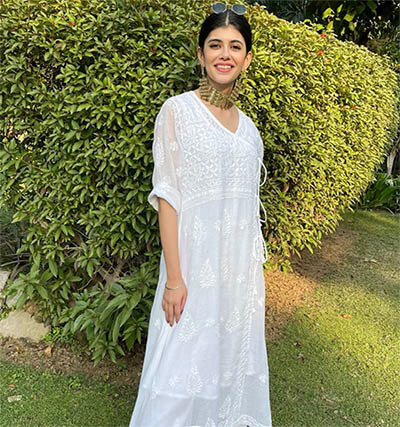 Chikankari has been one of my go-to forms of clothing ever since my college years, as I have always admired and appreciated the elegance with which this piece of clothing tends to splay. Be it Lucknowi kurtas, dresses, or any other form, Chikankari is grace and elegance epitomised at once, not to mention utility too. Yes, definitely a figure-flattering form of clothing since whoever decides to wear it is bound to look graceful and presentable, thanks to the amazing look this style gives.
You know, I always say that every girl definitely has some great Lucknowis and pieces of Chikankari stashed away, which she always decides to pull out with a flourish and wear on those occasions that require a sense of grace as well as elegance.
Being one of this clan, naturally, when I discovered the House of Chikankari, I was overjoyed. Why? Well, to begin with, authentic handmade Chikankari, along with assured quality, beautiful designs, timely deliveries, and most importantly, exquisite craftsmanship, is our very own homegrown "brand," one which even the Sharks have acknowledged and taken under their "wing." Yes, Chikankari, which is actually Indian heritage, is getting its rightful and due recognition and acclamation. Taking Lucknow to the world, House of Chikankari turned out to be the perfect go-to brand for not only my usual haul of Lucknowi kurtas but also dresses, sets, gowns, sarees, kaftans, and lovely dupattas, as well as all sorts of women's occasion wear too. I picked up some really pretty pieces, including a Chanderi kurta, a Mulmul gown, and a Gharara set. In fact, I am like-really smitten with this pink Adara Mulmul straight kurta palazzo set, which I simply had to buy and couldn't pass up, you know!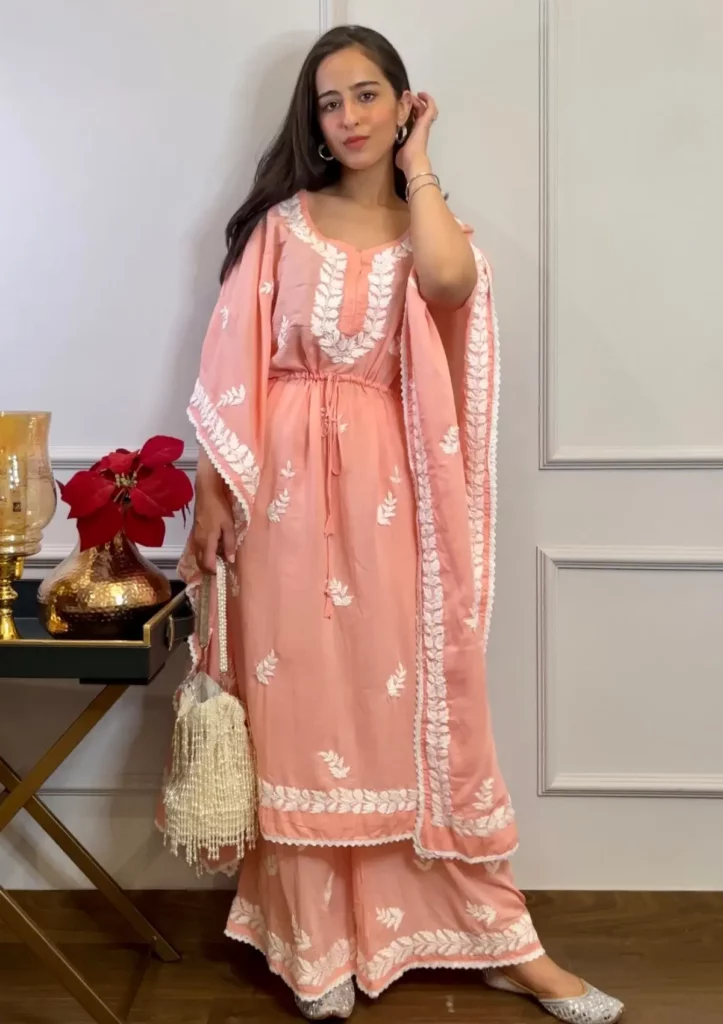 My sister, who got super excited seeing my purchase, too got a very pretty Angrakha for herself. She got this lovely Afreen Modal kaftan set in a peach shade, which was awesome.
Oh, wait, there's more. Why must my brother be left behind in the melee? Oh no, he didn't buy women's wear; he got men's wear here too! Yes, House of Chikankari has a men's wear range too, -with kurtas as well as bottoms available. Yes, Big Brother finally got his hands on that amazing pastel straight formal kurta he had been meaning to get for ages. Uff, so cool he looks in this one, yeah!
For me, there is one more thing that sets this brand apart from the others-their pledge to re-instil the pride of artisans in their exquisite craftsmanship and sustain it to provide economic and social empowerment to all artisans' households. Yes, I believe you guys, and I stand by your cause. Let me tell you guys, their quality is amazing and totally resonates with me. So go ahead and check out their products, and I am sure you cannot resist buying a piece or two!
So that was a little tete-a-tete from me today regarding my piece-le-resistance' I got from the House of Chikankari. Stay tuned with us right here at Booxoul for the best in the fields of entertainment, shopping, food, fun, finance, fashion, education, lifestyle, tech, and gadgets, as well as all things bookish.
Adios Amigos!
This post is part of the #BlogchatterA2Z challenge