A stunning masterpiece that is intimidating, immersive, and scintillating all at once, Avatar-The Way of Water is not only a brilliant and much-awaited sequel; it is that enigmatic piece of art where James Cameron has merged reasoning with aesthetics, skillfully building upon the idea from the previous and branching it out so that it is as beautiful and mesmerising as it is expansive and incandescent.
You won't be able to close your eyes for even a fraction of a second once you start immersing yourself in this 3-hour-plus drama because, hey, that's how loaded the movie is—so much that Cameron gives us packed in Pandora's story—full of colour and not simply blue at all!
The most dangerous thing about Pandora is that you might grow to love her too much.

Jake Sully, Avatar: The Way of Water
Yes, I am bleeding blue, guys! I mean, it's as if I'm breathing through another dimension, having been frozen away like a tiny little egg in a cryogenic chamber, away from this shrewd, living world where "demons" exist. Oh, yeah, demons, because that's who we truly are, BTW, and not sapiens, I feel.
Sometimes, after an immersive experience of sorts, people always say, "I feel on top of the world!"
I do feel that too, albeit I also want to add another fundamental question I have always felt: Where do we come from and where are we going? Because, like seriously, going through this one and feeling the emotions of the people—Na vi' as well as the Reef people (Metkayinas)—made me feel like the smallest particle of this wide universe, not even worthy of being seen, let alone acknowledged. We, humans, are so shallow, selfish, and full of ourselves that we fail to recognise that we are the smallest ion in this vast cosmos and that our existence barely registers, let alone makes a difference. Yes, we are less than trivial—zero, to be honest.
The people say all energy is borrowed and someday you have to give it back.
I'm wondering what compelled me to be so candid. Well, as I sat diving into one of the best possible films of the decade, Avatar: The Way of Water, every alternate frame and each and every instance compelled me to go back to that thought I shared earlier about understanding the complete ideology behind our point of existence. Is survival of the fittest the only viable option? Weren't we born to be a species that is capable of coexisting? And yet, here we are fighting for the most trivial of things, refusing to share. Sad life, huh?
So, my point before we start discussing movie aesthetics is simple. Why is it that we humans are so greedy and insatiable? Why can't we just be simple? Loving and caring and yet full of only life—that is how we are meant to be. Why is it so complicated, with so much hatred, and so technologically hungry? In some ways, technology is comforting, but in reality, it is eroding the true essence of our species. Cameron has put this forth so brilliantly that I am still reeling from this dynamic, multi-takeaway cinematic venture, which has a message in every frame.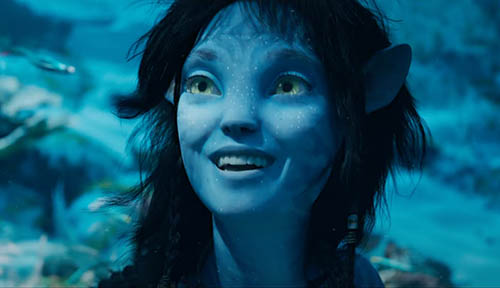 Coming back to the film, well, this one does a 360-degree flip, dousing us with the best possible experience as far as the VFX is concerned. A must-watch movie, Avatar-The Way of Water is a joyous, wondrous experience, complete with the expansion of the already stunning world of Pandora with creatures from the water and also the Reef People. 
The story begins with Jake Sully and his family living happily on the extrasolar moon Pandora until a familiar threat returns to complete what was previously started. With so much on the line, Jake must collaborate with his partner Neytiri to protect his family, his Na vi' herd, and the entire population with whom he coexists. What he did not count on was Colonel Miles coming back in a special avatar to take revenge. Will he be able to protect his people and his family? "Well, I see, you see, we all see the sea!" To see what transpires in their trysts with water and its people, watch this one.
The way of water has no beginning and no end.
Our hearts beat in the womb of the world
Water connects all things—life to death, darkness to light.
The sea gives, and the sea takes.
There is simply so much that Cameron has put together and assimilated in each and every frame that it comes as no surprise that it took 10 years plus for the sequel to arrive and that it has landed with a bang, as do the "Sky People," and how! I am stoked with the complete cinematography, visual effects, story, and characterizations. I mean, I have literally floated alongside them in the water many a time, riding on the broken fin of "Payakan," the outcast Tulkun, or even scaling across the mountains on an Ikran, exploring the strange, mystic world of Pandora, well knowing that yes, this could very well be the future of my species, my humanity, in, say, the next 200 years or so.
Related:
The background score was equally scintillating, as was the fact that Cameron has created a magical aura that stays with you long after you have finished watching Avatar-The Way of Water. Family bonding, love, as well as war, legacy, the multiverse, alternate realities, and VFX by the score—I mean, fitting all of this together so brilliantly and so picturesquely is a humongous feat, and I see you, James Cameron sir, your skill with your craft is Magnifique!
On a very tiny flip side, some people may argue that with a run time of 3 hours and 12 minutes, this one is long and tedious, but hey, you complain boxes, when did length ever deter the merit and skill of anything ever? Excellence will remain excellent no matter what, right?
One term for this one: "Surreal yet fantabulously fantastic." One line for you peeps: drop what you are doing and go watch this one now. And please, please do show it to your kids; they "need" to see this, guys!
P.S.: In 3D, please!
Every song cord must have the last bead
Fortunately, this sequel is not the final bead in the chain, and I can't wait for the next one because this one ends on a cliffhanger. I am more than positive that someone will beat this already magnificent work of art. Mr James Cameron, I hope you're listening, and hurry up with the next one because we're not Avatars but humans with limited time and want to see them all, mate!
So, I hope you guys liked my tete-a-tete for Avatar-The Way of Water.
Stay tuned with us right here at Booxoul, your very own bookstaverse, for the best in the fields of entertainment, lifestyle, food, fun, finance, fashion, education, tech, and gadgets, as well as all things bookish.
Till then,
I am still bleeding blue. Know why?
Coz,
"I'm definitely faster when I'm blue!" Spider from Avatar: The Way of Water