Having perfect, healthy skin is a dream that we all have but find difficult to achieve. So, today we're going to give you a quick rundown of 5 Lotus Botanicals products that you absolutely must include in your beauty routine if you want to achieve flawlessly beautiful skin.
Perfect skin, or the famous Korean glass skin as many refer to it, is not an easy feat to achieve, in my opinion. Perfect skin appears to be a distant possibility due to our erratic eating habits, lack of nutritional food, stressful lifestyles, and a variety of other factors. To complicate matters further, the products available on the market for achieving perfect skin appear to be a big complicated mass of synthetic synergies, one that is simple to create but difficult to maintain because anything artificial is definitely not good for one's skincare regime.
I, for one, am extremely wary of using products without first conducting thorough research and testing. I sincerely believe that exposing your skin to more synthetic materials and exposure causes more harm than good. As a total sucker for natural over artificial products, I recently discovered the Lotus Botanicals skincare line, which truly embodies all things pure, balanced, and botanical, as they rightly specify in their vision. Their product line is completely safe, certified, cruelty-free, and preservative-free, and it is also made from plant-derived, natural, ethically grown ingredients.
Falling in tandem with nature's most restorative and nourishing ingredients, I noticed that they have created pure skin and hair care products with each and every product delivering a potent concentration of plant actives that are truly transformative. They are also paraben, sulphate and silicon free.
So, today I am bringing you the 5 Lotus Botanicals products you must add to your beauty regime for beautiful skin.
Containing naturally powerful antioxidants that naturally cleansed my skin without either affecting its natural moisture or even its pH balance, this one has been my best friend to keep dull, dry and uneven skin at bay. Vitamin C is as it is touted to be aiding in the skin's natural cell regeneration. Refreshing, radiating and also energizing the skin, this is one of my most recommended products from Lotus Botanicals.
Natural Baking Soda Deep Cleansing Face Wash
Did you know that baking soda has excellent skin healing as well as rejuvenation properties? And wait there are brownie points to using this one owing to its anti-inflammatory properties that help me manage my acne breakouts too. Deep cleaning my skin, this one not only tightened the pores of my skin but gave it a glowing, radiant look! A must-have if you want to prevent acne, blackheads as well as whiteheads.
Bio-Retinol Youth Radiance Sleeping Mask
Do you know the holy grail ingredient for anti-ageing and anti-acne products? Bio Retinol- a Vitamin A derivative. This ingredient not only helps in reducing fine lines and wrinkles by increasing the production of collagen, but it also stimulates the production of new blood vessels in the skin thereby improving skin radiance. Locking the moisture into my skin, this one literally made me wake up every day to fresh skin that seemed to glow from within. A cream that works overnight, this one is a non-comedogenic, ultra-moisturizing sleeping mask which repairs my skin all night long, giving it replenished, soft and almost flawless skin the next morning. This one is also touted to reverse ageing and pigmentation if used regularly. Hmm, princess feels and pampering for me, in the form of this one guy!
Vitamin C Skin Brightening Face Scrub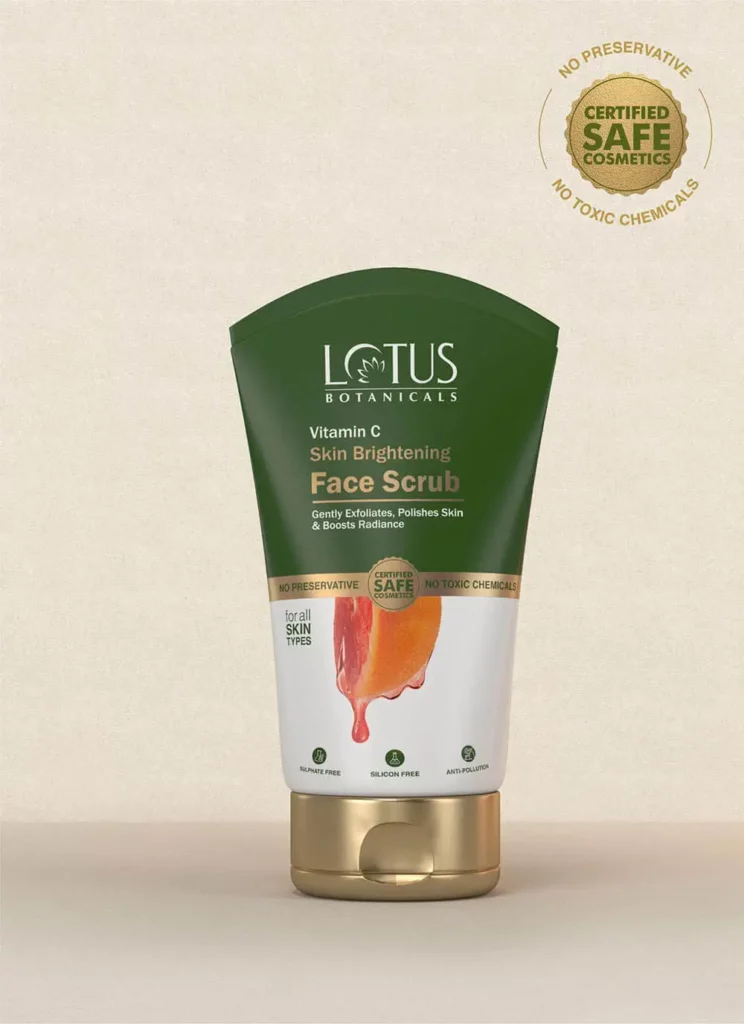 I always feel that ideally, one should exfoliate your face twice a week. Too much exfoliation leads to drying out of my skin's natural oils whilst too much scrubbing also seems to irritate it. Thus, I have started using this one which is made from pure, natural ingredients which are also vegan and nourish my skin brilliantly. This one surely dazzled my skin by making it naturally softer and brighter. And the best part? Well, in spite of being a scrub, it was pretty gentle on my skin ya!
Vitamin C Skin Brightening Face Serum
Boosting the production of collagen, this one not only helps to keep skin inflammation and irritations at bay but also has a host of other advantages too. A light and non-greasy face oil of sorts, this potent antioxidant is surely one of the best skin-brightening serums I have come across in a long time. And you know what? My face feels so amazing after applying this one that I cannot even begin to describe it. Voila!
So, these were the 5 amazing Lotus Botanicals products which I felt you guys must add to your beauty regime for beautiful skin. Stay tuned for much more from the field of entertainment, lifestyle, tech and gadgets, finance, fun, fashion, as well as all things bookish. Until then love thyself coz we all live only once ya!
Ciao peeps!