Personalized gifting this season for your loved ones, celebrating the spirit of Womanhood this Women's day: A brand that chooses to go vegan yet as stylish as leather.
So I was milling about a couple of days ago, trying to think of a good thing which I could gift to my brother. I knew he usually likes the finish and styling of leather products but somehow wanted to gift him something different yet as beautiful and stylish as them.
Thanks to The Black Box Co and its wide array of personalised gifting options, I finally could give him something which was not only stylish but also of a quality that is as durable and beautiful as genuine leather.
I know you guys will be like ab to Women's day is coming. So why only think gifting options for him. You will get many for her to guys.!!
The Black box Co where all products are made painstakingly with the minutest of details being carved with the utmost care, use only Vegan leather to manufacture their products. Ya, I know you guys are going to be like Vegan leather? That hardly qualifies. But hey, trust me guys not only was the texture and finish as beautiful as genuine leather, but also the fact that no animal skin is being used to manufacture these was a definitive one up for me at least.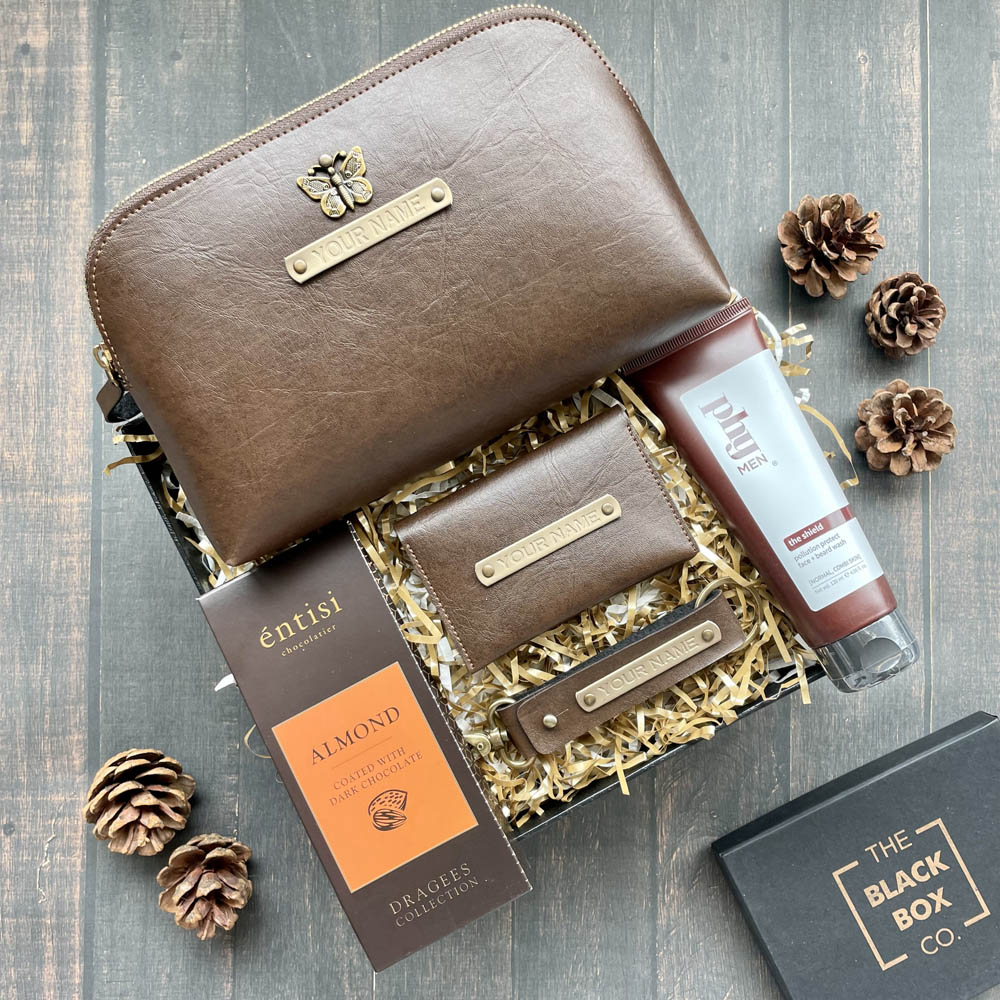 The Black Box Co is into providing curated boxes- products contained within complementing each other brilliantly, providing you comfort and adornment whether it be their travel curated box or office space boxes and so on. With a wide variety ranging from phone covers, passport covers and holders, to personalized key chains, travel organizers, device organizers, Laptop organizers, they not only have your lifestyle needs sorted but also provide you with a host of products to amp up your gifting game.
Well, I ordered a laptop Organizer and boy oh boy! What a finish and feel it had. Not only was the texture akin to Leather, but what impressed me was the intricate detailing, with dedicated compartments and spaces to organize and arrange the tiniest of accessories and knick-knacks that go alongside a laptop. They offer you a choice of colours to choose from as well as stylish charms to adorn it with the options to emboss your name on these pieces.
 Promising to keep you completely stepped up on the utility and stylish gifting quotient, The Black Box Co. offers a host of products right from Passport Covers, Diaries, Key chains, Tags, Laptop Organizers, Wallets, Pouches and many other options.
For me, alongside the styling and quality what also formed a very essential point of concern was the fact that all these products were cruelty-free i.e being vegan they were made of synthetic material, without having harmed an animal in the process of procuring the material for the same.
And in case you are having concerns over its pricing, let me tell you guys the big news. I for one would strongly say that the products are not overpriced at all, alongside the fact that you are getting premium quality for what you are paying. Not to forget the huge array of options you have to choose from, making your gift personalized and an object to use well and cherish for keeps, by your loved one.
You can go for their curated boxes or even curate and customize your own as per your need, budget and requirement. I also had called for a personalized water bottle which was equally amazing. So you can also personalize the products with the names engraved upon them as well as charms.
By the way, they have some offbeat gifting options to choose from too, like pocket squares, pen stands, personalized shoe bags, travel wallets etc if you want to give bae some serious competition for a perfect gift this season. I mean mushy mashy gifting is something we all do every year. Why not go for something that will be as useful as it is good?
Check out their link below and have a look at the fabulous splay of products they are offering. I am sure you will not only pick something for bae but all your loved ones as well as all those women who you want to laud because they are a host of good quality products meant to be gifted to nobody but the BEST in your life!!
Hope you enjoyed our article Perfect, Personalized Gift Solutions For Her And Him This Women's Day