Be it Rang Barse or Jai Jai Shiv Shankar, Bollywood has given us the most iconic Holi songs to celebrate the festival of colours with pop and vibrancy. Are you ready to celebrate the festival of colours with some foot-tapping beats and colourful lyrics? Holi, the festival of joy and happiness, is incomplete without some Bollywood masala music to add to the celebration. Whether you're dancing with friends or drenching each other in colours, Bollywood Holi songs can elevate the festive mood to the next level. From classic hits to recent releases, Bollywood has an extensive collection of Holi songs that will make you groove and sing along. In this blog, we have curated a list of the best Bollywood Holi songs that you can add to your playlist and make your Holi celebration a memorable one. So, get ready to sway to the beats of these Holi songs and let the colours of joy fill your heart.
And it's here! One of the most vibrant and joyous celebrations in India, the festival of colours, is finally here-Holi. A time when people come together to spread happiness, love, fun, frolic, positivity, and some great music and food (not to forget those mouth-watering Holi sweets, huh!)
Bura na maano Holi hai! Bas, this line and without warning or a preamble, you will be doused in some of the most vibrant and unexpected colours, drenched with the joyous vibe, tickled with the fun of mischief, and most importantly, on this one occasion, you can simply be yourself, letting your hair down without any inhibitions, and enjoying the festivities along with others to your heart's content.
Also: 7 Easy-to-Make Diwali Mithai Recipes for This Festive Season
So along with the mouthwatering Ghewar, Chandra Kalas, Thandai (did I hear someone say Bhaang?), an array of sweets, and Samosas, have you guys also prepared your list of the songs you want to be playing on Holi this year? No? Never mind. I've got you covered, my lovelies.
Presenting the best Bollywood Holi songs to add to your playlist this festive season:
Rang Barse – Silsila
The movie which is simply not remembered for the outstanding chemistry between Amitabh Bachchan and Rekha but also for this iconic number has given us the cult Holi track of our lives! Rang barse. I mean can anyone even match the vibes Bachchan Sr. exudes, the charm of Rekha and the playful banter created in this one? Uff!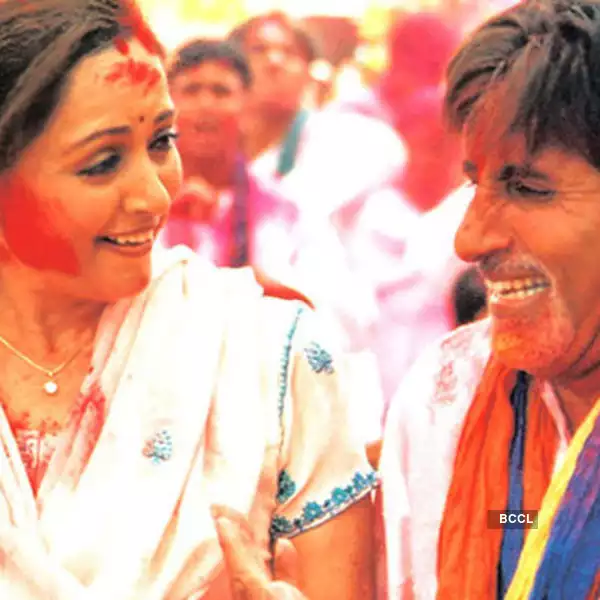 Hori Khele Raghuveera – Baghban
Another hot number played almost at every party, this one is again from a movie which has been a cult from the 2000s. There is something about the way Amit ji handles the whole track and its depiction that tends to make any song so iconic and appealing.
Holi Ke Din – Sholay
A track from one of the most classic films of Bollywood to date, this number from Sholay features a famous high point of the movie just before the climax where things boil to an unexpected turn.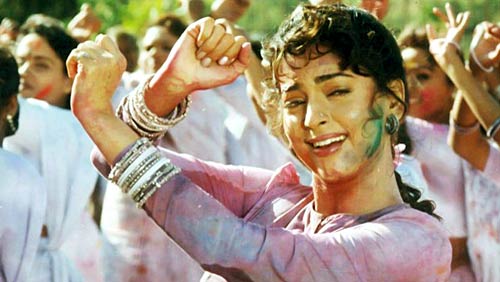 Balam Pichkaari – Yeh Jawaani hai Deewani
Ok, I am going, to be honest. I simply cannot get over this one as the chemistry between Ranbir Kapoor and Deepika Padukone is just too amazing to be ignored. Plus, the peppy, zingy beats of this number, I mean come on guys, it's been almost 10 years and yet this track remains as fresh as a daisy.
Ang Se Ang Lagaana – Darr
A track from the cult movie by Yash Chopra, this one too, is almost always played at all Holi get-togethers. Shahrukh in this one was kkkkkkkkk….krazyyyyy!
Aaj Na Chhodenge – Kati Patang
An anthem of sorts, any Holi party commences with this one dating back to the 70s. Rajesh Khanna and Asha Parekh, need I even say more? This dance track is as iconic as time.
Soni Soni – Mohabbatein
I am literally in love with the songs of this Chopra movie. (BTW with the movie too) So like the whole jugalbandi of Gen Z vis a vis the "fine wines" is like liquid love! And the girls are so cool in this one. And that moment in the end when Aishwarya comes and does the "giddha". Love love love!
Jai Jai Shiv Shankar – War
Hrithik Roshan and Tiger Shroff, need I say more? Two Greek Gods, 2 legends and 1 epic track! Bring all shades of dance with this awesome number. Vishal and Benny were awesome in this.
Holi Aayi re – Mashaal
Relish this number from the 1984 movie which features Kishore Kumar and Lata Mangeshkar which again forms a part of every Holi playlist ever played.
Do me a favour. Let's play Holi – Waqt
An Anu Mallik number, this one has all the elements of ched-chaad, masti, and the ultimate Holi vibe to it. So, do me a favour and let's play Holi!
So, these are the best Bollywood Holi songs you must add to your playlist. Let me know if you would like to add any more tracks you can think of. Stay tuned with us right here at Booxoul for the best in the fields of entertainment, lifestyle, food, fun, finance, fashion, education, tech, and gadgets, as well as all things bookish.
And yes, play safely, be responsible, and enjoy the colours of life.
And P.S., save water and the environment too, my lovelies!