So, when you buy skin and hair care products, what do you usually prioritize? Quality, sustainability, effectiveness, non-synthetic, 100% natural, or something else? Well, are you also one of those who fall into the vicious cycle of going for the big brands, or biggies, as I like to call them? Why not try instead a homegrown brand that is equally effective, dermatologically tested, and sustainable? I am talking about Earth Rhythm, a brand that I discovered, and some of its products, like the Shikakai Shampoo Bar and tinted lippies, that I am going to discuss with you today.
You know, I have always felt a particular fondness for homegrown, 100% effective brands over perhaps even the biggies," as I like to call them, for the simple reason that they always tend to be much more effective. I always feel that along with the best possible quality and being dermatologically approved, they are safe, non-toxic, sustainable, and brilliantly effective.
Toh, TBH, with you guys, the idea for this discussion cropped up in my mind today since, while in my pursuit to pick up the most effective as well as sustainable products for my skin and hair, I realized that it is not always necessary that I have to turn to big names like L'Oreal, Schwarzkopf, or names such as Lotus Herbals and so on. Some homegrown brands, in spite of being relatively new in the market, were equally effective in giving me 100% deliverance along with being dermatologically safe and tested as well as sustainable. Now, sustainability, peeps, is also an important aspect since it is important to analyze what one actually takes from society and gives back.
I am referring here to the homegrown Earth Rhythm and a couple of products that I happened to pick up from their website, which made me go gaga over the kind of quality they are delivering. They happen to be India's first homegrown brand, and they invest in clinical trials and research too. All so that they can create products that meet the needs of the customer. Along with being backed up by scientific research and effectiveness, what worked as a win-win factor here was the fact that the formulations created by them were unique, falling in tandem with technology-driven skincare and hair care. With a range of potent formulas that target a variety of skin care issues and challenges, I personally felt that products from this brand were curated to meet the needs of all.
Let me give you guys a product-by-product breakdown of which ones I ordered and what I felt about them:
Shampoo Bar with Shikakai, Reeta, Amla, and Curry Leaf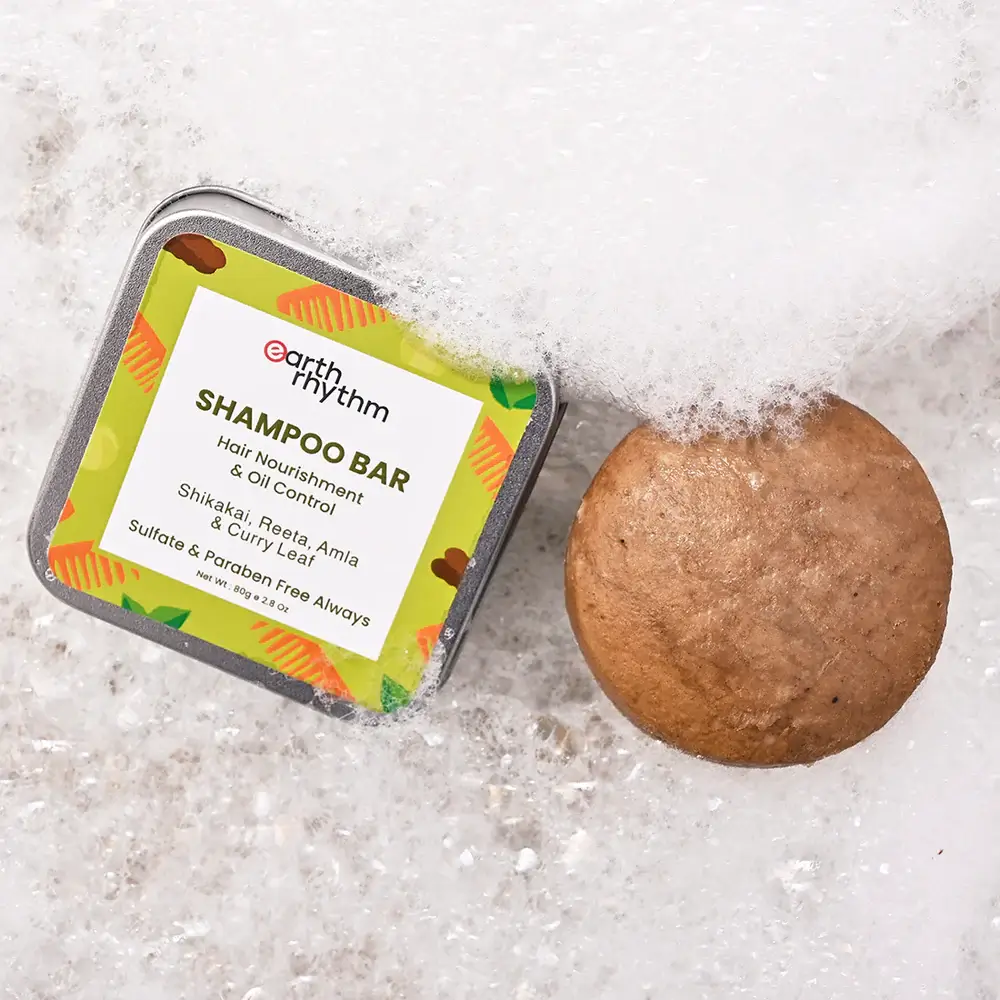 OK, I am going to share some home truths here. Although I am usually a sucker and always in favour of following dedicated hair and skin care regimes, somehow I always feel that using products like hair masks, conditioners, and other post-wash products is something that I could do away with sometimes. I mean, what if all of it were to be simply replaced by a basic shampoo bar, one that can be used simply—no fancy rocket science or procedures, just apply and bang on! You get super silky, smooth-textured hair within weeks. It sounds unreal, but it is true, people.
So, while I called for and used this one, I was pleasantly surprised to discover it actually helped me control frizz. With ingredients like shikakai, curry leaf, amla, and reetha, this one for me was all-natural, in the right proportion, and working wonders on my hair from Day 1. This one is also supposed to prevent premature graying, which, again, I feel, is a major problem we face today. With a light fragrance, this brilliant bar is what you ought to pick up to ensure you get that great texture without using a host of multiple products to get the same result. And hair quality, guys? Fantabulous—there is no other word for it.
Tinted Lippie SPF 30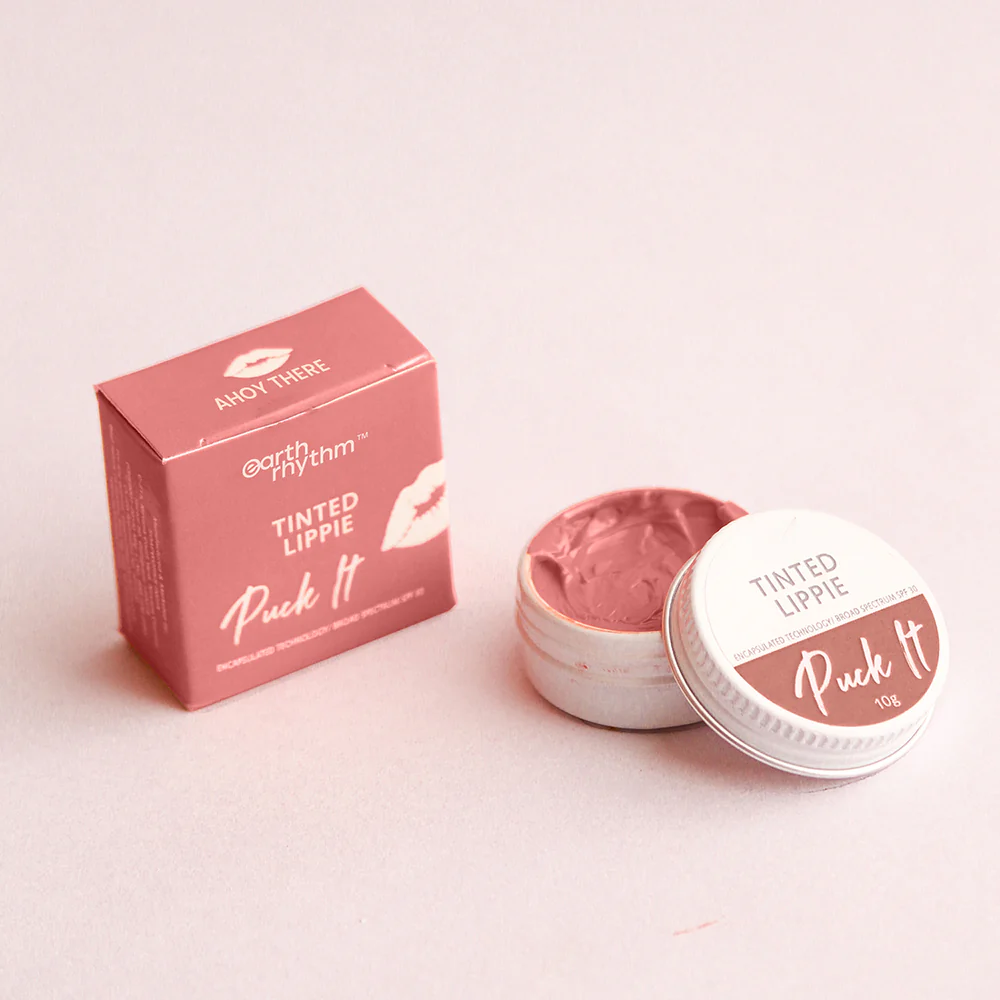 Well, you know I am also super fond of naturally made lippies rather than your usual synthetic lip tints, and that is what compelled me to try my second product from Earth Rhythm, the Tinted Lippie SPF 30. Having called for "Ahoy there", a beautiful caramel nude shade, this one, being enriched with the goodness of Almond oil and Shea Butter, also has an SPF 30, which is a great addition considering our hot and humid climate. Infused with the goodness of cocoa butter, this one had a super creamy feel as well as a nourishing formula, which helped it last all day long on my lips, keeping my pout so hydrated and luscious!
A tip for those battling dry lips: pick this one up. You simply can't go wrong with this, dearies! With anti-bacterial, anti-inflammatory, and antioxidant-infused ingredients, this is your perfect go-to lippie, I feel. And the best part? There are more than six beautiful shades to choose from. So, why wait?
So, I hope you like my view on homegrown products from Earth Rhythm Shikakai Shampoo Bar and Tinted Lippie: An Effective, Sustainable Product Check.
Let me know in the comments which one you are planning to try. Stay tuned with us, right here at Booxoul, one of Asia's best book review and lifestyle bloggers, as we dish out the hottest and most relatable news in the fields of entertainment, travel, food, fun, finance, fashion, education, tech, and gadgets, as well as all things bookish.
Adios Amigos!
Keywords: Shikakai Shampoo Bar, Tinted Lippie SPF 30, Product Check, Homegrown products