Interview – Nitya Ravi, the author of The Woman Within
Psychological thrillers always hold a special place for me as I very strongly feel that they need a lot more work than just a crisp plot, story and character creation. The entire chain of events, the complete elements required to make it intriguing, the right amount of thrill and chill factor, all of this in a correct equilibrium, together coupled up with an uncanny vibe are the ultimate combination to be achieved to pull off a great thriller.
Recently having finished The Woman Within a brilliant psychological thriller, I have to introduce you to this fabulous writer, super Author and most importantly a master of many trades.
Currently residing in Dubai, on a break from her corporate job, Nitya Ravi who was born in India has always enjoyed expressing herself through written words. She was always interested in storytelling right since she was a kid. She used to love to make up stories and get her friends to enact the same. As time passed, she started writing short stories and also plays for college functions. At that point, it surely was only a matter of time before she began to write a book. Finally, 10 years ago she began to write one, which nevertheless stands unpublished as of today.
In 2019, she published her first book of short stories titled What the Eyes See.
Nitya feels that writing can be emotionally fulfilling if it tends to be an experience one enjoys doing. She always feels at peace, and in control whenever she sits down to write. Albeit she says that marketing one's book after they finish is much more draining and stressful than writing it. So, the first thing to do is grab that pen, jotting down that story that's bursting in your head, to be shown to the world. The rest will follow automatically. Ensuring a good piece of writing with a flowy narration, greatly conceived, believable characters, and relatable dialogues wherever required are the essential vitals to be achieved.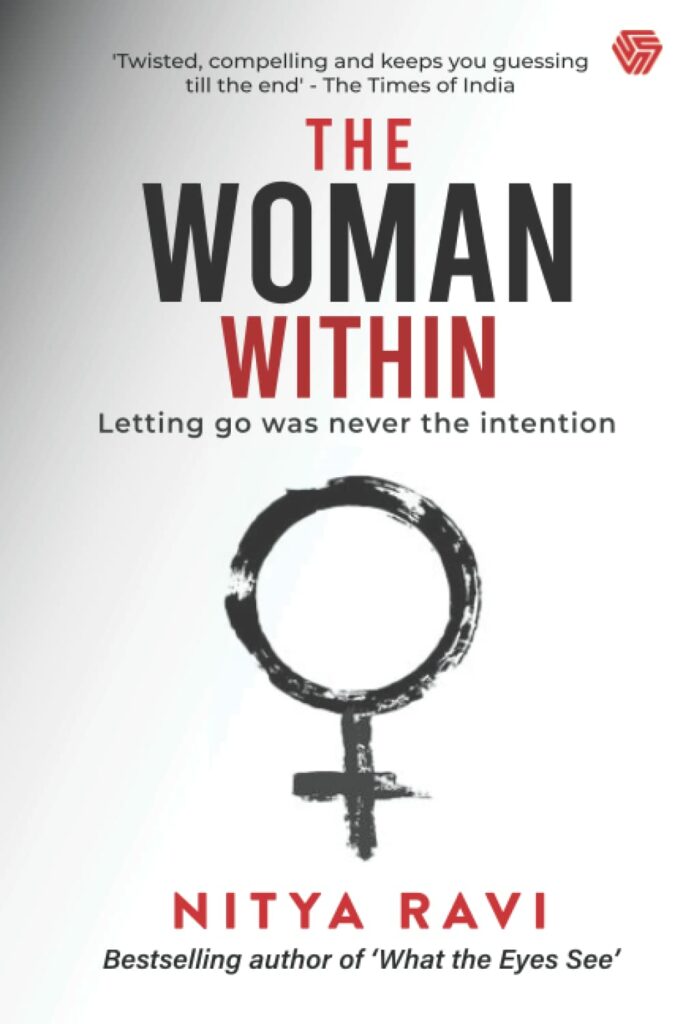 During the pandemic of COVID 19, Nitya reveals that she started writing this psychological thriller to distract herself from the real-world horror happening around her. A psychological thriller, it was pretty challenging to create this one she reveals, envisioning them in a manner where the characters seem to take a life of their own, leading the protagonist/antagonist to change accordingly.
Ask her about her favourite characters from the book and she instantaneously quips, that both Abid and Zia are her favourites as they were born out of her imagination, she loves Zia for her imperfections and also for being aware of them. Although she also feels that Zia is an impulsive one she personally does not approve of, her wholly.
As a writer, Nitya strongly is in awe of and anxious when it comes to rewrites. She states that she gets into doubt as to whether she is in any way altering the flow/feel of the story and whether it is the right thing to do, changing certain aspects and characteristics of the story. For her, the reader gets to feel the edge-of-the-seat experience is of prime importance. He/ She should keep turning the pages.
This story which focuses on and underlines the importance of a healthy childhood and also the importance of timely treatment for issues pertaining to one's mind is an amalgamation of people she knows and has come across and also people from her imagination she has read or heard about. In a country like India, people usually refrain from addressing childhood traumas/ skeletons from their closets. This though, Nitya feels, is changing finally, albeit at a snail's pace. She further says that when one's loved ones withdraw owing to any particular reason, it is actually a matter of concern and not intimidation.
Of all the parts in this book, Nitya feels the hardest to write were the ones where kids were depicted to be dealing with abuse and trauma. As an individual, Nitya actually had a lot of difficulties putting it on paper.
Targeting on creating many more such psychological thrillers as such stories tend to not only focus on mental illnesses but also on disturbing behaviours of people and creating awareness, we here at Booxoul want to wish this amazing Author the very best in her pursuits and also tell her that we sincerely enjoyed her pieces of writing and wait to lay our hands on her next.
So, hope you guys liked this feature spotlighting Super Author Nitya Ravi. Do let us know in the comments below what other blogs you guys would like to read and peruse. Stay tuned for the best in entertainment, travel, food, fashion, finance, tech and gadgets, lifestyle and all things bookish. Only here at Booxoul, India's best book review and lifestyle blog.
Adios Amigos!