Squid Game Review: Rave and Ravishing this Netflix Series aims to add Violence to Nostalgia
Anneyong, museun ir-iya ?
Confused? Well, that was a Korean equivalent for Hi, what's up?
Confused? Let me explain. Well, this latest chartbuster drama on Netflix, breaking all popularity records is all poised and set to become the top most super hit show in the History of Netflix of all times. So let's head to Squid Game Review: Rave and Ravishing this Netflix Series aims to add Violence to Nostalgia
Well, I guess, that is how good Korean Dramas can really be guys. This one, for sure, has made its way on the watchlists, weekend binge lists of almost everyone, thanks to its survival shock concept, ingenious premise, superb scripting and the ensemble cast.
Written by Hwang Dong – Hyuk, these nine episodes will not only manage to keep you baffled but horrified leaving you gasping for breath.
The core idea? Well, 45.6 Billion Won Cash strapped contestants competing in a series of children's games for an absolutely insane cash prize figure (approximately $39 million!!). Proceeding with many edge of the seat moments, this fast paced labyrinthine full of violence, nerve wracking betrayals, horrific revelations is a summation of a survival show but par excellence.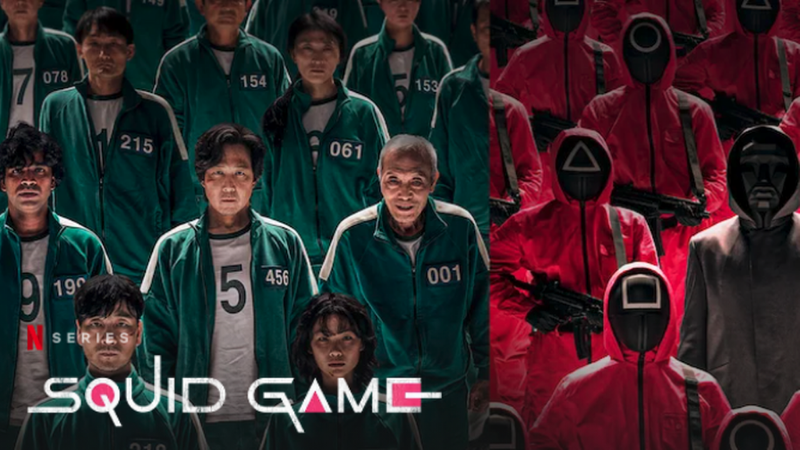 Fabulous performances by Park Hae Soo as Sang Woo having been brought absolutely to life garnering empathy as well as anger.
Another stellar performance comes from Ho Yeon, a debutant whose portrayal of Kang Sae Byeok is phenomenal. This model turned actor has slipped into her role absolutely convincingly. Also, her superb camaraderie with Ji Yeong aka Lee Yoo Mi is not lost on the emotional ground.
The voyeuristic, ground breaking cinematography works in absolute tandem to the concept, adding complete tones of a daunting yet unsettling flavor to it.
He back ground music having well done too, compliments the concept beautifully, never once threatening to overpower it.
ALSO: 5 Apocalyptic Web-Series that make 2020 sound like a good-dream
This dark, social satire whilst being a disturbing concept has become the latest streaming sensation so much that it is actually has sparked funny controversies and how!!
For instance, the latest one it has got itself embroiled into being amusing and weird enough. A south Korean Internet service provider, SK Broad Bans, is actually suing Netflix allegating the sudden explosion in traffic they have to deal wit, stemming from the show's huge popularity. A point to note here being that South Korea happens to have one of the fastest Internet Speeds in the world, this actually comes across as comical.
A show putting across the inequalities present in a society, especially economic and social is worth its weight in gold guys!
All characters depicted have been shown to undergo not only severe trauma but also psychological pressures and the resulting transformations because of the same.
Another point worth mentioning here is the superbly dramatic, eye catching aesthetics. Talk about surreal backdrops akin to backdrops of actual video games, these make up for a seriously rich binge watching.
All of the 9 episodes have been crafted in a manner to ensure that you stay hooked and hit that play next episode button the instant it gets over. Although being violent as well as disturbing, the violence has been kept short of turning gory and instead intimidates you on an inner psychological horror level.
Currently enjoying a Number one slot in more than 90 countries, this Korean stream is a show grabbing eye balls for portraying the dark side of humans as well as reveling in the unknown that comes along with it.
A superb, must watch for everyone. Do add it to your next watch guys.
That's it from us here. Ciao and take care peeps.
Hope you liked this article Squid Game Review: Rave and Ravishing this Netflix Series aims to add Violence to Nostalgia
Squid Game Review: Rave and Ravishing this Netflix Series aims to add Violence to Nostalgia