Ever read a book so small yet so humongous in its dispersion that it stays back with you for keeps? Presenting a book review of The Great Escape: A Tale of an unforgettable adventure by Vijay Mirchandani.
Sometimes a small thing can also show a multitude of emotions as well as speak a great deal through its tiny, yet a small, insignificant presence

Anon
Indeed, many times in life one comes across such tiny things which tend to speak volumes and impart huge messages even though their own presence might be tiny and so-called insignificant at that point in time.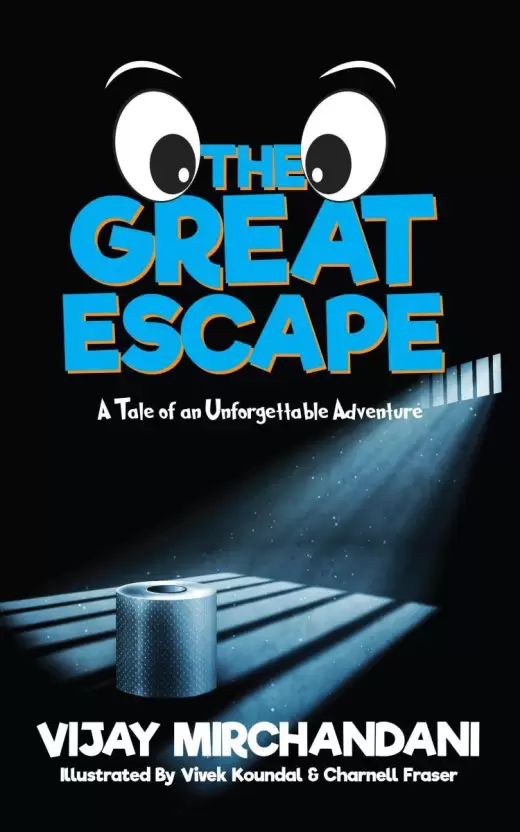 Imagine walking past say a park. You may see a child merrily swinging on the park swing, laughing gaily and yet there is the parent, caretaker or guardian at the back, surely but incessantly pushing that swing constantly so that it goes on back and forth, giving that small child those moments of joy and unadulterated happiness. But did it ever strike you that what if that swing on which the child is sitting could be having thoughts of its own? Or Sipping tea from a cup? Ever thought about what the cup might ' experience' when er does so? Or wait how about an umbrella which you open to protect yourself from the rains? Ever thought about how it feels to get drenched to just protect another?
So, in case you guys are wondering what's gotten into me today as I sit here discussing these oh so nonsensical things. Well, what do say? I happened to have recently read a children's book which is so brilliantly written and full of life and yet has such vital takeaways that I am amazed at how the Author Vijay has tried to convey such huge messages through barely 50 pages. Writing which will come across as a fun, indulgent read is actually so thought-provoking that I have to, at the onset, congratulate the writer Vijay on this stupendous achievement. I was pleasantly surprised at having connected so much in-depth with these simple characters. I was rooting and vying for the characters, moving alongside them as they proceeded to their outcomes. Never thought it would be possible in such a small read.
A book for early young readers, this one was a compelling read.
So, "The Great Escape" is actually a story for children in early grades, written with a view to encourage reading and make it a fun activity. It surely has enough spunk to set the imaginative wheels and thought train rolling for kids.
Larry, who is a toilet paper, is oblivious to the fact and unprepared for his eventual fate of getting flushed. As he discovers this truth about his fate, he tries to deter the same by setting on a journey to avert this fateful misfortune. He wants one thing-to to alter and create his own destiny. Will he succeed? Or will he languish in the manner which fate has set in store for him? Read the book to discover the same.
Ok, for starters you might say that why a children's book? Well, this one is surely an indulgent bit of writing, what with its interesting plot, adventurous approach, poised at keeping children entertained and at the same time giving them good morale to take back from the story. Not only is Vijay's writing engaging it also is pretty picturesque as it holds a lot of visible attributes to it, making it an ideal read for not only kids but also adults.
For me, I personally enjoyed this one as I could see through not only the fun aspect of the story proceeding ahead with a character so simple, trivial and yet so important, as singularly chosen as toilet paper. There is a profound meaning Vijay has tried to impart and attach in this one that if the desired one can choose their own fate whether to perish or whether to fight against all odds to reach a newer spectrum, an unexplored facet life altogether. Perseverance is the key to everything in life.
A lot of reading in between the lines here too, as there is much to share and impart by way of this fun journey. For me, personally, I believe this knowledge of being able to rise above your circumstances, and fighting off all odds is what constitutes primary and important teaching right in the early years itself. I want to congratulate Vijay for putting forth such a well-thought-out as well as an entertaining piece of work. Writing not only for children but if you were to ask me, even for elders. That is because even we elders, many a time, want to read simpler books and delve into the simple yet significant lessons such children's books teach us about life, about the world and most importantly about an ideal living. I would suggest you all surely make your kids read this one.
A highly recommended read.
The Great Escape
Summary
The Great Escape is a humorous story for children in the early grades to make reading fun and even spark a bit of imagination in them. Larry doesn't know that he is just a piece of toilet paper and that his fate is to get flushed. Once he learns the truth, he sets forth on a journey to escape his planned misfortune and create his own destiny. Have you ever felt stuck because of destiny? At times, many of us feel crushed by destiny, even children. This book is a fun and entertaining attempt to show you that you can choose your own fate, whether it is getting flushed or embarking on a journey to a new world.
Let me know in the comments below if you have any other such beautiful children's book recommendations and I will be glad to read and review them for you guys. Stay tuned for the latest in the field of entertainment, lifestyle, food, fashion, travel, tech and gadgets as well as all things bookish. Only here at Booxoul, India's best book review and lifestyle blog.
Adios Amigos!