Did you know Tim Horton was the name of a hockey player who used to play for the NHL (National Hockey League) Born in Canada, playing for the Toronto Maple Leafs was all he ever wanted. When one fine day, post-match, he wanted to eat doughnuts and realized that his favourite doughnut shop had closed down, he went ahead and started his own "Tim Horton's Doughnuts" in 1964, which eventually became a café and bake shop. Tim Hortons: Brewing Delight in India's QSR Scene – A Global Coffee Icon Makes Its Mark.
So, to tell you guys the truth, coffee is one of my true weaknesses. It is the one thing that I simply cannot survive without. Indeed, I am sure several others like me completely depend on an occasional dose of great caffeine to kick enough adrenaline boosts in their veins to help them get through a weekend or a fortnight full of the most daunting tasks life has to offer. (Well, many even have it almost daily, but ah, no such luxuries for me, huh!). Anyways, in case you guys are wondering why I am getting so slighted over a simple coffee, well, one of the best possible brands for coffee in the world-Tim Hortons—has finally opened its doors in India, in Mumbai to be precise, and I couldn't be happier!
So, Tim Hortons, which was technically the brainchild of Tim Horton, the hockey player, was founded in 1964 in Hamilton, Ontario, and slowly but steadily became the largest quick service restaurant (QSR) chain in Canada. Specializing in perfect, freshly brewed coffee, baked delectables, and home-style lunches, did you know the first stores of the chain used to offer only two products—doughnuts and coffee? Yes, starting with the Apple Fritter and the Dutchie, they remained popular almost always.
So, before we delve into celebrating their passion and expertise for coffee for more than 70 years, let us take a moment to understand what is it that they have given an incredible amount of attention to, along the journey to a perfect cup of Tim Horton's coffee.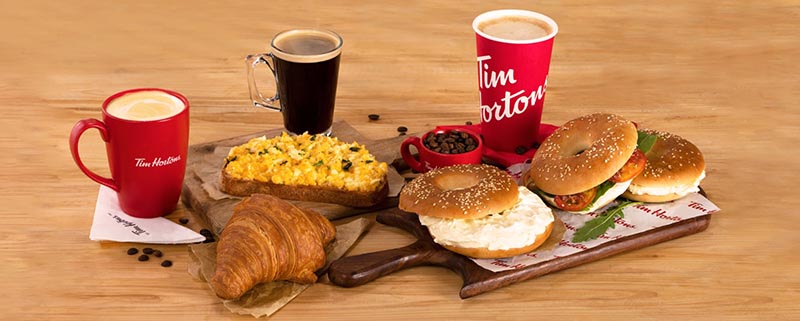 Perfect: From Bean to Cup
Having been Canada's favourite brand for more than 70 years, they ensure that they give a complete commitment to every step in the process, from taking the bean grain and processing it to turning it into the final product served in the cup.
Beans Production
Their coffee, which is grown by small coffee farmers in some of the most renowned growing regions in the world, like Guatemala and Colombia, is a favourite for a reason. An artisanal process, this is a true labour of love and is done with complete care and love.
Sourcing and selection
They have their coffee buyers travel to such regions producing coffee in search of distinctive stuff, grown in different microclimates with rich soil and higher altitudes. With strategic partnerships in place, they are in a position to choose the best. Adjusting as per seasonality, they ensure optimal freshness in their coffee.
Roasting
This is one step that I feel is one of the most important. While roasting coffee is a delicate art, their Roaster Masters roasts coffee one batch at a time, adjusting airflow, temperatures, and all other filters to optimize the distinct, unique flavours and aromas present in all their blends and coffees.
Why is it so popular?
Well, universally speaking, there are very clear markers that make Tim Hortons one of the most popular brands in the world. Cheap, ubiquitous and dependable, Tim's strongest USP is "always fresh"—quality products made on the spot and offered to customers as and how they are prepared. The brand is the best example of how to connect with and consistently build loyalty with customers, thereby creating a beloved, valuable brand for life.
Social Strategy
Tim Hortons encourages people who love them to create and share meaningful content. Putting people first before everything else, if you were to have a look at their 2020 holiday campaign, you would see a whimsical video series that is centred on Canadians as well as the snowpeople they made that winter. This purely showcased the people-first mentality, with an underlying message of inclusion.
Competitive advantage
On a universal level, their products are priced lower than their competitors since Tim Hortons uses the low-cost advantage as a major game changer tool in sourcing the perfect competitive advantage. Alongside this, they also ensure that they do not compromise on quality, providing the finest Arabica coffee and striving for high-quality customer service.
So, coming to some more interesting trivia related to these coffee giants:
With a reward program similar to their rival Starbucks, they are also into sponsoring local sports and events, which draws a younger crowd to them.
Timmy's another nickname for them: Many locals, especially in Canada and many other parts of the world, refer to it as Timmy's. Now you know.
Every 8 out of 10 cups of coffee made and served in Canada comes from Tim Hortons.
The unrivalled coffee kings of Canada, McDonald's and Starbucks, are their biggest rivals.
While the original logo of the company has changed, the font has remained the same over the years.
In Conclusion
While you may be waiting for it to appear in your neighbourhood soon, it is one of the best coffee shops in the world as well as one of the top fast food restaurants. With Canada having more than 4000 stores alone, the coffee chain is also located in 11 other countries, including Mexico, the UK, the Middle East, Thailand, China, and India!
With hopes for even further expansion, thanks to the pandemic restrictions having been lifted, I hope that people, especially caffeine lovers like me, all over the world can drift away to mesmerizing lands of pure happiness with that oh-so-decadent cup of French Vanilla Espresso, which is BTW one of their best sellers globally.
Related: 10 Best New Cafes and Restaurants in Mumbai in June 2023
And thus, today, sinking my teeth into the lovely foam of my favourite coffee, I command to the universe, "May the force be with you, ahem, I mean, may Tim be with you!" coz it is the best thing to happen to coffee…
I hope you guys loved my take on Tim Hortons: Brewing Delight in India's QSR Scene – A Global Coffee Icon Makes Its Mark
Happy Coffee Peeps!