The Plot
The Awakening of an Indigo takes us on a journey with Vikram, a special child with special powers. Over the course of 27 chapters, the author explains the turmoil inside Vikram and his journey of self-discovery. Vikram is a lawyer in a prestigious law firm and is successful at everything he does. He often finds himself in troubling experiences and faces difficulties to understand his special powers. He could foresee the future and acknowledge fake people. Vikram knew he was different from other people. This and his unexplainable encounters with special powers made him search for his purpose in life. He realizes that he has psychic abilities and consults Dr Myra, who helps him through this time. The book is filled with questions about past life and multiple regression therapy sessions and other musings.
My Views
The book kept me hooked from start to end. You feel every ounce of what the character is feeling. I was new to the concepts explained in the book, but it took me no time to understand them and still be in flow with the book. The author has written the book amazingly. The story starts with various chapters of just Vikram and Dr. Myra communicating. The communication makes you understand the character of Vikram in depth and also helps you to know some things about Dr. Myra as well. The book is written in crisp and relevant sentences. Whenever you think you know something, the book proves you wrong. Especially in the end when you think you are about to know something the author leaves you on a cliffhanger.
Conclusion
I am not big on Mythological books, but this Mythological fiction made me revisit my statement. I loved this new way of writing. I would highly recommend this book to everyone. The work, the author, has put in is commendable. From the storyline to the characters to the writing everything is a work of art. I am eagerly waiting for the next book for more revelations and facts about Vikram and Dr. Myra that I don't know yet.
My Rating: 4/5 stars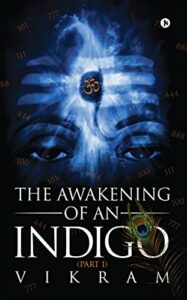 .   .   .   .   .
Love reading mythology, then what are you waiting for. Choose your next read from these vast options of mythology books here. Also, do let us know in the comments about your favorite mythology books.