Actually… I Met Them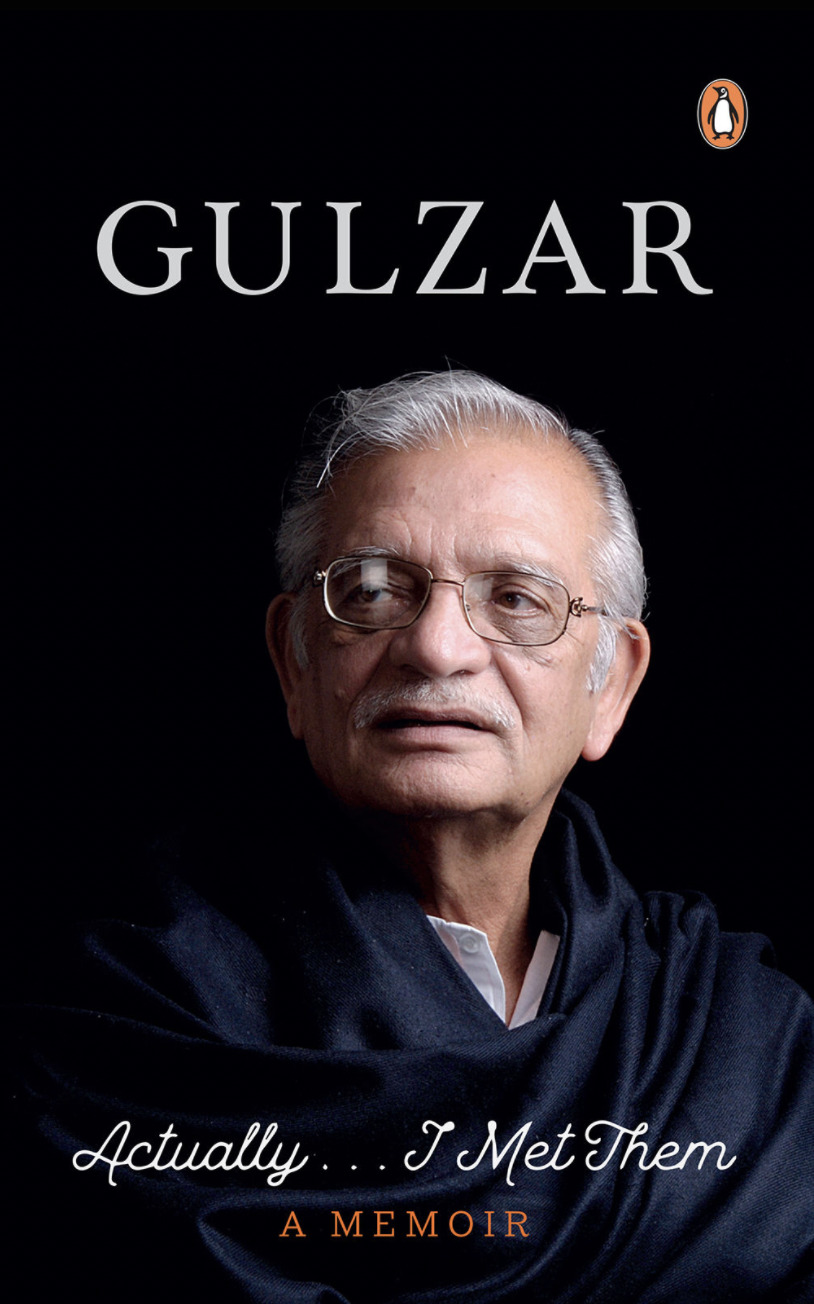 In effect, there's a world of information and insights in the
compactly-published book… 
Actually…I Met Them is quite a treat. ― The Quint
Summary
Memories come like a gentle breeze, they come with the force of whiplash or they stay like the essence of perfume which refuses to fade. Gulzar Saab's latest memoir Actually… I Met Them is all of this. He trawls his memory scape in the first person and gives us nuggets about every conceivable star you like… It's straight from the heart and straight from the horse's mouth too. ― Jitesh Pillai, Filmfare

When we are spellbound by the brilliance of poets, musicians, and filmmakers, it can be hard to remember that talent is not self-made; it is honed in the company of peers and mentors. Gulzar's new book Actually…I Met Them offers this important reminder. It shows how this man, who is hugely respected in the worlds of literature, music, and cinema, started out. He celebrates the "great gurus and colleagues" who have made an impact on his life and his art. ― Firstpost
Book Review of Actually I Met Them by Gulzar
एक समंदर है जो मेरे
काबु में है,
और एक कतरा है जो
मुझसे सम्हाला नहीं जाता ,
एक उम्र है जो बितानी है
उसके बगैर और एक लम्हा है ,
जो मुझसे गुजारा नहीं जाता..
These are just not words, they are the magic I turn to, revel in, especially in turbulent times when all seems awry, lost and out of control. Mystical, magical, enigmatic poetries by none other than the Great Emperor of Poetries himself of our times, Gulzar Sahab. 
I, since childhood, have always been mesmerized by his poetry, by the exuberance of his words, the charismatic effect they hold upon the reader and be in awe of how he manages to surprise us every time with a new jewel, a new pearl. I mean there is surely someday or some instance a person shall be less creative or should I say less powerful. Well, not the case with this powerhouse who does not write but carves feelings, emotions on paper, raw enough to be tasted on the walls of your soul, flamboyant enough to be discerned and perused multiple times. The beauty of his writing can never be justified enough, I feel.
Just finished reading his memoir Actually… I Met Them. Boy oh boy!! Was I smitten? No, more than that. I was enthralled, captured in the spell of the simplicity of his writing, the revelation of his persona, his childhood acquaintances, his relationship with all those personalities of Indian Cinema like Bimal Roy, Satyajit Ray, Kishore Kumar, R D Burman, Hrishikesh Mukherjee to Mahashweta Devi, Sharmila Tagore and several others who have pioneered our silver screens for ages and who have been the foundation of what forms the face of Indian Cinema. His life journey, how in spite of being from a true Blue Punjabi family he came to write in Urdu, his escapades with the Bengali language, his experiences along the way whilst learning, excelling and reproducing various aesthetics along the cinematic journey he undertook with his peers is what constitutes the main body of this narrative. An indulgent, wholesome narrative is full of interesting snippets, facts and little nuggets that you shall love reading and diving into. It made for an indulgent as well as wholesome read, to travel the roads he has, explore the facets of life he has seen, muse upon those circumstances he has been a part of and most important of all his trysts with life and all these personas he met alongside on this amazing journey of life whilst gathering pearls of wisdom, of experience, of infinite art-making this wonderful journey of his worthwhile to share with the world. Having been written by the maestro himself, I can simply say that each escapade, each narration has a story of its own, an aura in which it has been nestled and candidly laid down for the reader to pore upon and garner the best they can from it.
Come, Know the man behind that exuberant poetry, the being behind the stupendous aesthetic he holds, bask in the simplicity of his mesmerizing true self…
Read this fabulous memoir by Gulzar Sahab to know the eloquence and simplicity behind his Magnifique. A persona anybody would be smitten by, an icon all people in the field of art and poetry symbolize, a true Living legend.
So that is it from all of us at Booxoul today. Stay safe, maintain social distance and step out cautiously and wisely. Remember, the well being of the lives of your loved ones also depends upon you.
I hope you like the book review of Actually… I Met Them by Gulzar. Do let us know what you think in the comments.
Also, Stay tuned and don't forget to tune in to us right here at Booxoul for your daily dose of entertainment, books, travel, lifestyle, entertainment and much more…
Coz hey, we are India's best book and lifestyle blog.
Taddaaa