My 90s have been quite memorable, with me having sailed through each moment and instance beautifully. I still remember those days still when I look at my niece and nephew, musing over the fact that they will surely not get to live those moments, when there was so much to take in, thanks to technology being absent, the groups in our colleges and our local areas, romances involving group wars and how youngsters used to go all out, vying for the attention of the girl, trying to catch her attention.
A romance with 90s kind of vibes, Delhi via Lucknow by Ashwini Rudra, is a tale we all have witnessed or experienced somehow at some point in our lives. Innocuous and innocent, this college romance has much more to it than meets the eye. A slice of life, prepare to laugh, cry and most importantly make merry alongside Guddu, Rimjhim and Bechu
Jeeta tha jiske liye, jiske liye marta tha, ek aisi ladki thi, jisse main pyaar karta tha.."
Guys I could actually feel this one playing in the back of my mind when I first started reading Delhi via Lucknow by Ashwini Rudra. I mean that whole nostalgia, the unadulterated deja-vu of the late 90s—you know when movies had this really deep-rooted romance, complicated love triangles made more complex by the friends involved, raw emotions all out, intense and tightly rolled sighs? They barely make them anymore, though. Sad life!
Anyway, coming back to this one, a late 90s tale of romance, this one is a memory lane revisit, taking one back to college days, which are possibly the best days of anyone's life. Those days have a fragrance of their own, a carefree sort of demeanour, recklessness yet sensitivity in the most intricate manner. You know what I feel is the best part? This one belongs to the period when dating was still untouched by the clutches of technological demons such as AI, social media, dating apps, and so on.
So, this is the story of the protagonist, Guddu Shukla, a student leader at DAV College, who finds himself in a love triangle with Bechu Mishra, a CA in the making (maybe huh..) and a local goon, over the stunning Rimjhim Singh. The comical and pugnacious friends surrounding the trio add to the drama. In addition, the trio is dealing with issues in their personal lives. That whole innocence, the sweetness of it all, and the innocuous manner in which the tussles seemed to have been depicted were reminiscent of those years, which for me are synonymous with deeper-rooted love stories set in the 90s, as I mentioned earlier. You know Bechu and Guddu actually felt like Suniel Shetty and Akshay Kumar straight out of a movie from the 90s. Some of those that had this amazing college romance, this one is such a tale with a desi tadka to it too.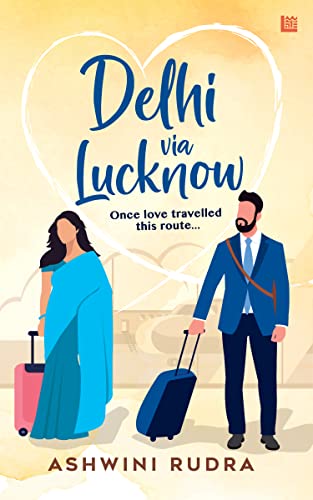 Set against the Lucknowi backdrop, the story revolves around Guddu, a.k.a. Himanshu, a banker who happens to meet his old love interest Rimjhim Singh while travelling to Delhi via Lucknow airport. Whilst Guddu reminisces about his old college days, his tete-a-tete with Bechu, his love interest at the time aka Rimjhim, and fate and destiny have changed the paths of all 3 of them, getting them into many different spaces in life than what was surmised by them back then. As the plot unfolds and shuffles between the past and present, we get to know and understand more about these primary characters and their relationships with each other.
A tale that revolves not only around romance but also highlights many other emotions such as comic relief, friendship, college life, a dash of 1990s politics, and destiny. There is definitely a fresh new voice used here as far as the writing style goes. One might say that the plot is cliched. I choose to disagree here since it is not the predictability of the plot but rather the warmth and exuberance the characters radiate that fill the frame for this contemporary romance, which ticked the right boxes for me through and through.
The winning differentiator for me at least was the fact that Ashwini has effortlessly managed to present a tale of contemporary romance, with fun moments that made us laugh out loud, choosing to portray it both in a nostalgic setting of the 1990s and yet sprinkling a fresh vibrance to both the story and the characters. The book already had my heart, but I fell head over heels for it, especially when, on the night of the wedding, Bechu and Guddu's gang were drinking away to glory to nurse the broken hearts. It made me realise how friendships can be made even over something as melancholy as heartbreak. Yes, one can resonate with Guddu, Rimjhim, and even Bechu about why they chose to deviate from the paths they had chosen and yet be on the same page with them. That, for me, was the real beauty of the narrative. The relatability. This was not yet another romantic tale of sorts. There was a sense, which will make you go back and mull and identify each and every character's perception, understanding the scenario from their vantage point. You are guaranteed to be hit by a full-circle emotion of sorts by the time you reach the end of the story. Yes, I was high-fiving these guys; I was completely in support of Bechu too, and at places, I could see through Guddu's escapades. It felt good to be transported back in time, to that era when love was free from the tangle and limelight of social media and so much more.
Related:
Pick this one up if you want to read a beautiful romance, which BTW also gives you a slice of authentic and emotional life. With well-sketched characters, a strong plot, and most importantly, a great tone, something I have rarely seen in any narrative in a while, Booxoul recommends this one as the flavour of the season, peeps! Go relive those college vibes again. And I am positive you will return smiling, at the end of it, with perhaps a little wet eye but hearts full to the brim.
Go for this one if you guys want to read a fresh, new, unusual sort of romantic tale. I hope you guys liked my book review of Delhi via Lucknow: Once, Love Travelled This Route by Ashwini Rudra.
Stay tuned with us right here at Booxoul for the best in the field of entertainment, lifestyle, fun, finance, education, tech and gadgets as well as all things bookish.
Adios Amigos!
This post is part of the #BlogchatterA2Z challenge