Here I am back to suggesting 10 inspiring must-watch Hindi movies for kids today as Children's day is around the corner. Being celebrated on 14th November every year, on Pandit Jawaharlal Nehru's birthday, fondly addressed by children as Chacha Nehru, Panditji was a supporter of children's education, always looking for ways to ensure they receive a fulfilled life in terms of academics. This day which is celebrated to specially offer tribute to Chacha Nehru our first Prime Minister is also a reflection of his love and fondness for kids.
Also, did you know that Children's Day was celebrated on 20th November each year before 1964, a date recognized by the United Nations? After the demise of our beloved Chacha Nehru, his birth date was declared as Children's Day in India. And that whence onwards begins the celebration of Children's day, a day we all come together to acknowledge children who are our future
The children of today will make the India of tomorrow. The way we bring them up will determine the future of the country.
These words hold significance enough to be remembered for ages. Yes, Chachaji dedicated his life to ensuring that every child has the fundamental right to education and tirelessly worked to reinforce the establishment of various educational institutes in India. You know something IIM (Indian Institutes of Management) is also one of his insights coming to reality. Today, such institutions have become an essential step and hence are also referred to as "institutes of national importance."
Whilst the day is celebrated with gusto in schools and children's institutions, the essence also lies in not differentiating between the girl and the boy child. At the same time, today I thought of getting forth for you all a list of 10 inspiring must-watch Hindi movies for kids. After all, Children's Day binge-watching toh banti hai for kids, to get them inspired right?
Dhanak
2015
The Award-winning story of a Hindi movies-loving 10-year-old and her blind little brother who trek to meet Shahrukh Khan for help in getting the latter an eye operation done. A heart-warming engaging road drama equal parts comedy and equal parts a fairy tale, this one is available on Netflix.
I Am Kalam
2011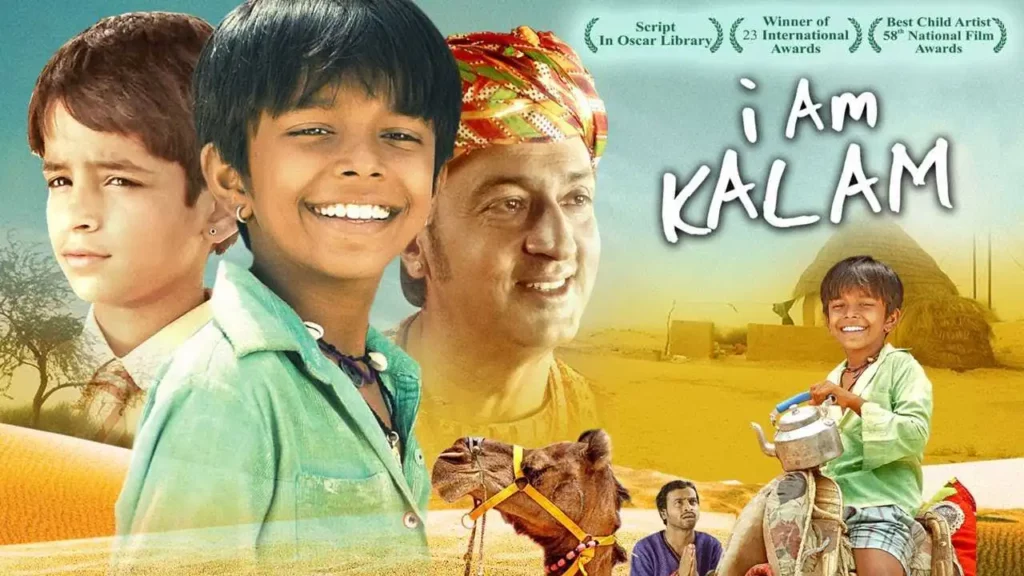 The story of an impoverished boy who forms an unlikely as well as unstable friendship with the lonely son of a nobleman. One of the internationally acclaimed and accredited Hindi movies, this one delves into how the boy derives inspiration from the former President of India and decides to change his name to Kalam, whilst dreaming of meeting the visionary.
Iqbal
2005
One of my favourite Hindi movies, this one is the hard-hitting story of a boy who is hard of hearing and also without speech. Being gifted in cricket, whilst he desires to play in the Indian cricket team, his condition comes in the way of his selection. That is when he asks a retired coach to train him. Inspiring and how!
83
2021
Based on the Indian national cricket team and their performance led by the revered Kapil Dev in the World cup of 1983, this one had Ranvir Singh essay the main role of Kapil and highlights India's incredible journey in the World cup victory of 1983. How amidst doubt and derision, the indomitable Kapil leads the team to create history forms the crux of this one.
A must-watch that sheds light on how even India as a country faced racism and how our dedicated team overcame it through relentless hard work, passion and a 'never say die attitude. Ranveer Singh in the performance of a lifetime, this is a movie you must show your kids.
Makdee
2002
A comedy horror film, this one is the story of a young girl in North India and her encounter with an alleged witch staying in an old mansion in the locality, which is believed by the locals to be haunted. This one also explains the beliefs in witches and witchcraft across modern-day India. This one was actually screened in the Critics week of the 2003 Cannes film festival too.
Stanley ka Dabba
2011
A subtle foray into how insensitive one can get and how our education system needs to upgrade, this movie focuses on not only capturing the essence of those innocent school days and the crux of school life but also many other important, sensitive aspects ranging from hunger, abuse, bullying, friendship and humanity to many others.
Taare Zameen par
2007
A coming-of-age emotional story, the struggle and eventual win of a child who has dyslexia and how his art teacher helps him overcome it and realize his potential whilst his own parents and society choose to ostracize him is the heart of this. I think there is barely a person who must not have seen one of the masterpieces of Hindi movies and not gotten inspired and shed a tear or two, at the least. One of the most stellar of our times.
Bumm Bumm Bole
2010
The story of 2 siblings who decide to share a pair of shoes till their father can afford to buy another. But as things look bleak as their father is unable to find a job and suspected of criminal offences, can the 2 still fight fate and stay as happy? Watch this one to find out. A great flick highlighting a brother and sister's relationship amidst trials and tribulations.
Secret Superstar
2017
The story of Insia, a young ambitious girl who dreams of becoming a singer but faces opposition from her father. Yet, undeterred she strives to follow her passion anonymously posting her songs on the internet and gaining popularity. An inspirational movie to show your kids to motivate them to follow their dreams.
Unchai
2022
Well, till the time of writing this post I realize the movie has only just been released and yet I have to admit that this looks to be one of the most promising movies of 2022. A story of how three friends leave their cosy lives behind to embark upon a journey to mount Everest to honour a dead friend's last wish forms the core of this much-awaited family flick. A simple plot and yet treated with the best by the man himself, the king of emotions -Sooraj Barjatya.
So, these were my recommendations for 10 inspiring, must-watch Hindi movies for kids.
Do let me know in the comments if you would like to add any of your suggestions to this list. Also, stay tuned with us right here at Booxoul, for the best in the field of entertainment, lifestyle, fun, finance, fashion, education, tech and gadgets as well as all things bookish.
Adios Amigos! And wish you all a very Happy children's day.