Death on Diagonal lane by Pashupati Chatterji is a comic relief in the garb of crime fiction, poised to tickle your laughter buds crazy, leaving you in splits as well as mulling upon the idiosyncrasies of human nature, which sometimes leave us gaping in awe.
Jaana tha Japan, pahunch gaye Chin samaj gaye na..
Hehe! This brilliant comic line from a yesteryears Hindi track made its way into the realms of my consciousness when I recently finished a book called Death on Diagonal Lane by Pashupati Chatterji.
A dark comedy this one surely gave me the refreshing respite which I had been itching to get for quite some time now. No hard feelings or reprovals as such to my recent or current reads but many a time, whilst reading all sorts of genres such as romance, thriller, mythology, self-help, intense and such I always feel the need to have a breakthrough read of sorts at my side, the one which will truly help me debunk and de-stress from everything else, feeling like a breath of fresh air.
Nowadays, especially post covid, I have always felt that all of us seem to especially need a little jaunt in life. Confused? Well, by jaunt what I actually mean here is that we seem to have forgotten the meaning of truly living carefree. Those little peals of laughter, the comical nonsense which forms a part of our daily life living and is one of the most crucial and the single most element responsible for leading a great life seems to have evaporated away from it, thanks to the aura of uncertainty we have been living in from the time of Covid 19 and the subsequent lockdown.
You know I always feel P. G. Wodehouse is one of those writers whose writing is absolutely therapeutic. That is because he tended to take a fairly easy view of life, creating his comic scenarios not in larger-than-life stuff but in random places, between the scenes, in trivialities of life.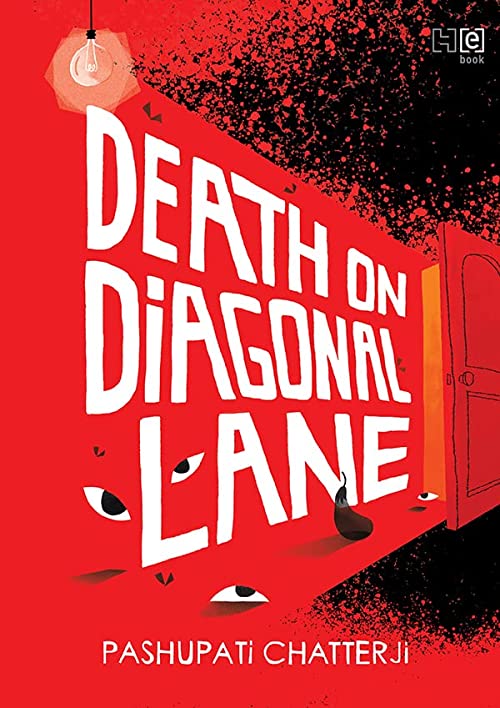 That is exactly what our current writer Pashupati has tried to attempt with this piece of writing. When I first picked up this one, I was like Ok, another thriller with probably a hint of comedy, presumably, all bankrolled in one. But no, I was in for a squeaky surprise as not only was the plot brilliant owing to its sheer simplicity and slapstick approach but each and every character that Pashupati has created through this one tickled me, poking me endlessly, making me laugh till my wit's end, as also leaving me in a lurch and splurge, making me fathom what happens when we simply go on with an autopilot approach in life, doing away with our radical better judgment and radical cause effect theories.
A story created comically enough that you shall actually get a stitch in your sides, smiling away at the bumbling bees the characters come across as, the complete hypocrisy of the situation, the comical instances that make up the dark yet funny side of the entire understory and also the resultant climax and ending which will leave you like-"Hey, I didn't expect it would turn this way.." Something that came across as a natural death initially, turned into a murder mystery and how! Whodunnit!!
A rigmarole of absurd silly stuff, this one has an ensemble of characters that were absolutely your next door and yet the most comical and sometimes strange who will make you sit back and pause, thinking who is this guy, seem to have felt him in my life somehow or hey isn't that lady behaving exactly like this X person who is my well-known acquaintance. That for me is the beauty of writing that Pashupati has managed to hit.
My favourite character was Mr Murthy, who definitely seemed to be minding the business(well not necessarily his huh, hehe) pretty well, playing the perfectly meddlesome harmless yet poky neighbour trying to keep things in hand. So was Mrs Reddy playing the ultimate character de resistance', dousing us with the wry humour she had of the whole scenario. I also loved 'Ratty" Gowda, the idealistic police officer who gave the complete affair the look around from the official perspective. A brilliant sketch of a cop, I'd say, one that splendidly encapsulates the true spirit our policemen harbour and yet does it in a puny way. Wanchuk, the security chap was cool too and so were other characters who have been created and penned in tandem with the story, each giving another hue and shade to this brilliant kaleidoscope of fun and yet a dark kind of humour. Dark? Yes, indeed because we tend to always get into the overdrive mode in life, working up things substantially as an autopilot reflex we harbour inherently. Seldom using a rational approach, we always end up treating situations in a rather difficult manner, missing out on looking for simpler more relatable solutions instead.
A brilliant roller coaster, guaranteed to refresh you albeit a tiny hint of an observation I'd like to give here. Sometimes metaphorical descriptions and heavy usage of difficult words might act as an off-putter for the audiences at large, especially those terms or phrases which are slang, or uncommon during the ordinary course of conversation. Generally, I have seen Indian Authors shy away from such intense use of grammar and words. However, Pashupati's writing was refreshing in this regard as he stuck to his original voice instead of toning down things to suit a general common perspective. Commendable.
Related: Enjoy reading the classic Bengali Crime Fiction Series Feluda? Then do read this book The Amateur Detectives to discover another such gem on the block
A word of praise and acclamation for Pashupati and his writing. I understand he has tried his hand at creating comic sci-fi novels and I can very well see the conditioning he has managed to reach with his relentless endeavour, mastering his craft and grasping the techniques along the way towards reaching the desired excellence in his work. I wouldn't be surprised if this relentless endeavour of his makes him an equivalent of sorts to Internationally acclaimed writers such as Douglas Adams or getting compared to even legends such as P G Wodehouse.
Death on the Diagonal Lane
Summary
More than a neighbourhood, the fittingly titled Diagonal Lane is a circus of characters with the most comically absurdist approaches to life. But even for a locality that has come to expect the unexpected, the death of the local gossip, Mr Reddy, comes as a complete shock. Friendly neighbour, Mr Murthy, attempts to keep the police out of it. But another friendly neighbour, Mr Shetty, bungles it up. Not only do the police get involved, but they also declare Mr Reddy's death a homicide. To top it all, the police officer in charge of the investigation turns out to be Mr Murthy's old school chum: Sub-Inspector Rathindranath 'Ratty' Gowda. A stroke of good fortune? Not really. Eager to earn a promotion by any means possible, Ratty proceeds to put the denizens of Diagonal Lane through the wringer. It takes all of Mr Murthy's tact and diplomacy to prevent his childhood buddy from putting all the leading lights of the lane behind bars. But meddling in murky police affairs can sometimes backfire, and it does not take Mr Murthy long to recognize the veracity of the old adage: policemen have no friends.

In this dark comedy on contemporary middle-class India, Pashupati Chatterji delivers a charming whodunnit guaranteed to have you laughing all the way to the end.
So, hope you guys liked my book review on Death on Diagonal Lane, a crime fiction laced with shades of dark, wry humour.
Do stay tuned right here at Booxoul, India's best book review and lifestyle blog for the best in the field of entertainment, lifestyle, food, finance, fun, fashion, tech and gadgets as well as all things bookish.
Adios Amigos!