Did you know that when Lord Ganesha fought with the 6th avatar of Lord Vishnu and his tooth got broken, he was not able to eat anything? Soft Modaks slathered with ghee that could melt in the mouth were prepared, and it has since become a belief that they are his favourite food. I bet you didn't know this one! Also, you must know five Easy and delicious Ganesh Chaturthi Modak recipes. We have something for you today.
Ganpati Bappa Morya! And as the elephant God is finally preparing to arrive super soon, I am sure you must be hunting for quick fixes and easy-to-make recipes, especially those that do not require too much expertise and can be whipped up real fast.
The Lord's favourite sweet
For ages, Modak has been one of the most beloved sweets offered to Apna Gannu. Super delicious and delectable, tradition has it that Ukadiche Modak has always been a compulsory part of the traditional offering to the Lord in many households. And yet, TBH, it is tasty but a real art to make sense, from getting the filling right to the correct steaming or cooking procedure, this one is no mean feat.
So, what to do then?
"Modak toh zaroori hai bhai, kuch bhi ho, modak to hona hi chahiye!" No fear, as we at Booxoul are here with 5 easy-to-make, delicious Modak recipes to make this Ganesh Chaturthi. So throw your cooking aprons on and get on with cooking. Apne Bappa ka bole toh sabse favourite:
Marzipan Modaks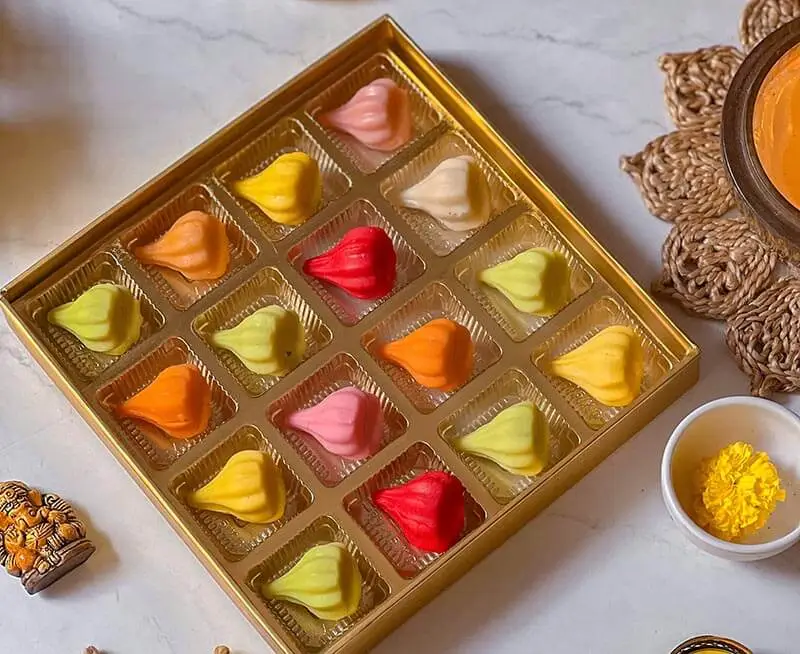 Want to learn a yummy recipe? Simple. Follow me, um, I mean follow this:
Soak 1 and a half cups of almonds in water for a few hours so that the skin peels off easily.
Next, grind it in a food processor till you get a crumb-like texture.
Add 1 and a half cups of powdered sugar and some drops of rose water, and mix it till it starts to clump together. You can also add some food colouring at this point.
Transfer to a bowl, form a ball, push it into the Modak shaper, and voila! Marzipan Modaks is ready to devour!
Oats and Jaggery Modak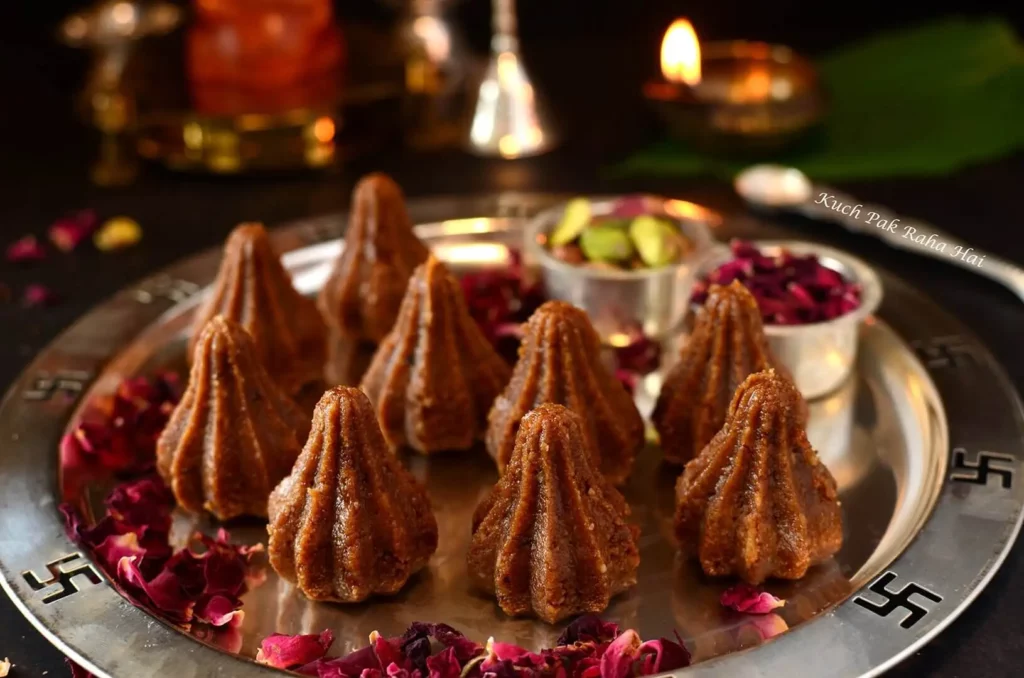 This is a super healthy one, and this is easy to do, peeps.
Take 1 cup of oats, roast them lightly and grind them to a powder.
Next, put the almonds and cashews in a separate grinder to make a fine powder.
Add raisins to convert this one to a sticky paste.
Now, in a wok, take 1 tablespoon of ghee and add the oats.
Cook it till it turns light brown.
Add half a cup of jaggery and 1 teaspoon of cardamom powder.
Mix it all well. Transfer to a bowl, and add the dry fruit paste too.
Mix well.
And plonk, get your Modak shaper out, and presto! Delicious oats and jaggery Modaks are at your fingertips!
Chocolate Modak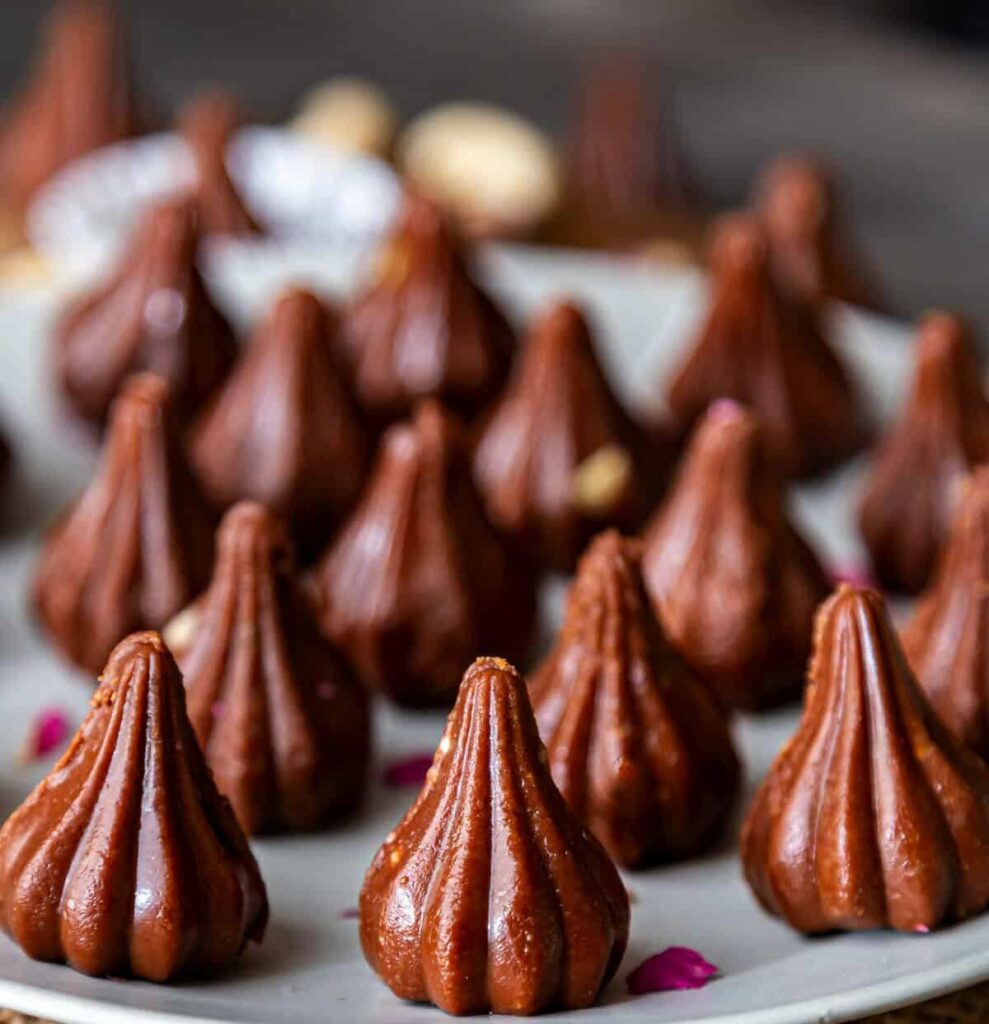 Take a one-third cup of milk
One-third cup sweetened condensed milk
¾ cup chocolate chips in a pan on medium-low heat. You can substitute the chocolate chips with chopped cooking chocolate, too. Keep stirring until it melts.
Now add 1 and a half cups of digestive biscuit crumbs and mix.
Also, add ¼ cup finely chopped pistachios and mix till you see a dough starting to form.
Transfer to a bowl, shape it into Modaks, and serve.
Gulkand Modak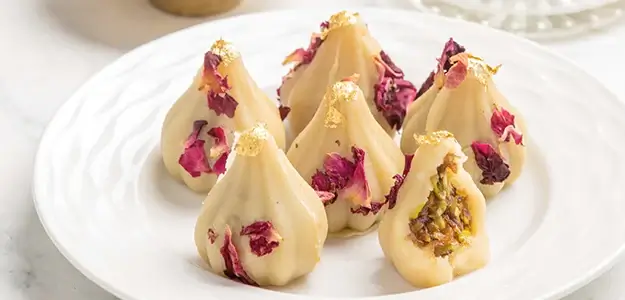 Take 300 grams of desiccated coconut
10 ml of coconut milk
a few drops of rose essence and some green colour, knead well to form a dough.
Make a Gulkand mixture on the side for filling
combine 100 grams of Gulkand (rose petal jam)
1 teaspoon cardamom powder
25 grams of almond powder
Take balls of coconut dough, stuff this mixture into them, and push them into the Modak maker. Best part?
You can refrigerate them and serve them chilled. So, better shelf life and less hassle, right?
Sugar-free Modaks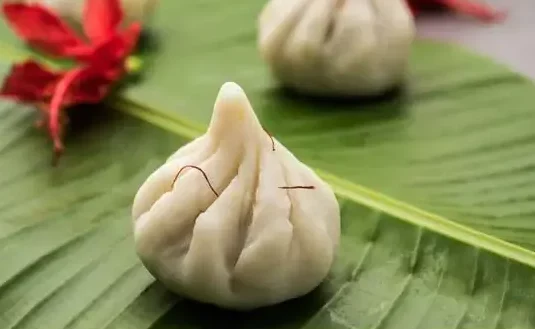 This one is slightly longer than the rest, but it's worth it.
Take 1 and a quarter cups of water
add a quarter teaspoon of salt
the same quantity of ghee and bring it to a boil. Lower the flame, adding 1 cup of rice flour and mixing it well.
Switch off the gas and let it sit for 5 minutes. Transfer to a bowl and knead it into a soft dough while it is still hot.
On the side, for the stuffing, combine 2 tablespoons each of chopped cashews
almonds and raisins, alongwith 1 teaspoon of poppy seeds ¼ cup of finely chopped dates, combining all of them in 2 teaspoons of ghee
adding a quarter cup of milk, ¼ cup full cream milk powder, ¼ cup grated coconut, and a quarter teaspoon cardamom powder.
Now shape the Modak with stuffing inside the sweet. Next, place them in a steamer for 10 minutes or until a shiny texture is formed. And you will get the most amazing, sugar-free, delectable Modaks!
So, these were 5 easy-to-make, delicious Modak recipes to make this Ganesh Chaturthi. Let me know in the comments which one you are planning to make. Also, stay tuned with us right here at Booxoul for the best in the fields of food, fun, finance, fashion, entertainment, travel, lifestyle, tech and gadgets, as well as all things bookish.
Ganpati Bappa Morya! Jai Ganesh Ji!