Writing is not about impressing. It is about truthfully expressing.
Wise, deep, insightful words by our super talented Author in the spotlight today – Zubie Saurabh Sengupta, who feels that writing for one, should be coming from within and not outside.
Super Author of the latest book of short stories 'Storylines – Telling Movies In Words', Zubie who was born in a family of Doctors, confesses that even though with the familial Military background, creativity was always a part of the environment. His father was a great admirer of every kind of art and his Mom, an artist by spirit, enjoyed singing, painting and poetry. And the creative atmosphere was what lead him to compose his first song at the age of 7. As he proceeded with writing songs, Zubie realized the only way he could connect all of them together was by means of a story. Herein onwards, was the start of his professional journey as a writer. Though he confesses that he was writing at that point of time simply to pursue his passion and there was no professionalism involved, he came down to feeling how could he get those stories converted into reality.
Hriday Lani, who is a renowned parallel cinema writer with several notable names to his credit including Mirch Masala, Manthan, Agni Sakshi, Salaam Bombay and Sarfarosh also happens to be his maternal uncle. Under his diligent guidance, Zubie learnt and honed his skills as a writer and a Director. After finishing his Graduation, he then joined an Advertising Company as a Film Executive, writing and directing several noteworthy films, Audio and Press campaigns for notable names like Pan Parag, UNICEF, Dabur, Dettol and many more.
He then proceeded to write and direct some highly successful Television serials like Chahat Aur Nafrat, Kabhie Kabhie, Khamoshiyan Kab Tak and many more. He has also recently forayed into Hindi feature films with "In the month of July" streaming on major OTT platforms like ShemarooMe, JioCinema and Airtel XStream. Promising more excitement, he reveals his next 'It's A Man's World' which is forthcoming.
Coming back to his book, StoryLines, Zubie reveals that being from the Audio-Visual medium, stories have never taken a shape in his mind in the form of regular novels or stories. Instead, they happen to depict themselves in the manner of storylines for movies. Hence, was born Storylines- a bouquet of 7 such short stories depicting different facets of human emotions through bite-sized pieces of real life.
Citing a speciality of his form of writing in this beautiful book he states that a particular novel or story generally might revolve around a particular situation for a short span of time. However, storylines are more Movie centric aka they cover the journey of possibly entire lifetimes of the primary characters. Hence, they are perfectly apt for being converted to Movies.
He also advocates that in today's uncertain times' short stories are relative and appealing to readers because of their length contrary to proper novels. As per his surmise, the reason for this could be the reduction in the attention span of readers. A book with bite-sized stories is more promising compared to full-fledged fiction. However, a proper full-length fiction can also be highly engrossing, he reiterates, when the reader finds it pleasurable and it may have an equally lasting impact on the reader.
He candidly declares that emotions such as pain, heartbreak and others are always a depiction of the writer's internal process being declared through words, which can be done equally well through any form of writing.
Ask him about his favourite writer and he immediately replies Gulzar. The Writer, he feels has the mastery of conveying very big and novel through fewer words and that too with the utmost dignity.
Shekhar Kapur's 'Masoom' which is a piece of writing by Gulzar is his all-time favourite as he simply finds himself mesmerized by the exemplary writing penned by Gulzar Sahab.
Ask him if he is a Bollywood buff and he admits, obviously, Who isn't? Whilst we put forward a fun dare for Zubie, asking him to change the ending of one Bollywood movie he really loved and he immediately quips, 'Sagar'. He would have preferred Mona uniting with her childhood bestie Raja, instead of Ravi as that would have been overwhelming, with her realizing her attachment to Raja.
Here is wishing all the success to this Super brilliant Author from all of us at Booxoul. Do grab a copy of Storylines – Telling Movies in Words by Him using the link below and prepare to dive into charismatic real-life bite-sized fiction.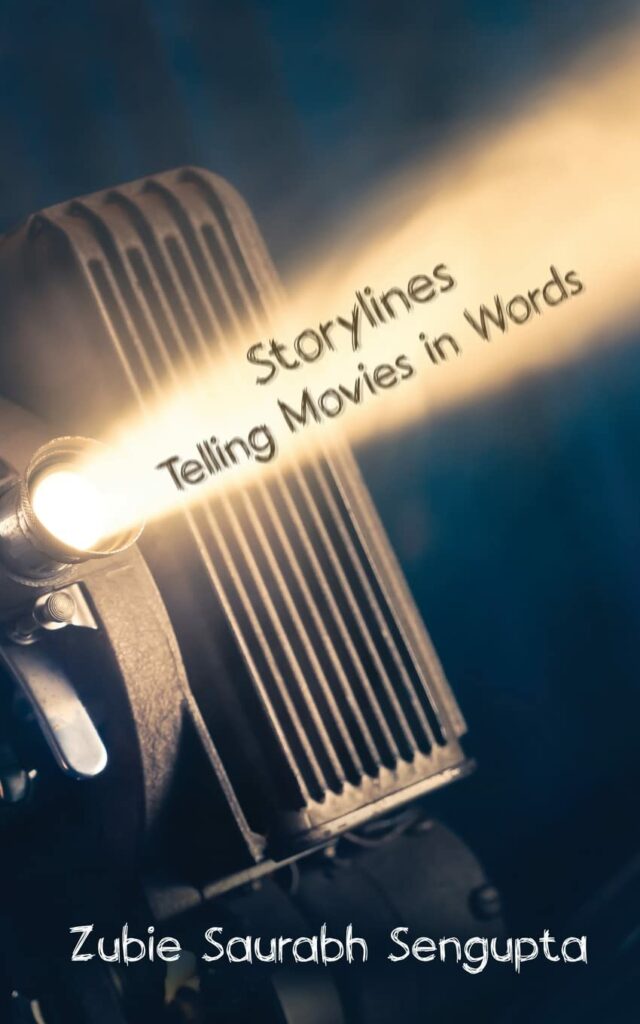 Storylines – Telling Movies in Words
A man lives among eunuchs for the sake of his family.
A couple breaks the law to live a dream.
A woman finds herself helping others.
Storylines – Telling Movies in Words is a collection of seven such thoughtful and soul-stirring tales that show how stories for films are actually born.
Till then do keep tuning in for your daily dose of entertainment, book recommendations, Author interviews, lifestyle snippets and much more. Only here at Booxoul, where we love Books!!
Ciao peeps!
Tags: Movies, Author, Author, Storylines, A Book That Conveys Movies Through Words, Author, Zubie Saurabh Sengupta