A Collection of Beautiful Urdu Poetry – Book Review of Furqat Ke Raat Din By Amit Srivastav
तुझे सुनाने को ए ज़िंदगी आज इतना ही मेरे पास है,
कुछ एहसासों का तजरबा है कुछ तजरबों का एहसास है!!
Furqat Ke Raat Din
Summary
कोलकाता के रहने वाले अमित श्रीवास्तव "अमीक़" कॉरपोरेट की दुनिया से त'अल्लुक़ात रखते हैं। जहाँ टैक्नोलॅाजी और मैनेजमेंट उनकी जीविका का हिस्सा हैं वहीं अदब-ओ-शायरी उनकी ज़िन्दगी का अभिन्न अंग है। उनका ये मानना है कि "उर्दू ज़बान, शायरी और दर्द (ट्रेजेडी) से मोहब्बत" उनको मोहम्मद रफ़ी साहब के गानों से विरासत में मिली है। फ़ुर्क़त के रात दिन शायरी की उनकी पहली किताब है। उनकी नज़रों में शायरी में ज़बान की सादगी और अल्फ़ाज़ की किफ़ायत-ओ-लताफ़त बेहद ज़रूरी हैं, लेकिन ये वो हुनर है जो आते-आते आता है। शायरी में उनका तर्ज़ उनके इस शेर से बख़ूबी बयान होता है: जज़्बात-ए-दिल की धीमी आँच पर ख़यालों का पकना है शायरी!!
What beautiful words penned! Ashaar in Urdu or micro poetry for the unversed, these couplets though small in size often pack a ton and are some of the most complexes to create especially if in a flowy language like Urdu where a lot of importance is also delegated to the aesthetics adopted to improve upon the style, impact as well as presentation.
Well, I happened to recently indulge in and finish this amazing new poet's work of Urdu Hindi poetry, Furqat Ke Raat Din by Amit Srivastava 'Ameeq', an ensemble of Nazms, ghazals as well as Kataats and Ashaars, where the former is poetry comprising of 4 lines and Ashaar is a couplet of 2.
Ok, in case you are wondering how come I am so well versed with Urdu let me confess I have been a huge fan of Urdu poetry as I have always felt that it is one genre which very beautifully portrays not only human emotions but also those delicate fine feelings which can be only felt but not always encapsulated.
महफ़ूज़ बहुत है पिंजरा मगर उड़ान चली जाएगी
जो आसमाँ न मिला परिंदे की पहचान चली जाएगी!!!
Ameeq here has done a splendid job. For starters, I especially want to first mention the fact that in spite of Urdu, it is not a difficult book to read and comprehend, thanks to the glossary and explanation Ameeq has provided after every poem, making it simple for the reader to delve into his idea of writing the particular piece.
What for me instantly connected me to his style of writing is the warmth, simplicity and sheer innocence his poems have managed to splay across, scattering colourful hues of sorts, dousing its readers in a myriad of colours and emotions where there is not only love, sacrifice, heartbreak but also daily nuances of life which are always there but somewhat inconspicuous and hence ignored. I instantly was swept off my feet as I read and savoured these Poems. They were cathartic to my soul and mind.
Through a wide array and multiple forms of poetry used, 'Ameeq' successfully manages to keep the readers hooked on, mesmerized by his work, dispersing his vantage of thoughts, bathing the readers' senses in a kaleidoscope of vibrancy and also splaying multi-faceted, diverse imagery all at once, taking the readers to unsought and unventured lands of imagination. It is as if you are compelled to drink in his captivating words, which have the raw power to not only stir the deepest emotions from the depths of your heart but also suck them right into the topmost vortex of your mind's eye, making you pause and mull upon the strange yet discernible beauties life offers.
It is actually hard to believe that this book happens to be the Author of Ameeq's debut work. That is because I seriously want to assert the fact here that almost all of his pieces of writing have been created with so much depth and scintillating aesthetic that one cannot help being spellbound by the captivating aura Ameeq has managed to create with his work. Creatively beautiful usage of language along with a super-strong Urdu vocab makes this title a true bestseller, as well as a, must have especially for those ardent fans of Urdu and Hindi poetry who are in search of pure, unadulterated, no filter Urdu poetry, something written more to suit the likes of the great Gulzar Sahab. Yes, I know you guys will be like Gulzar Sahab? Isn't that a pretty tall claim? Hmm, but no it is not you guys, coz the kind of fervour and dedication and beauty with which each of these beautiful poems has been created is "kaabil-e-taareef".
Related:
The biggest differentiator of this book for me especially is the fact that on almost every page you shall surely find a line, couplet or poem which has the power to entice you and stay with you for ages even after you have finished reading the piece. It is not so easy to create such a splendid piece, especially of poetry for which every new work is deemed to be a new challenge in store for the Author. Superb work 'Ameeq'. A must-read guy, a real bestseller guy, especially if you are a fan of Urdu poetry. I'd say go for it even if you haven't tried Urdu because hey you will get nothing but the best here. Leaving you with another of my favourite couplets from his works: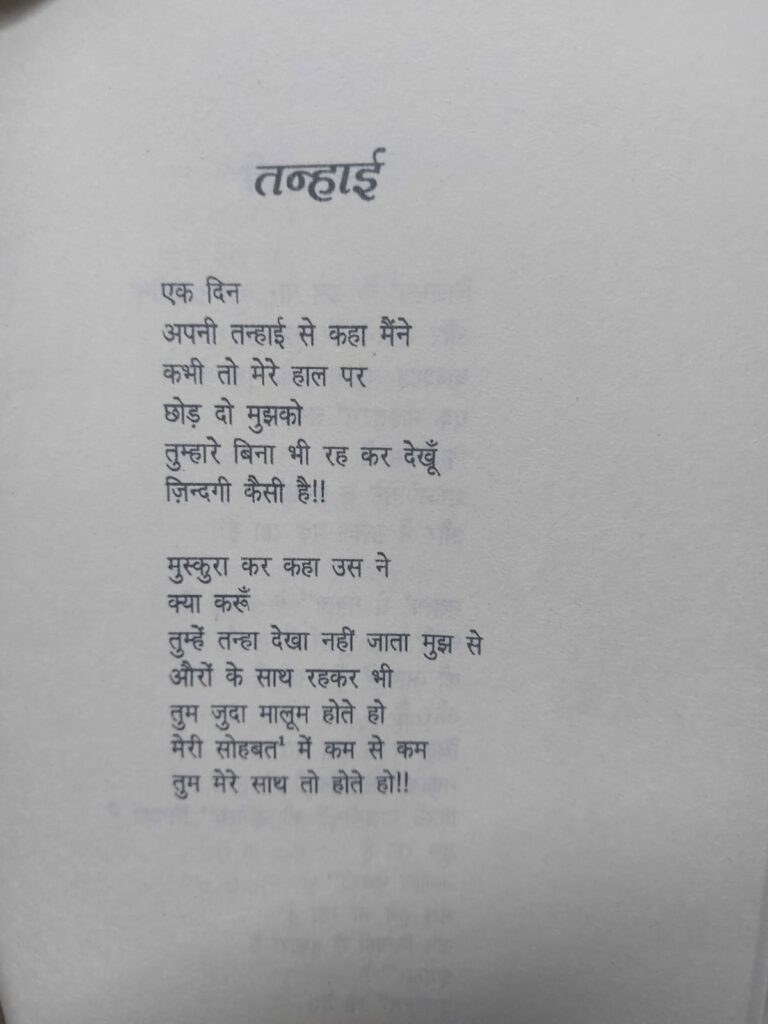 Ameeq's poems here are extraordinary and special. For me poetry has always been very mystical, a work of art very few can achieve. There are poems that settle in your heart, there are some that strum the chords of the soul. Yet, there are others which come like a breath of air, delicate at first yet robust enough to stick with you for a lifetime. Ameeq's work here is that what has the power to be with you for a lifetime, settling between the alleyways of your heart, warming it with such exuberance that you shall fall in love with Urdu poetry even if you haven't read it before. For me personally, these poems were cathartic as well as therapeutic of sorts as they enamoured all that one could think of in one's lifetime.
So hope you liked this review of this beautiful Urdu poetry book by 'Ameeq'. Do keep tuning in to Booxoul to catch the latest in the world of entertainment, lifestyle, food, travel, as well all things bookish.

Ciao soon peeps!!
'This blog post is part of the blog challenge 'Blogaberry Dazzle' hosted by Cindy D'Silva and Noor Anand Chawla.'