All in the Family? Overhyped? Is Anil Kapoor-Neetu Singh's chemistry crackling or fizzling? Do Varun Dhawan and Kiara Advani's latest Hindi movie Jug Jugg Jeeyo really live up to the audiences' expectations of a family movie?
WAS REALLY WAITING TO SEE A FAMILY ENTERTAINER FOR AGES!!
So, finally, after a month-long of unit tests (that's right, my kid is in the 7th std ICSE and we just finished our unit tests), we were simply waiting to have a breather and respite in the form of family entertainment. So, having heard rave reviews and seeing the hype around this one, I was excited to watch this one. For me, catching up on a movie at the theatres, especially a family entertainer is always the best thing as I personally for one enjoy the break from the usual "riff-raff" of the normal, fast-paced yet mundane life which seems to be the pinnacle of my existence. Before you even begin to decipher and comprehend what I mean, Chuck it coz hey ": Movie toh banta hai boss!." India is especially a place where movies especially complete masala ones are always eagerly awaited. So, having finally caught up on this one yesterday, I was Ummm… wasn't fully satisfied TBH.
THIS IS NOT A FAMILY ENTERTAINER. WHY?
Well, the hype surrounding this one majorly touts it to be a family entertainer, which, sorry to burst your bubble peeps, it certainly isn't. I mean, for Christ's sake, you cannot call a movie a family entertainer just because there is a family ensemble of cast and characters in this one. Revolving around the concept of divorce this is a story which you may or may not be comfy watching alongside kids for one. Dealing with a topic as sensitive as divorce, this for starters can certainly not qualify as a complete family movie. Although having been dressed in the garb of the big, fat Punjabi wedding, this one, for me at least did not fall in that happy-go-lucky category.
THE PLOT WEAKENS AFTER A POINT
The story revolves around Naina (Kiara Advani), a high-flying successful woman and her not-so-successful hubby Kuku (Varun Dhawan), the Punjabi Munda who somehow cannot stand tall and digest his wife's career outcomes amicably. Bam! Their marriage is about to hit the rocks with the 2 deciding to part ways after 5 years of marriage.
Visiting India to attend Ginny's wedding( Varun's sister played by apni Prajakta Koli), the 2 vow to let their parents know of this predicament they are planning. Sadly, before they can think of doing so, there is another "raita" already on cards for the duo as Bhim and Geeta( Anil Kapoor and Neetu Singh Kapoor) aka Kuku's parents' so-called, happy married life seems to have reached an iceberg too with Bhim Ji also preparing to "drift away" after a humongous 35 years of togetherness. Reason? Well, exactly one I felt should have been a bit more elucidated. "Getting used to" your partner and hence deciding to "exhaust your love for them" is a relatable albeit lame excuse cast here. Nevertheless, moving on, it is now up to Varun to either dump his dirty laundry upon his Papaji or try and sort out the impending danger looming large upon his parent's marriage. Oh, yes and I forgot to mention their daughter Ginny too seems to be rushing herself into marrying the "perfect" guy her parents have chosen for her, thanks to the "ideal couple" image she has of her Bhai-bhabhi and Mom-Papaji, ditching the guy she actually loves. Hmm, Sad life huh?
Ok, back to the main core, the plot albeit dealing with a sensitive topic, tends to fizzle out a bit. Post midway, I felt that it somewhere left the strings off the hook. What started as an intense issue, proceeding along the way (helped with humorous touches added by Manish Paul whose comic timing is fantabulous) tended to somewhat get a bit in the rut towards the end, I felt. Agreed the motto was put across very well that for any relationship to fail or succeed it is a joint effort, contribution as well as a sacrifice on both partners' ends, yet somewhere I for one could not really relate to the end.
THE ANIL – NEETU CHEMISTRY
First up Anil Kapoor and Neetu Kapoor, the main couple, I'd say-their chemistry was one I was strongly looking forward to. Must say, I was not disappointed with that one. Neetu Kapoor, in this comeback, has arrived and how! Now I know why she was acclaimed to be the best during her time. She is such a natural, I mean she can convey so much without a word, the expressions she gives, are simply amazing! As far as Anil Kapoor is concerned, well he is the true "Jaan" of the movie upon whose shoulders the movie rests. The charm he exudes, the newer generation better take a leaf out of his book I'd say.
Varun Dhawan as Kuku was good as the perfect example of a less than average husband, one who is confused and always slow on the uptake, not to forget orthodox and narrow-minded too. I could resonate with his struggles and conflicts and this is one of his finer performances too. Same for Kiara Advani, who finally could shine through this one. Naina, the true career, multi-dynamic woman of today, depicted the perfect wife, who in spite of being it all and doing it all, fails nevertheless. Yes, funny ain't it? Well, marriage does not need perfection rather it rests on love, compromise and sacrifice. Kiara has not only managed to exude that charm she portrays Naina as the true icon of today's female generation. Prajakta Koli as Ginny was cute and yes, I must say that I could feel you buddy when you gave that delivery when you showed your disappointment in your idols aka your parents and Bhai Bhabhi!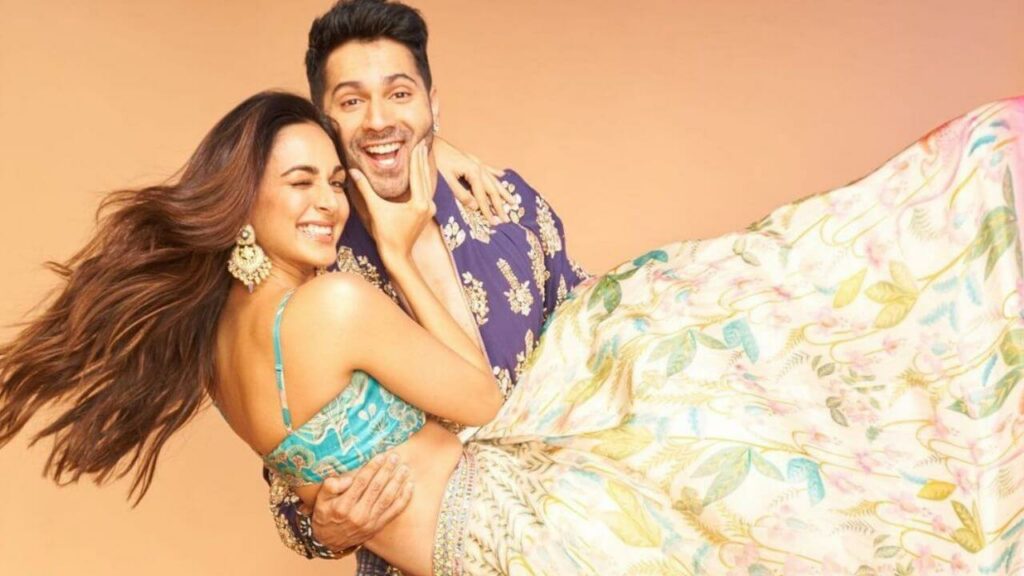 Again depicting the true generation of today, she was the perfect epitome symbolizing why this gen Z does not allude to relationship mechanisms as they are pretty stoked with the idea of commitment as well as sacrifice in a relationship.
Manish Paul was at his usual best, providing the relief through his jokes.
The music was good and there were a couple of amazing tracks at the end. Albeit, I have a question. Why put the best song at the end credits?
Naach Punjaaban was a superb one too. Surely, a number which will be on the charts for a long.
THE VERDICT
5 Reasons why the Movie did not match up to my expectations
Not a Family entertainer
The plot became a bit repetitive, in the rut and overwhelming at a point
The end could have been a bit more defined with the motto being put across as more relatable.
Why put such a beautiful song such as "Rang Saari" at the end credit roll? It had to be there "in" the movie guys.
And finally, well I wanted more of Anil – Neetu ya!!
So, all in all, this was a good entertainer, I'd wrap up so to say. Although, NOT A FAMILY ONE and certainly could have done with a bit more crisp clarity and definition splaying its main message.
Nevertheless, a good watch.
So, hope you guys liked this review of Jug Jugg Jeeyo. Stay tuned for more exciting content in the field of entertainment, lifestyle, food, fashion, finance, travel, tech and gadgets and all things bookish. Only here at Booxoul, India's favourite book and lifestyle blog. Long Live people – Jug Jugg Jeeyo my lovelies.
This blog post is part of the blog challenge 'Blogaberry Dazzle' hosted by Cindy D'Silva and Noor Anand Chawla.