Seriously, a trek is something you should undertake at least once in a lifetime. There are certain things on one's bucket list which seriously need to be perused and executed. They are those experiences that form the core of your lifetime memories. Bits of life you need to live up to, whilst being in their moment. Technology cannot always be the answer to everything. One certainly needs to switch off and reboot themselves to "get back to life" and live. Trekking in the Himalayas i.e Kailash Mansarovar Yatra has been one of my pursuits in life.
Breath-taking sights with a combination of brown plateaus, snow-peaked mountains, emerald blue lakes spiritually healing energies, trekking in the Himalayas via the Kailash Mansarovar Yatra offers all of this if you decide to go and undertake the same.
I am blessed and humbled to have experienced this in my lifetime. Do you dream of a trek in the Himalayas which you must undertake once in a lifetime? Trekking at high altitudes has its own rewards but is demanding in many ways.
What constitutes a high-altitude trek?
Altitude is measured from the nearest sea level, not from the base of the mountain. Generally, alpinists and trekkers consider any place 9,000 ft above sea level or higher as high-altitude.
12,000-18,000 ft: Very High Altitude
18,000 ft and above: Extremely High Altitude
26,000 ft. and above: Death Zone
How is trekking at high altitudes different from lower altitudes?
The number of oxygen molecules in each breath you take at 20,000 feet will be less than 50% of the oxygen molecules you breathe at sea level.
I thought why not pen down some important figures, bits of advice and do's and don'ts you must keep in mind whilst undertaking a trek in the Himalayas, maybe the Kailash Mansarovar Yatra or any other trek to a high altitude zone.
It is important to note that adequate preparation is an absolute must for any long trek, but more so for high-altitude treks. One has to be prepared well before setting out. (The highest point I have ever been to is 18,800 feet on Dolma La Pass during my Kailash Mansarovar Parikrama).
One important point to remember right from the start of any trek is the rate of ascent. It is the most crucial factor in deciding who gets sick and who doesn't. Acclimating to the oxygen levels slowly is important. Avoid climbing more than 1,500 feet per day. If you fly, spend at least 24 hours doing absolutely nothing at the higher altitude — sleep a lot and don't tire yourself out.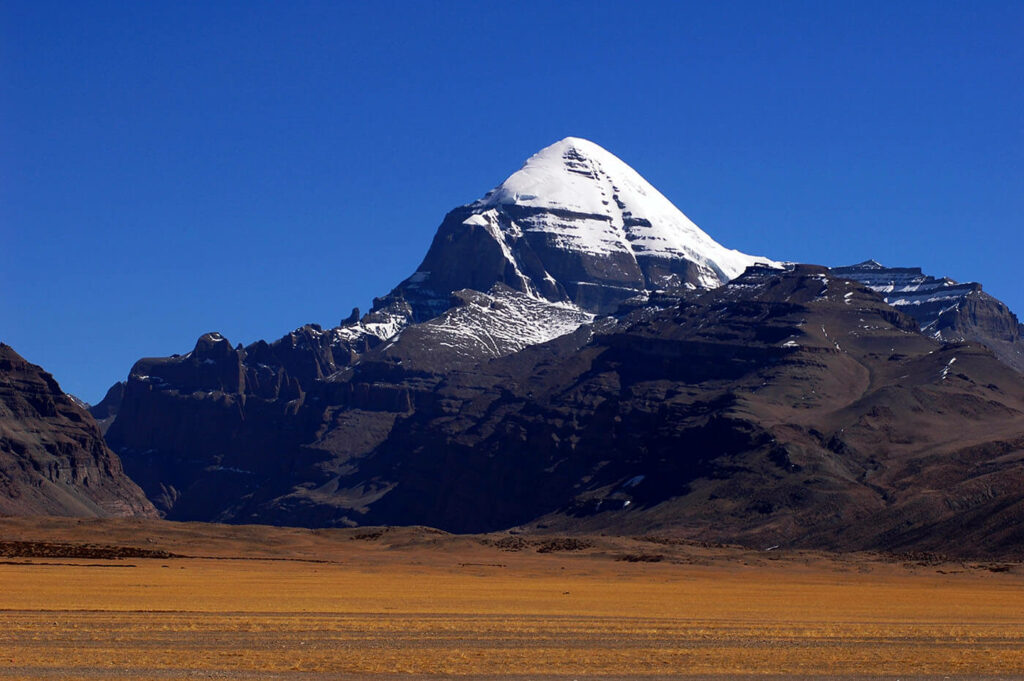 It is vital to be well prepared if you are trekking above 14000 feet altitude.
There are four categories of preparations necessary for a high-altitude trek:
Physical
Mental
Items, Gear
Information about the trek route and places.
Physical
Brisk walking
Start Aerobic activities at least two months in advance of your high-altitude trek. Practise brisk walking for at least 30 minutes on a nature trail carrying a backpack that weighs around 3 Kilos… You should cover at least three kilometres in thirty minutes. It will improve your lung capacity and the maximum volume of oxygen that your body can use. This is important for a high-altitude trek as there will be less oxygen in the air for you to consume, and each breath has to count. Also, make sure to walk uphill at least once a week. If there is no hill nearby, walk up and down any 18-steps staircase at least 20 times in thirty minutes.
Start at least a couple of weeks before you begin your trek to give yourself adequate time to become fit.
Breathing exercises, Pranayama
At a high altitude, you may find yourself breathless after just a tiny burst of exertion. A good way of getting your breathing back under control is to practise yogic breathing. Even getting used to breathing in a rhythm and taking deep, abdominal breaths can help. The more you understand how to get your breathing under control, the less panicked you may feel on the trek if you experience breathlessness.
Practice hydrating well.
Get used to drinking a large amount of water and eating even when you feel nauseous. At high altitudes, you should be drinking water frequently, no matter what activity you are undertaking. Humidity is lower at higher altitudes, which means that sweat evaporates quickly, and you can become dehydrated without noticing. Lower oxygen levels also make you breathe faster, so you lose more water through respiration–sometimes twice as fast as sea level. Another effect of altitude sickness is a more frequent need to urinate. All this means you need to drink much more liquid as dehydration can mask or worsen the symptoms of altitude sickness.
Mental
"Toughness & Stamina is a quality of the mind that is shattered by fatigue"– Len Smith.
If you're going to a high-altitude place or on a long-distance trek, then you'll first need to mentally prepare. First, remember that toilet facilities can be either nonexistent or very basic. You're just going to have to train yourself to squat for at least five minutes. Build up your leg muscles by doing squats. Reach out to your butthole with your hand and hold for a few seconds without losing your balance. I'm telling you this since you'll have to train well to use wet wipes properly.
Learn about what you're up against. Find out the altitude gain on each day of your trip. Ask the trekking company you're booked with for advice. Search YouTube for the hike you'll be going on, or for related topics such as the township or hamlet you'll arrive in or tips for packing, etc. Talk to other people who have been there to see what wisdom they have to offer.
If you're female, a few more tips when it comes to mental and self-preparedness. For example, going to the toilet is just not as easy as it is for guys. So be prepared to go behind a bush without feeling embarrassed.
Always keep a day's supply in your cargo trousers so that you're never without, e.g., toilet paper, wet wipes, hand sanitiser, sanitary items.
If monthly cycles can't be avoided, dispose of off used sanitary items carefully. For example, to reduce odour, wrap them in tinfoil before putting them in a plastic rubbish bag.
If you're trekking at a high altitude, be aware that your cycle may not return to normal for 2-3 months afterwards.
Accompaniments, Gear
Being well-equipped and having the right gear is extremely important. The added hardship of not having the proper equipment will stress you out. In addition to your head torch, take some good LED lights or a lantern for your tent. I found that facing the light upwards to the roof spreads the light better with fewer shadows.
Have your clothes organized and nearby in case you need to get up at the night
Be self-sufficient: take some medications with you in addition to your first aid kit. Many travel medicine clinics sell travel packs containing antibiotics, Magnesium supplements, Vitamin C, Diamox, oxygen canisters, and tablets for nausea and diarrhoea. Take Diamox (Acetazolamide) if you're going to a very high altitude, but keep in mind that you'll need to go to the toilet far more often if you take them.
Hiking boots are the first thing you must buy when you decide to go on a high-altitude trek, and they must be broken in before you go to avoid blisters and sores. In addition, you need good UV sunglasses and good quality sunscreen to avoid getting a sunburn. Other necessities are an excellent sturdy water bottle, a basic medical kit, and the correct clothing.
You will not have any kind of internet or phone connection with the outside world. Inform your loved ones in advance about your expedition, so they don't worry. Once you are on your trek, use the time to meditate, which is usually not possible back at home with many distractions.
Prevent nasty surprises – test all your gear in advance, especially your boots and backpack.
Clothes Best For Kailash Mansarovar Yatra
2 pairs of trekking trousers (zip-offs preferred). Use cargo trousers with as many pockets as possible, even if you are a female.
2 T-shirts
3 long-sleeved shirts
1 zip-up vest, thermal.
6 pairs of socks (2 liner socks, 2 trekking socks, and 2 padded trekking socks)
6 pairs of breathable underpants
2 sports bras
1 pair of long johns (thermal underwear)
Fleece-lined tracksuit bottoms or down trousers
Lightweight, windproof fleece
Warm fleece
Down jacket
Lightweight synthetic raincoat
Waterproof rain trousers
Fleece headband
Fleece hat
Neckband
Balaclava
Lining gloves and windproof gloves.
Type of Shoes recommended for Kailash Mansarovar Yatra
Hiking boots (your shoes must be broken in well before your trek)
A good pair of shoes is vital for trekking or hiking. The comfort, quality and sturdiness determine a trekker's ability to walk long distances without injury.
There are 3 types of hiking shoes;
Trail shoes: They are used for hiking in dry climates, on relatively smoother trails-less rugged or rocky paths.
I use a pair of good quality sneakers that do the job for me as well.
Hiking shoes: These are for climbing hills, steeper inclines and muddy paths. They provide more stability and ankle protection against protruding limbs and rocks than hiking shoes do.
I use hiking shoes from any reputed Company line Adidas.
Trekking boots: These are designed for mountain and hill walking, backpacking and mountaineering. They have stiff soles to give the ankles support and protection on difficult rocky trails. They are usually taller and stiffer than hiking boots, providing insulation as well as support and protection.
I used Adidas cross country rough terrain hiking boots during my trek.
Gear must have to take Kailash Mansarovar Yatra
Trekking poles. Make sure you check them before setting out.
Head torch (remember to pack spare batteries)
Towel
High-quality sleeping bag
Thermal sleep sheet
Water sterilizing tablets
Camera
Sunglasses
Hydration sack or drink bottles (2 × 1L metal bottles – a hot water bottle will also come in handy at night)
Waterproof sack
Toiletries for Kailash Mansarovar Yatra
Toilet Papers
Baby Wipes
Talcum Powder
Travel-sized shampoo (there aren't many opportunities to shower when you're trekking, but when a hot tap presents itself, you'll be thankful for a bottle of shampoo!)
Hand Sanitiser
Sunscreen: Use a good quality 50+ SPF sunscreen lotion since you are at a higher risk for skin damage due to sun exposure which is much more intense at high altitudes.
50+ SPF lip balm
Small detergent cake
Tissues (double as toilet paper)
Tweezers
Small soap
Miscellaneous
6 passport photos (1 for visa, 2 for trekking permit) plus US dollars for visa purposes (for Nepal treks only)
Plastic bags/bin liners
A deck of cards
A book/books about the places you are visiting.
Solar phone charger
Snacks, such as chocolate bars and lots of nuts
Sarong
Power adapter
Plastic Ziplock bags (handy for all sorts of things)
Vaseline, coconut oil.
Information About Kailash Mansarovar Yatra
Before visiting a particular place, particularly holy places, learn about the chosen destination.
For instance, if you are going to Mount Kailash, learn about Tibet and its culture, Lord Shivas as Adi Yogi, the legend of Saptha Rishis, Lake Man Sarovar, Rakshasstal, Dolma La Pass and so on. An in-depth background knowledge contributes greatly to the overall experience of the trip.
But remember, emergencies can occur during treks in the Himalayas since you will be dealing with the Himalayas at very high altitudes. The weather is never predictable, it could rain or snow any time.
As they say, "The Best View Comes After the Hardest Climb, and It's not the mountain we conquer, but ourselves." So, take a high-altitude trek at least once in your life.
For the unversed, I have documented all of the above and much more in the manner of my takeaway and experiences from this surreal, magical trek I undertook to Kailash Mansarovar.
Inner trek: A Reluctant Pilgrim in the Himalayas is simply not a book. It is a journey, a common man's transcendence to the next level in the cosmic cycles.
The book is available on Amazon.
Hope you enjoyed the article Kailash Mansarovar Yatra: Trekking in the Himalayas You Must Undertake Once in a Lifetime