Master finance in just a few hours with Chinmay Ananda's The Bottom Line.
Finance is an important aspect of any business, and so is financial management and all aspects related to it. But the majority of us either get intimidated by it or simply do not want to foray into understanding its ergonomics as we fear that they are too complex for our comfort.
In the world of business and entrepreneurship, finance and financial management are indispensable concepts since they go hand in hand and are the most essential to be followed and understood in order to raise the correct funding and also enable the correct flow of business as well as cash and fund flow.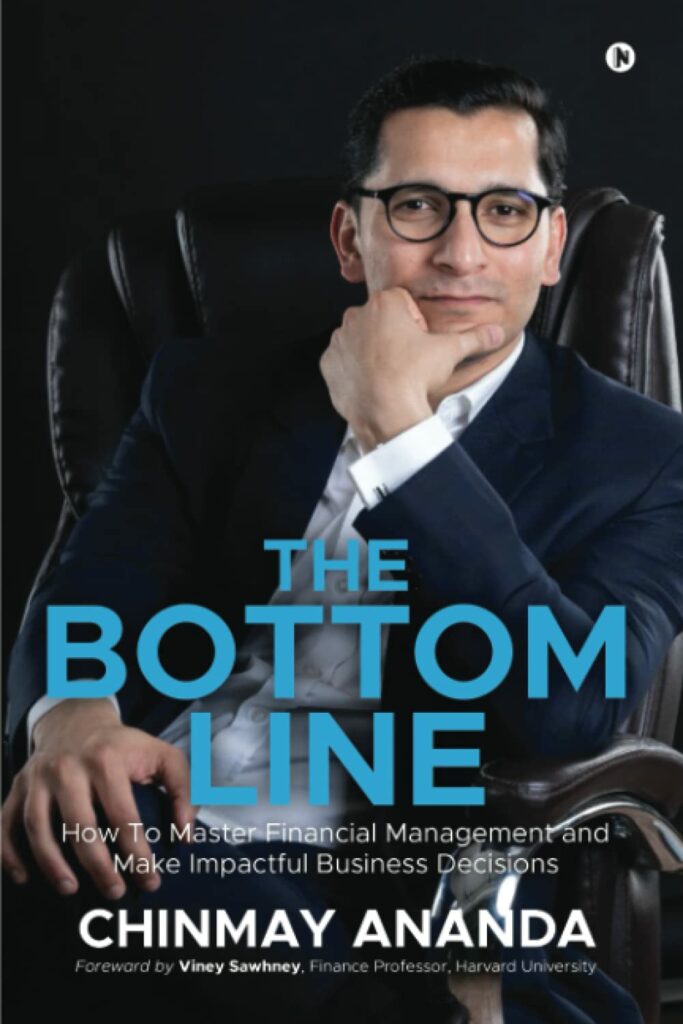 Now you will be like, "How to understand such seemingly complex bits of info, data, and concepts related to finance and its management?" That too, when there are several books available on the market, each more informative, albeit more complex than the previous.
But, here is a book that will not only explain the basics of finance and financial management in a fun, complex way but it has also been written in a manner to encapsulate the most essential tips without making the whole thing sound technical or complicated. The Bottom Line: How to master financial management and make impactful business decisions is a finance handbook written by author Chinmay Ananda to explain the complex terms and concepts of finance and management in a fun and informative way, in a manner that is relatively new in the field of finance and learning.
So here is why you must surely read Chinmay Ananda's book The Bottom Line to amp up your finance game.
Without tending to become repetitive, this one puts across major financial concepts related to business in a reader-friendly manner. There are several books available on this topic, but none comes close to putting it across in a simple, reader-friendly manner. The Bottom Line is the only one of the few which attempts to put forth the explanations of these in an apt and appealing manner.
Detailed explanation, albeit in a unique, out-of-the-box manner: Finance concepts can be tough to understand as well as teach. However, Chinmay Ananda has ensured through this book that even the most basic entrepreneur, whether entry-level or even a start-up aspirant, can understand the how's and why's of business and finance in a clear, concise way.
Backed up by research: It is evident with the kind of data and numbers Chinmay has provided and the illustrations he has used that his complete theory is backed up by not only pre-set concepts but also by research he has managed to accumulate over a period of time. His interactions, and his trysts with the companies he has worked with, are a valuable add-on to this narrative. His experience, too, is a vital takeaway for the readers.
One book encapsulating data from multiples: There is certainly data and countless books available on the market for learning and understanding finance, but the data and the concepts related to the same are scattered across, having been dispersed over multiple reading journals. It is rare to find a book which encompasses all the necessary concepts, breaks them down bit by bit, explains the vitalities of each, and puts across the entire concept of finance in a simple, no-nonsense manner.
Well, you have got to agree that one might not resonate with the manner in which all authors tend to put forward their POV. However, in Chinmay's case, he seems to be a natural speaker, seamlessly weaving important data and information and successfully imparting it to his readers in a manner where the retention rate for the same is 100%. That, I'd say, is a true win-win for the writer, given that his field is financed and that the majority get frazzled with the kind of content written and perused. His writing style is accommodating and persuasive, yet cool enough to keep you hooked seamlessly till the end of the description.
So, I hope you guys liked my article featuring the 5 reasons why you must read The Bottom Line by Chinmay Ananda. Do stay tuned for the latest in the fields of entertainment, fashion, food, travel, finance, as well as all things bookish.
Related:
Ciao and get ready to learn, unlearn, and re-learn!!