What is the best sound in the world, psychologically? Not the clink of gold, you greedy hyenas; it is the sound of rain hitting the window as you lie peacefully, snuggling in warm blankets, seeing the raindrops glisten on your window panes, in places that are not home but as comforting as them. I mean, weekend getaways and monsoons are the perfect times to "ja Simran ja, jee le apni zindagi," aka take that perfect rainy day break you have been meaning to. So thought to bring some of the best Monsoon weekend getaways near Mumbai.
And finally! It's that time of year when the cuckoos have started calling. The dark grey clouds have all started gathering, the fritters are on their way to my tummy (Pakodas, you laymen!), and the air has started settling in coolly with a general feeling of clean, fresh beginnings.
Yes, monsoon is finally here (I know, Cyclone Biparjoy had us on tenterhooks, "kab hogi baarish, "but finally, as the Rain Gods decide to be kind and the whole melancholy of heat waves slowly tones down, there comes my next quandary: Kahaan chalein? Arey, such beautiful rains definitely call for a quick getaway, much to cool down my frayed, overworked nerves (hah, me blabbering away as usual, as if I am some super overworked corporate employee, sheesh) And hailing from "Aamchi Mumbai", I call myself the luckiest since I don't need to travel very far to experience the petrichor aromas wafting their way, numbing my senses, and the greenery of nature enticing me towards it, offering me the perfect "break" as I have several brilliant places I can visit around Mumbai without having to tweak my work diaries too much. A 2-day short vacation doesn't hurt at all; in fact, a pause is very important for a reset, as my favourite Shivani Didi from Brahma Kumaris says.
So, here I am with the 10 Best Monsoon Weekend Getaways Near Mumbai:
Lonavala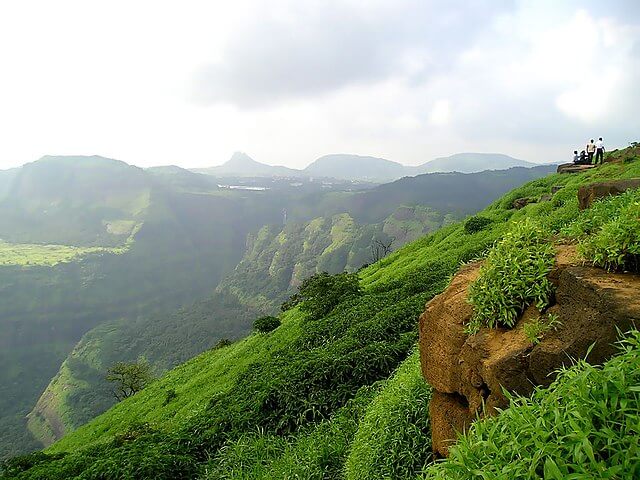 Ok, I know you guys will be like, Why am I starting off with the cliché? But hey, Lonavala is the first name to come to mind whenever one thinks of rain. One of the most famous monsoon holiday places in Maharashtra, this place, which is blessed with the mesmerizing views of Sahyadri Hills, has a lot to offer by way of Bushi Dam, Tungarli Lake, Tiger's Leap, Lion's Point, Visapur, Tikona, and a lot more.
Distance: 81 KM via NH-48
Khandala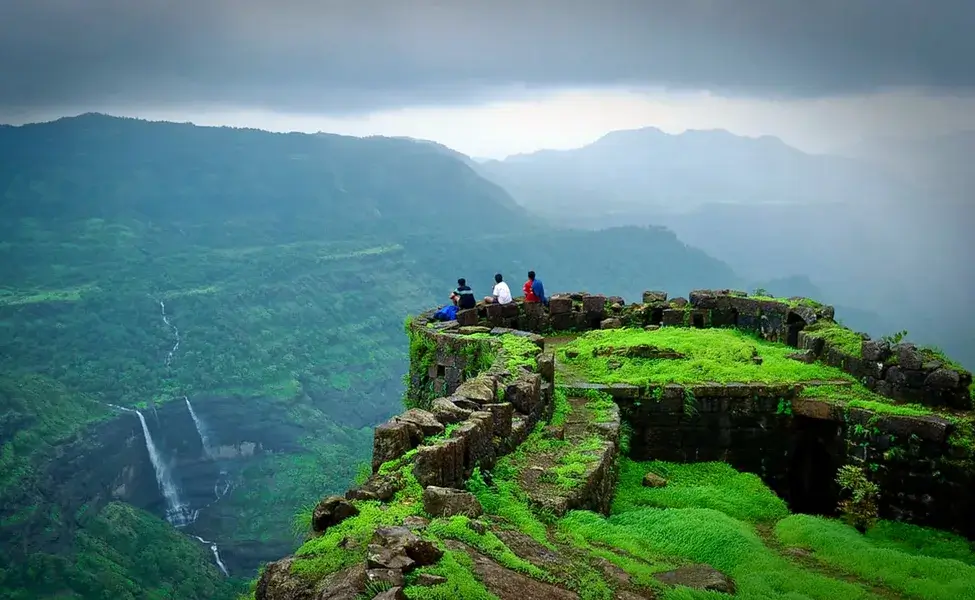 Ok, aati kya. Khandala is like a feeling, not a song, huh? Baarish hui nahi, one needs to plan a trip here first, as this one, coupled with Lonavala, makes up one of the best duos for family holiday vacations in monsoons. The perfect weekend getaway offers multiple attractions such as Lohagad Fort, Kune's Falls, Bedsa Caves, Shooting Point, Duke's Nose, and much more. And hey, don't forget Sausage Hill too (hey, not to eat, morons to visit), which is a joint attraction for both these stalwart locations.
Distance: 100 KM via NH-48
Mahabaleshwar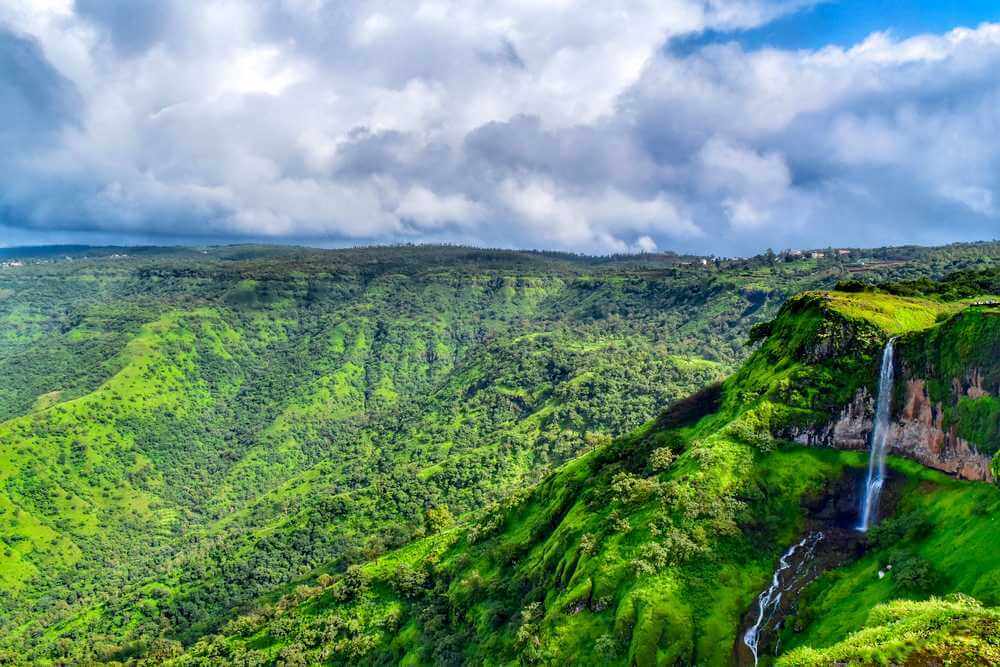 Gushing waterfalls surrounded by pristine, majestic green mountains—could life be better? This place is absolutely irresistible, especially during monsoon when you want to literally "dance under the waterfalls". Seriously, I mean, the Lingmala waterfalls here are touted to offer such beautiful vibes that people hike up to Wilson Point just to catch a view of sunrise during rain. For the perfect romantic spot, also bookmark the Mapro Garden, Parsi Point, Venna Lake, Mini Kashmir, Table Land, and the Rajpuri Caves to complete the perfect weekend getaway expedition.
Distance: 231 KM via NH 66
Lavasa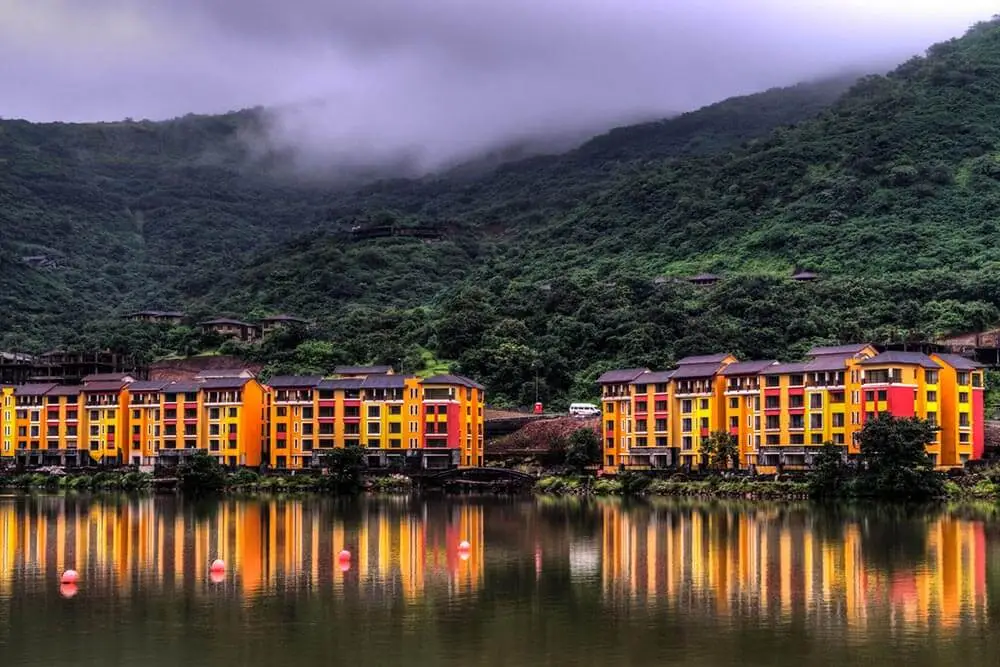 The perfect tourist destination for families as well as hopeless romantics (no kidding!), this beautiful city provides an Italian town-like ambience and has such quaint, beautiful pebbled streets that you will fall in love instantaneously. Want to make your stay here more memorable? Go for a trek in the wet forests during the rains and experience nature like never before. And don't forget Mulshi Dam, the favourite destination of nature photographers, with its radiance and scenic beauty. Also to be bookmarked are Varasgaon Dam, Vortex Splash Pad, Ghanghad Fort, Temghad Tikona Fort, and much more.
Distance: 90 KM Mumbai to Lavasa
Malshej Ghat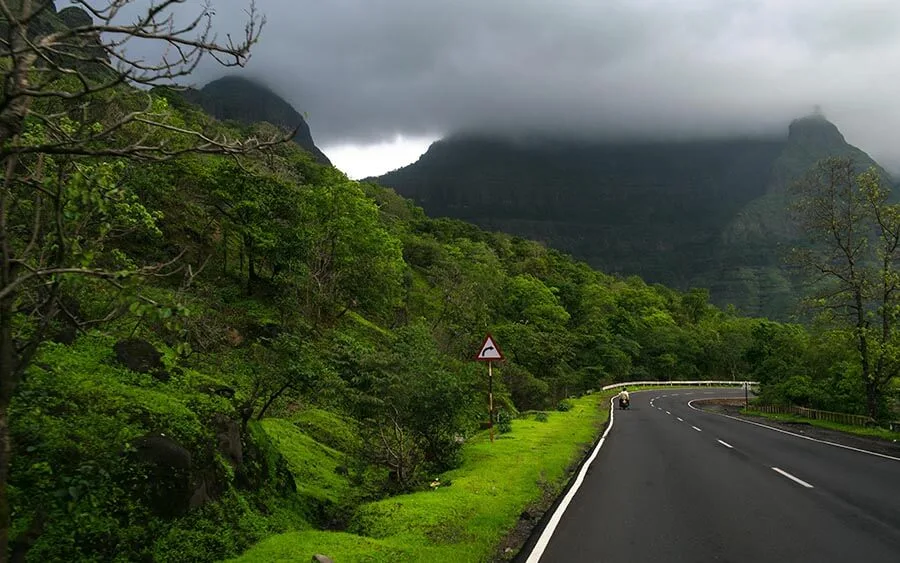 The most beautiful mountain pass of the Western Ghats, this one is a pure symphony for nature lovers. The Shivneri fort, along with alluring lakes and dense forests, is not only relaxing and unwinding but offers more than meets the eye. While here, do also visit Ajoba Hill Fort, Harishchandragad Fort, Konkan Kada, Pawna Lake Camp, Pimpalgaon Joga Dam, and many more.
Distance: 126.1 KM via NH 61
Matheran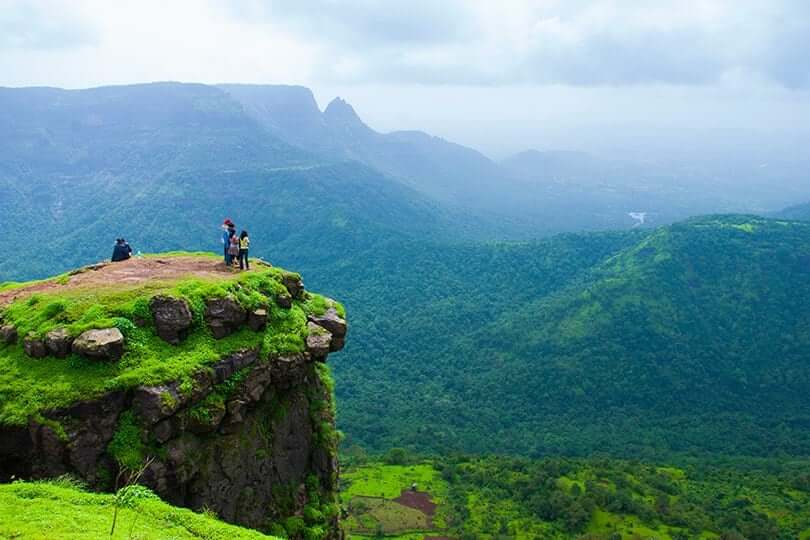 One vision that comes to mind is the toy train! Yes, you can enjoy that beautiful "childlike" feeling yet again by visiting this pristine spot, which is one of the best to visit during monsoons. Lush green landscapes—go amp up your Instagram feeds, loading them with pics from this one. Top places to visit include Louisa Point, Irshalgad Fort, Ambarnath Shiv Point, Rambagh Point, Dodhani Waterfalls, and more.
Distance: 80 Km from Mumbai
Igatpuri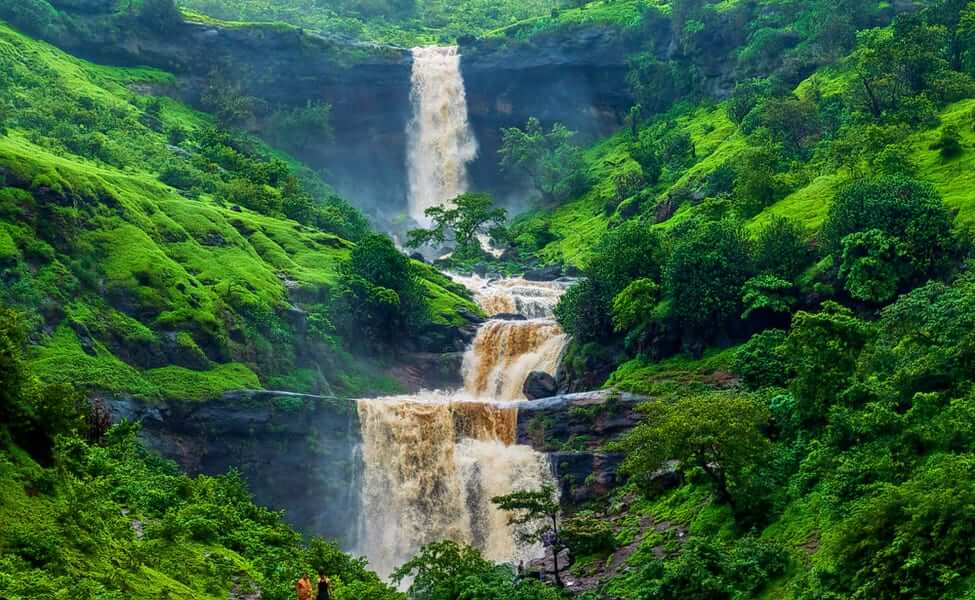 is one of the best places to be in the monsoons, with its calming ambience and beautifully mystic hills. Go and make some memories you have been meaning to make for a long time. Check out the exotic attractions this place has to offer: Ringalwadi Fort, the Vipassana International Academy, Avandha Fort, Camel Valley, Kalsubai Peak, Karoli Ghat, and much more. And while you are here, visiting Nashik city too would be a good idea.
Distance: 121 Km via NH 160
Karnala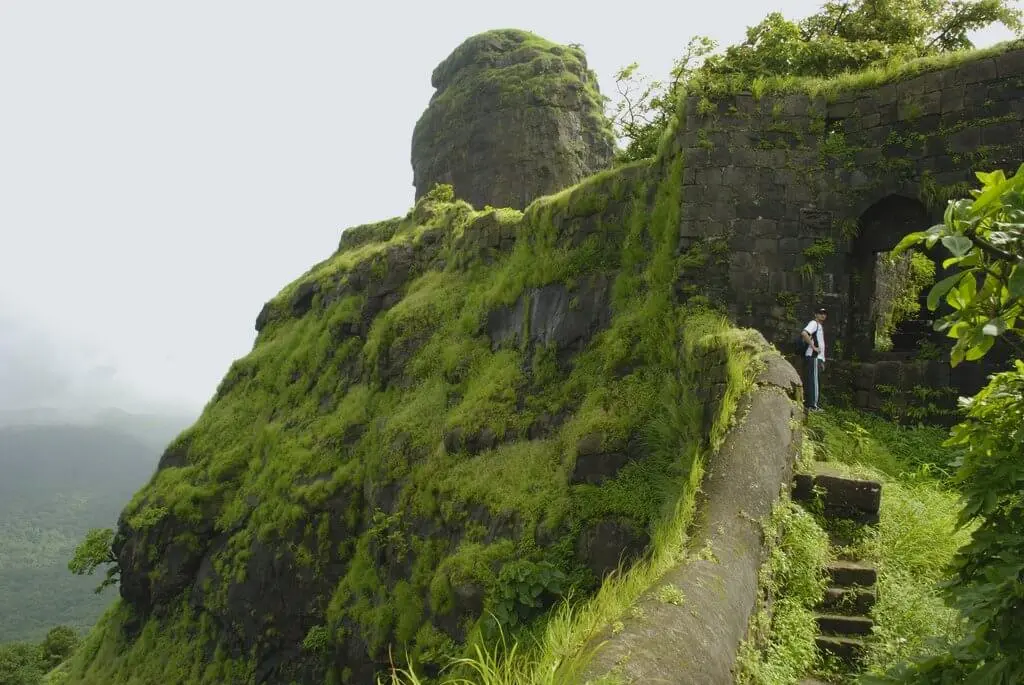 Surrounded by lush green mountains and waterfalls and situated in the pristine lap of nature, you can't say no to bird watching at the Karnala bird sanctuary, a true haven for nature lovers. You can also revel in checking out the age-old Karnala Fort, which offers a breathtaking, panoramic view of the Sahyadri mountains. I would say this is one spot that is truly nature at its ethereal best.
Distance: 52 KM via NH 66.
Durshet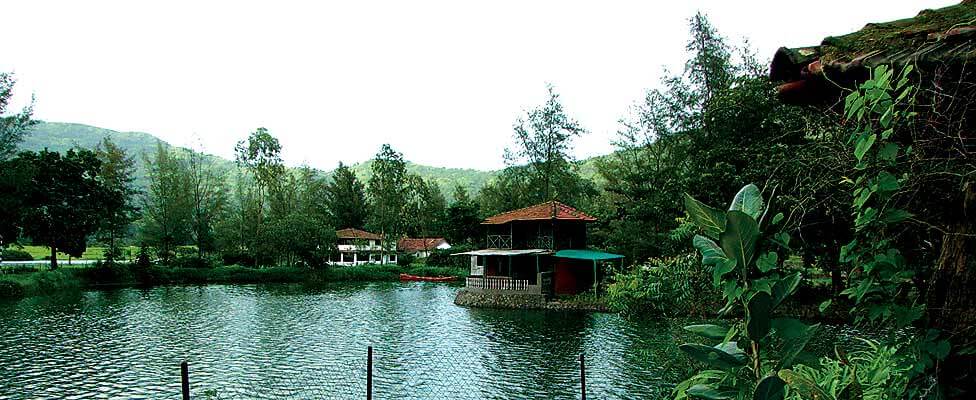 Looking at a shorter weekend getaway? This one too, which is set in the Sahyadri mountain range, has a lot to offer. Be it rock climbing and river rafting at Amba River, which inhabits the dense forests of Durshet, prepare to see a slew of waterfalls, especially during monsoons, and a trek up the mountainous trails here. Top spots to visit include Pali Fort, Varad Vinayak Temple, Uddhar Hot Springs, and Shri Ballaleshwar Ashtavinayak too.
Oh, there is kayaking too, along with river rafting, rappelling, rock climbing, and zip lining in the Kundalika.
Distance: 78 KM via NH 48
Alibaug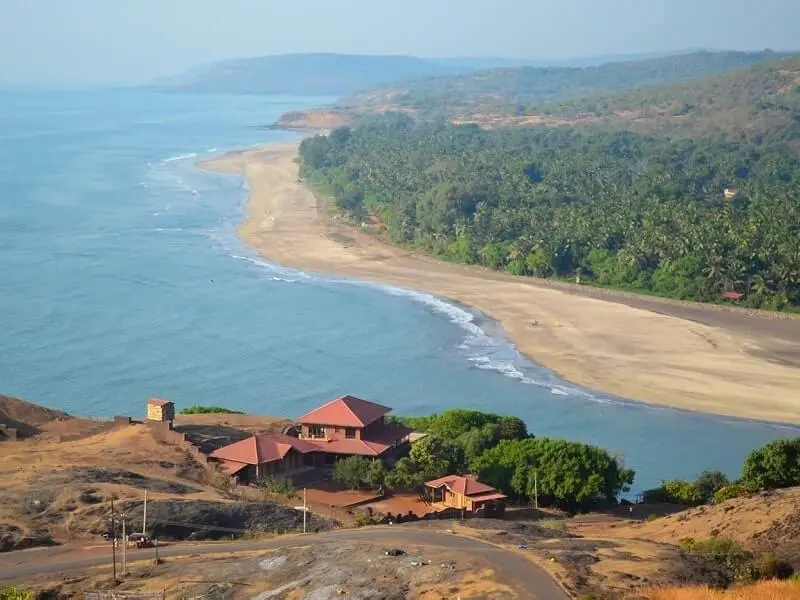 Want to stroll on the beach in the rain or visit a fort? You can do both here. Korlai Fort, located here, is one place you can check out if you want to dabble in some Mughlai, Portuguese, and Maratha architecture. Alongside, you can also choose to visit Jai Bhavani temple, Murud Janjira Fort, Sagargad, Varsoli Beach, Nagaon Beach, Harihareshwar, and more. So, beach and fort, both at once, for you guys. Awesome right?
Distance: 95 KM via NH 66
Related
So, these were the 10 Best Monsoon weekend getaways near Mumbai. Now you know where to go, right? So what are you waiting for, Pack your bags and get rolling! The monsoons are here, and Booxoul is too, with its daily dose of travel, food, fun, finance, fashion, entertainment, education, lifestyle, tech, and gadgets, as well as all things bookish.
Jaa aaj tu baarish mein rapat jaa!
Adios Amigos!