Rishi Sunak is the first UK Prime Minister of Hindu descent!!!
Whilst we Indians rejoice over the appointment of possibly the first ever man of colour from South Asia to the highest position of power in the World's 6th largest economy, But, did you also know that he is also the son-in-law of our very own beloved Author Sudha Murty? I bet you didn't!
India was colonized by the British for more than 200 years. Having been destitute of democracy, it took herculean efforts on the part of us Indians-leaders and the common man alike to break free of the tyranny of British rule.
Well, didn't we always think and believe that karma would surely find a way of equating all the wrongs with rights and that life was a circle vicious enough to let us experience it first-hand if we were lucky enough? (Ok, no over-emotion here, but I kinda was always thinking something along these lines).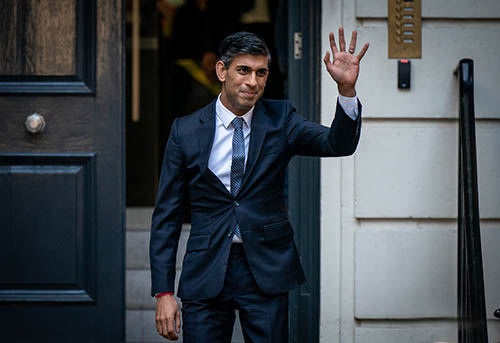 And can we believe this one? TBH, I cannot even begin to comprehend how this could have happened in the first place. Yes, Yes, Yes! And it is a man of colour finally in one of the biggest positions of power in one of the most powerful places in the world. As we rejoice and go bananas (literally..) over the fact that he is a man of perhaps Indian origin, which BTW is incorrect I thought of sharing 5 facts about UK Prime Minister Rishi Sunak that you probably didn't know.
From the internet being flooded with suggestions that the Kohinoor be returned to India, while many others pointing out the likely resemblance between him and Ashish Nehra to hilarious memes of varying proportions, this man who has also been a Goldman Sachs analyst previously, Rishi Sunak's rise to the landmark position of UK's next prime minister has not only been iconic, it is historic and extremely significant as this Hindu descendant who is actually not an Indian, takes charge of the sixth largest economy in the world.
So, let me give you 5 facts about UK Prime Minister Rishi Sunak that you probably didn't know:
He is not an Indian!:
Indeed, he is not. Born in Southampton, England, this 42-year-old specialized in Philosophy from Winchester college and later on moved to pursue politics and Economics at Oxford followed by an MBA from Stanford Uni. He does have an Indian connection as his grandparents are from Punjab. As per Indian Express, Rishi's father Yashveer was born in 1949. Rishi's grandfather Ramdas Sunak who had migrated to Nairobi in 1949, immigrated to England in 1966. He then went on to marry Usha Berry, daughter of Raghubir Berry, again a Punjabi who had moved to Tanganyika (Tanzania now) and Tanganyikan-originated Sraksha. Yashveer and Usha, both pharmacists were blessed with a boy in 1980 who is now UK's 57th Prime Minister.
Youngest Britain PM in more than 200 years:
Whilst in 1783, William Pitt the Younger had taken charge as PM of Great Britain at 24, Rishi Sunak is the next in line to take charge of this pedestal at 42. And also, just to let you guys know, he is married to Akshata Murty, daughter of none other than Indian billionaire NR Narayana Murthy from Infosys technologies and Sudha Murty, philanthropist and one of India's highly loved and celebrated writers.
His net worth combined with his wife, they are richer than King Charles III and the Queen Consort:
Whilst the combined net worth of both Akshata Murty and Prime Minister Rishi Sunak is jointly estimated at Pounds 730 million vis-à-vis that of King Charles III and Queen Consort Camila's net worth of Pounds 350 million, as per the Guardian. Akshata holds a 0.91% stake in Infosys which is the big buck behind her net worth.
He was in the Finance department before:
Yes, Rishi Sunak was Chief secretary to the Treasury after Boris Johnson became the Prime Minister. As a part of the cabinet reshuffle, Sunak was promoted to the chancellor, he played a prominent role in the Government's response to the COVID-19 pandemic and its economic impact including the Coronavirus Job retention and Eat Out to Help out schemes. So, he has already had the measure of Finance in the past and is expected to be handling it well in the future too.
And lastly, he is a Coke addict!:
Well, not drugs silly, I mean Coca-Cola. His favourite by far is the Mexican Cola. And ya, not to mention he has had to get fillings done in 7 of his teeth thanks to his addiction to this beverage. Hmm, heavy addiction huh?
So, these were 5 facts about British Prime Minister Rishi Sunak that you probably didn't know. Stay tuned with us right here at Booxoul for the best in the field of entertainment, travel, lifestyle, education, fun, finance, fashion, tech and gadgets as well as all things bookish. Only here at Booxoul, India's best book review and lifestyle website.
Adios Amigos!