A mesmerizing fantasy or a tantalizing one? Samsara by Saksham Garg whilst ticking all the boxes towards being one of the best fantasy reads of the season still tends to raise hackles, poking those sensitivities which as a rule are seldom sought. As far as the character and world-building are concerned, this one is a fast-paced read and yet I could not help but feel uncannily uncomfortable, compelled to mull over why it is that religion, which is a delicate issue, was typecast in this one.
I have always felt that fantasy should be indulging and mesmerizing. I mean, for me at least, it is not only the fantasy but also the characters which are equally important. A perfect book, be it a YA or any other genre, according to me, always needs the perfect mix of the best possible elements in the correct manner. Not only should the characters be well sketched and aptly defined but they need to ensure that they add to the value of the entire story as a whole. Also when it comes to world-building, it remains a crucial aspect since it plays a pivotal role in any plot along with the characters. A perfect equilibrium between the plot, characters, world-building, and conceptualization along with a host of other things make up for a brilliant fantasy read.
Remember how after reading Harry potter we couldn't help but befriend Ron and his silly idiosyncrasies, Hermione and her whizz-bang brain and her know-it-all attitude, and Harry for his sheer courage and bravery? Take any title, even something as Sons of Darkness by Gaurav Mohanty wherein the characters seem to come off the paper, onto a canvas so alive and breathing that I couldn't help but be blown away by the liveliness and realism of their demeanour. And the world-building too was brilliantly executed in these, intriguing enough to keep you hooked to the story until even after you finish with them.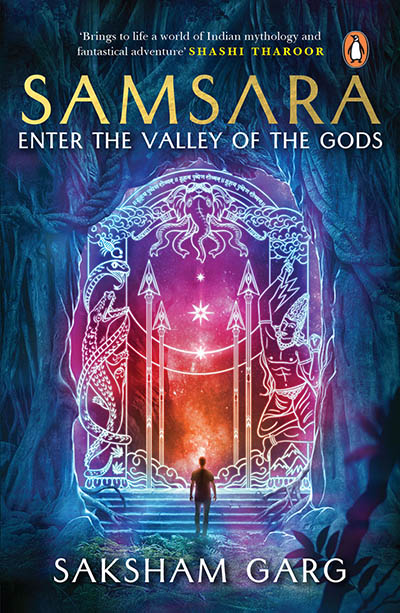 So, my point here is some characters become friends, yet several others become acquaintances. We somehow set ourselves in their atmosphere.
Along with that, these characters should also be backed by principles as well as ethics of some sort, even if negative. It is essential that every single instance gives you a flavour, every character compels you to grasp and let their feelings and morals along with ethics seep inside you, dousing you with their perspectives. You need to be able to empathize and relate to them, sort of stepping up in their shoes on a personal note, experiencing all that they are going through, in real time.
Samsara by Saksham Garg is a book which gave me mixed feelings. It definitely kept me totally glued to it throughout. Be it the world-building or the flamboyance of the language, I was enthralled. The diction and the vocab were brilliantly done. Although I enjoyed it, it somehow left me in a lurch with a conflicted interest towards the end.
For starters, I felt the characters lacked strength somehow. Not only were they weak, but I found the warmth and the camaraderie between the characters missing. I could only feel the tete-a-tete come to me between Aman and Idhika. Felt I could somehow only relate to the equation between them, which was missing for me, kind of inconspicuous among other characters.
If you ask me well, Idhika was my favourite amongst all characters as I sincerely felt that she knowing that she was Eka, had this stark clarity not only about herself but also about where she wanted to be heading towards as also what she had to prioritize. The complete development of her character in its entirety was amazing. Other characters such as Aman, Aarti, Ujal and Prithvi were well written too.
Albeit characters like Fayza which for me seem to simply fizzle out the whole enigma. With a ghost-like presence, she still seemed to be around and yet a misfit of sorts around Aman, I felt.
My question remains -is it really necessary to do a character typecasting just to be able to give sensationalism of sorts to the narrative? It is just that I am generally a bit unhappy with this entire angle. I am disappointed with her weak strength of character. Also, I felt that in the book Samsara, Aman and Fayza were being given that kind of limelight which was off the point.
Such stereotyping, such typecasting, kind of, got too overwhelming for me as a reader, especially towards the end when things got complicated and I couldn't figure out what was happening. TBH, I am not happy with the end as it turns out. I wasn't expecting this. No more spoilers here though.
I agree that Vanyasa was a fascinating place but hey that alone could not fuel and satiate the irresistible urge I usually feel when reading fantasy, more so because of the somewhat unbalanced equations, I felt amongst the characters. Having read the Harry Potter series and even LOTR several times, I felt the iridescence of such an enormous world build-up was somewhat compromised herein, lacking in its intricacies.
Coming back to Vanyasa, the mystic created of the place, it is a sacred, secluded place where only the chosen ones are allowed, was a pretty exciting concept for me. The description of Vanyasa was spellbinding.
On a technical note, transitions were initially a bit compromised, I felt. Kind of challenging, but it nevertheless, resolved and somehow kept me hooked on in the second half. Albeit I am sure, in the next Samsara book as this one is the start of a series, with the kind of a cliffhanger it promises to be, these technicalities will be devoid of.
With some technical brush-offs, this book Samsara by Saksham Garg sure will culminate into the next best YA fantasy series, sans one facet, that being the stringent type casting being done away with and the readers being given a more radical, logical and rational, all-immersive sort of a reading experience rather than doing a targeting of such sorts.
So, hope you guys liked my book review of Samsara by Saksham Garg. Let me know in the comments what you think of my thoughts.
Stay tuned right here at Booxoul for your daily dose of entertainment, lifestyle, fun, finance, fashion, travel, tech and gadgets and all things bookish. Only here at Booxoul, India's leading book review and lifestyle website.
Adios Amigos!