From drug development in a big pharma company to writing, Vamsi Chaturvedula's writing pursuit has been larger than life, closer to it, and way beyond the ordinary. Here is a glimpse into the mind of a writer who has fused action fiction in a refreshing modern-day shroud with epic, legendary characters from the past, giving them an indulgent new spin.
You know, I always feel that action fiction is unexplored territory.
Seriously, it's one of those genres that has yet to be fully tapped, with all of its strengths and vitalities exposed for all to enjoy. With an amazing plot already in place, it is always a tricky task to incorporate the intricacies of action, capturing its finer layers and making them shine through the main plot. In such a scenario, Vamsi Chaturvedula's latest, titled "Fight Story," is a diversion from the usual, with brilliantly substantial weight being put on not only the action but also the whys and hows of the characters.
Getting forth some of his candid thoughts in a bid to spotlight this amazing writer Vamsi Chaturvedula
THE INSPIRATION…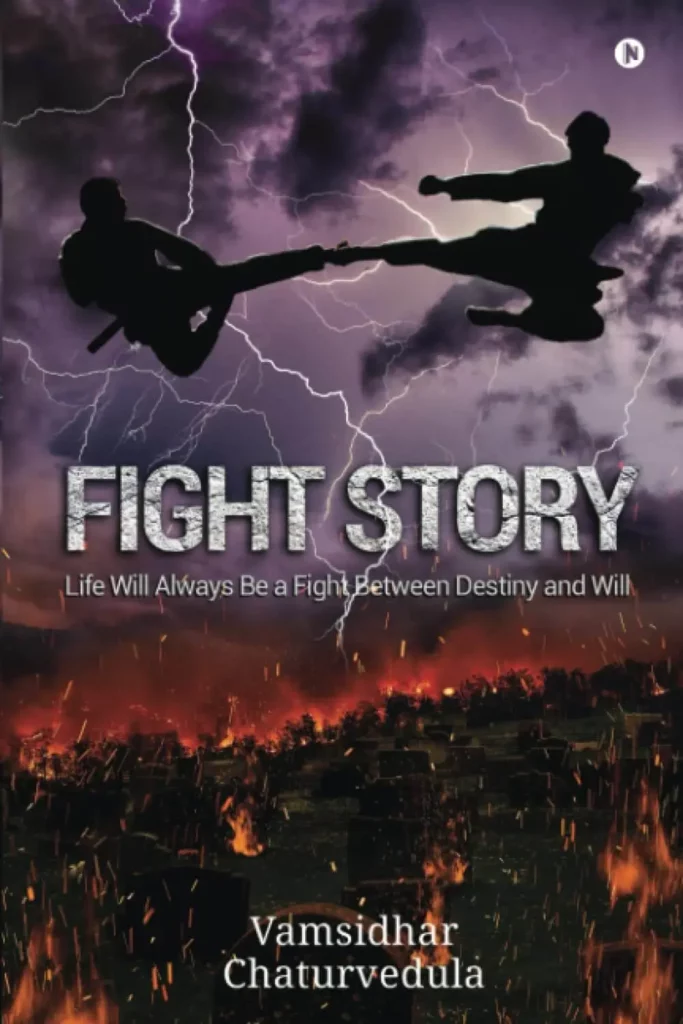 Ask him what inspired him to turn to write, and he replies, "self-reflection." After penning down a few narratives and blogs, he found it liberating to put down a "free flow of words" about what his mind was imagining or reflecting on paper. Eventually, this story came up, being born of those endeavours.
Upon asking what compelled him to turn towards creating mythologically inspired characters, he reiterates that there is a huge part of him that is spiritual, and he has a natural inclination towards the Puranas, Suras, and Asuras and such mystic mythological concepts. With their magnanimity, they add more than just aesthetic value. If the reader recognises the virtues of Veera Bhadra or Karthik, Vamsi believes he or she will have a complete reading experience of Fight Story.
HIS FAVORITE CHARACTERS
It was both Veera Bhadra and Karthik. Vamsi can't pick one over the other. The challenge, he feels, was to create the elevation of the characters until the point they collide. Anyone who has read this far should believe that any of them can win. Veera Bhadra is strong from page 1. Karthik, on the other hand, develops as the story progresses. Getting this balance was the toughest part, according to him, and he is glad that he could pull it off well.
HIS PHILOSOPHIES OF LIFE
Dharma exists, whether we believe it or not.
I believe this to the extent that, if we believe in karma, it leads us. "If we don't, it drags us."
Indeed, with such a broad perspective on the ideology of Dharma, it comes as no surprise that Vamsi has created such a large canvas, filling it with the wisdom of the ages in spite of having a modern-day storyline.
HIS IDEA OF RAKURAI
Upon reading Fight Story, you will realise that Vamsi has also spoken about Rakurai, embedding its importance in his story. Upon enquiring his thoughts on it, he shared-
"The concept here is Kundalini." "The energy or life force that exists in everything in the cosmos" Karthik awakens this force within him through fighting, which is one of the 64 Jeeva Kalas. "I mentioned this awakening as a thunderbolt or Rakurai in Japanese."
IN THE END, A MESSAGE FOR YOUNG BUDDING AUTHORS
In the words of our wise author, here are a few takeaways he would like to share with young aspiring authors hoping to make it big:
"Just keep using your imagination." There are many workshops now that say they will train you how to create interesting or compelling books, etc., but I am sure none of them can teach anyone how to imagine, and this is unique to everyone. We cannot create a template for imagination; it needs to be wild and untamed. People may or may not like it, but no one can take away the satisfaction. So just keep imagining and keep writing.
Brilliant words from a brilliant writer; here we congratulate him on his success in creating such a magnum opus in the form of "Fight Story" and wish him all the best in his future endeavours. Writing that splays imagery when read is a feat that is by no means a mean one, and Vamsi has pulled it off through his work, and how! We are also hoping that he comes out with his next book soon so that we get to read such magnificent pieces yet again and are treated well, especially as far as action fiction is concerned.
So I hope you guys liked reading this spotlight on author Vamsi Chaturvedula, writer of Fight Story. Stay tuned with us right here at Booxoul for the best in the fields of entertainment, lifestyle, education, travel, food, fashion, tech and gadgets, fun, finance, and all things bookish.
Adios Amigos!