Book Review of Subjective Bliss by Vez Jauffur
There are some books that stay so close to our lives, thanks to their impeccable narrative and satirical take on the circumstances. Subjective Bliss by Vez Jauffur is satirical fiction that not only entertains but also puts forth a piece of life that we all surely know but dare not acknowledge for the fear of being judged. This is a brilliant insight into the lifestyle of the upstart, the rich, and the obnoxious. Bookmark this one for your next.
Remember the time when life was simple and satire was an emotion that we used to fondly turn towards whenever we wanted to read fiction that was closer to life?
Hmm, so to explain satire a little more in detail (the dictionary refers to it as a work of literature, entertainment in which the folly and corruption of human beings, institutions, or social structures are exposed, denounced, or ridiculed), apart from the usual fact that it is a true depiction of our innate selves, it is also that one genre which has so much joy, vibrance, colour, and different hues of human emotions that it feels for me as perhaps one of the most complete forms of the genre ever splayed by a writer.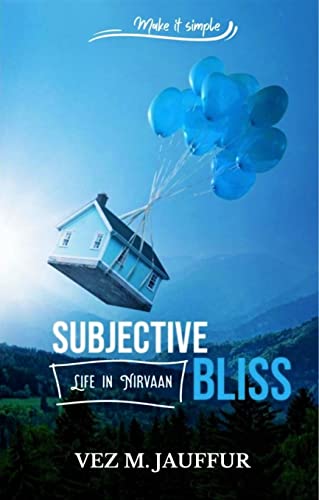 In fact, I've been a fan of satire since I was a child. It has fascinated me because of the variety of different aspects it attempts to convey at a single point in time. Thus, when Subjective Bliss by Vez Jauffur made its way to the top of my reading list, I was naturally excited to be delving into what I call the "face of real, living, breathing life."
So, tell me something, you guys. What is your idea of the concepts of happiness, belonging, and serenity? What do you think about different cultures and social classes thriving and surviving in one space altogether? Hmm, I am wondering why I am asking such questions today. Well, this happens to be the backdrop of the main premise of this amazing satire, Subjective Bliss, written by Vez Jauffur. 
Yes, indeed, ignorance is innocent compared to intelligence, which is often the epitome of intolerance. Portraying and addressing qualms shrouding humanity, magnanimity, and liberality, here comes the story of the inhabitants of the Nirvaan gated community, who are by themselves an ensemble of the most wondrous species of humans that you could possibly ever have a rendezvous with. 
There is what I call "rich lifestyles," which are obnoxious, to begin with; there is what appears to be a popular term nowadays, aka nepotism; there is intolerance (caste- and class-based), and so much more than adorns this more realistic narrative that I found both addictive and fulfilling. Equal parts commonplace and yet equal parts wondrously new and refreshing, Vez has sketched some of the most relatable and closest to real-life characters with this one, taking us back to community living where indeed life has always been about following the "it's," steering clear of all the "but's," and most importantly, jumping on the bandwagon as far as life is concerned.
Pankaj ji and Jugni "Bhabi (yes, I like to refer to him as ji and her as the bhabi, it gives me a warm, fuzzy comfort feeling of sorts!) were the perfect personifications of what happens when culture decides to go for the makeover it did not simply need in the first place. Sameer, Kabir, Neha, Ela, and all the others—each of them held another significance, portraying a different hue altogether and showing a unique shade of humanity, I felt.
The entire ambience created by Vez in Subjective Bliss is something I haven't come across in a very long time. Yes, there were bits of humour I could completely dunk into, the " hoity-toity" thing about class and education was like, "Yes, I've been there, done that" kind of feels. All in all, a satire I could happily immerse myself into, coming up alternatively to witness life-changing lessons, and musings which are so self-intimidating that I would be surprised if you tell me you haven't skulked corners, rolling your eyes, trying to avoid that "scenario" unfolding in the book, in front of you, because you are too proud or timid to be accepting that yes, this is what happens in today's hypocritic, obnoxious world. So damn brutal, two-faced, insensitive, devoid of emotions, and yet so "fake and loud," yeah. 
An incandescent musing—one which shall leave you with so much to mull over, even long after you have finished with it, that you will feel kind of satiated, full of life, bursting at the seams with its coy shades. An amazing piece of writing Vez ticked all the boxes for me with this one-narration, storyline, characterization, speed, detailing, emotional range, and practically all other metrics and aspects. Brownie gives him points for making it so relatable and warm in its portrayal.
Go ahead and bookmark this one as being the festive season of Christmas; surely this is one fiction you ought not to miss, especially if you do not want to miss some true spices of life with this narrative. A great read.
Subjective Bliss
Summary
We are all biased about our own little bigoted ideas of happiness. Kabir Sinha, a journalist at K9 News becomes famous and decides to move, along with his family, to Nirvaan Mansions, an exclusive posh gated community in India, reserved only for the elites. A few weeks later, Pankaj Mishra, a simple villager, wins the lottery in his village and decides to upgrade his lifestyle too. His destination: Nirvaan Mansions.

The questions are many. With such different values, beliefs and perspectives, will they be accepted in the community? Will they find the bliss they've been looking for? Is the grass really not greener on the other side?

Subjective Bliss is a satirical drama that explores the concepts of happiness, belonging and serenity through the clash of different cultures and social classes in one single space. It posits the innocence of ignorance versus the intolerance of intelligence, while subtly questioning various facets of humanity, magnanimity and liberality.
So, hope you guys liked my book review of Subjective Bliss by Vez Jauffur.
Stay tuned with us right here at Booxoul for the best in the fields of fun, entertainment, lifestyle, food, finance, fashion, travel, tech, and gadgets, as well as all things bookish.
Adios Amigos!