Happy Birthday Harry Potter
Come rejoice, people, as it is Harry Potter as well as Author J K Rowling's birthday – celebrating the wizard as well as the creator together on 31st July. As Harry turns 42, here is a look at 12 fun facts you Potterheads didn't know about the Potterverse.
31st July happens to be an extremely important date for Potterheads all around the world. The reason? Simple. It is the birthday of the boy who lived aka the great wizard himself-Harry Potter.
It's been almost 11 years since the last HP movie came out, yet it remains as fresh as daisies, that is the kind of craze and adulation this series holds for fans across the globe. A supremely wondrous universe of wizardry, a world of magic so enigmatic, so spell-binding that you cannot help but remain smitten for life.
Related:
Each day this year fans across the globe recognize and celebrate this big moment religiously, unfailingly, holding parties and gatherings to give a shoutout to their favourite wizard. This year being no different, we at Booxoul thought of getting together 12 fun facts about the Harry Potter series that Potterheads might not know. Psst, to begin with, J K Rowling herself shares her birthday with Harry Potter! Some creator and her creation sharing their birthdays along with their life essences huh? Albeit his birthday comes in the year 1980 fictionally dating and hers in 1966.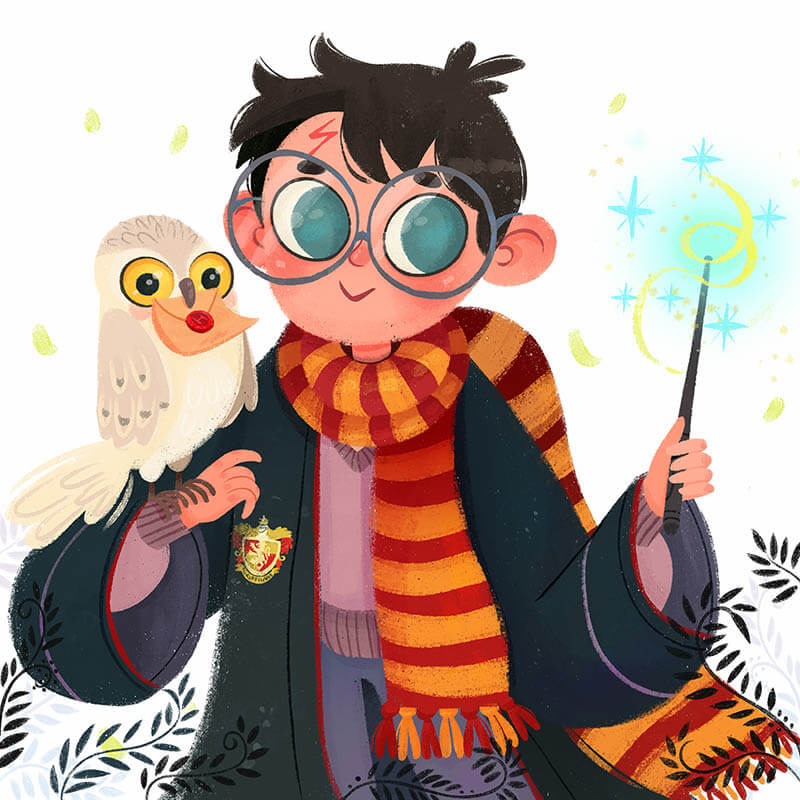 For starters, July is probably the "marked" month for Harry Potter. Did you know that Daniel Radcliffe's birthday (the actor who played Harry Potter in the movies) is on 23rd July? And not to forget Neville Longbottom's birthday is supposed to be on 30th July too. So much for July then!
When J K Rowling started writing the first book, she was not only divorced but also financially broke, a single mother as well as recuperating from the loss of her mother, who had passed away after suffering from multiple sclerosis. Kudos to her for turning her pain to power through her pen.
Harry Potter's idea and the plot were conceptualized by Rowling during a 4-hour train delay when she was travelling back to London solo from Manchester. As she sat through the entire delay, the bespectacled boy next door literally came alive, settling herself in her mind's eye for keep.
The name of Hogwarts school according to Rowling comes from a hogwort plant which she came across in New York's Kew garden.
You probably know that the book was rejected 12 times before being accepted by Bloomsbury in 1996. However, you may not be aware that she was advised to use her initials instead of her full name Joanne Rowling to keep it appealing for the male readers. Also, the K in her name stands for Kathleen, her grandmother's name which, however, is not a part of her real, legal name. She also uses the pen name Robert Galbraith, I believe.
Dumbledore's name has been inspired by the Old English word for "bumblebee" because Rowling imagined him constantly humming to himself. Also, FYI Rowling loves sherbet lemons just like Dumbledore!
The Ford Anglia, the Weasley's magical car incidentally happens to be of the model and colour that Rowling loves as she has memories of driving around in it with her best friend from school when she was young.
The dementors, one of the most intimidating characters from the series are not just a figment, rather they are based on Rowling's own struggle with depression after her mother's demise. Creating creepy creatures who feed on human emotions was Rowling's way of venting out that suffering and depression.
Hagrid's hut was an actual real one, built for the purpose of the movie itself. However, it was brought down immediately after the first movie to avoid fans flocking it.
Even one of the most famed horror writers of our time Stephen King has deemed Dolores Umbridge as one of the creepiest villains ever created. "The greatest make-believe villain to come along since Hannibal Lecter.." said he in his review for the Order of the Phoenix for Entertainment Weekly.
Did you know that in the 5th book originally Rowling had planned to make Arthur Weasley meet a "grim fate" aka kill him? However, she changed her mind as she felt there were very few good fathers in the book and so…spared !!
Did you know that Steven Spielberg was [pegged to direct "Sorcerer's stone"? However, due to creative differences, the project then went to Chris Columbus. Also, the character of Harry potter was initially to be played by Haley Joel Osment ( of Sixth Sense fame) when Steven was handling the project. Daniel Radcliffe came later on board when he beat almost 300 other child actors to play the role of his lifetime.
So, hope you guys enjoyed these little "Honeydukes" kinda sweets we have got for you on the occasion of the birthday of The Chosen One. Happy Birthday Harry and may you continue to live for eternity, inspiring all to live fearlessly, valiantly and most importantly with lots of courage, friendship and love.
Stay tuned you guys coz the celebrations continue with Booxoul bringing you the best possible in the field of entertainment, lifestyle, travel, food, fashion, tech and gadgets as well as all things bookish.
Till then Happy Birthday Harry and move over ye' Potterheads! Gimme some chocolate frogs and Butterbeer and I am "caterwauling" away to Potterverse….