Book Review Of Harry Potter And The Order Of The Phoenix By J K Rowling
Progress for progress's sake must be discouraged, for our tried and tested traditions require no tinkering. A balance then, between the old and the new, between permanence and change, between tradition and innovation because some changes will be for the better, while the others will come in the fullness of time, to be recognized as errors of judgement.
Harry Potter And The Order Of The Phoenix
Summary
Dumbledore lowered his hands and surveyed Harry through his half-moon glasses. 'It is time,' he said, 'for me to tell you what I should have told you five years ago, Harry. Please sit down. I am going to tell you everything.' Harry Potter is due to start his fifth year at Hogwarts School of Witchcraft and Wizardry. He is desperate to get back to school and find out why his friends Ron and Hermione have been so secretive all summer. However, what Harry is about to discover in his new year at Hogwarts will turn his whole world upside down…But before he even gets to school, Harry has an unexpected and frightening encounter with two Dementors, has to face a court hearing at the Ministry of Magic and has been escorted on a night-time broomstick ride to the secret headquarters of a mysterious group called 'The Order of the Phoenix. And that is just the start. A gripping and electrifying novel, full of suspense, secrets, and – of course – magic.
These harsh words and many more hold a substantial presence in Harry Potter And The Order Of The Phoenix, probably the first of the truly "grown-up" title in the series, one which has too much attached to it by way of emotion as well as depth and complexities of the plot as well as the characters. So, to be honest with you guys whilst we here at Booxoul, are here with the review of this book, we sincerely are feeling like a little, lost kinda cute ol' pup, coz there is soo much that has started unfolding in this one, making the series transcend from a children's saga to something more mature already.
THE STORY AS IT PROCEEDS
So this one starts simply with succumbing to the obvious-a universal denial by all of the facts that You-Know-Who aka Voldemort's back. To make matters worse, Fudge too seems to be harbouring a funny thought that Dumbledore has sort of "lost his marbles" and turned "power-hungry" trying his lethal best to upturn the Ministry( Sigh, if only someone could tell the moron Dumbledore is worth a zillion of them put together at once hah !!). Enter Professor Umbridge, senior Under secretary to the Minister and to aptly describe her in a few words" an evil, foul, twisted gargoyle…" for Umbridge, tormenting Harry, cooking up new schemes daily to torture him and all those who stand by him seems to have become the mission.
Things are equally bleak on the other end where Harry seems to have been kept in the dark as far as the resurrection of "The Order of Phenix" is concerned- an organization that was there around last time when Voldemort (Nooooo, sorry You – know-Who, I don't wanna be cursed you know!) was rising to power. Sirius, Remus, Tonks, Snape (What, seriously?), Arthur Weasley, Kingsley Shacklebolt and a few others have formed the order, preparing to thwart him and protect 'something' or 'someone'.
What is this thing they seem to be protecting? And why is Harry always being kept in the dark? Whether he will be able to stay out of harm's way as before, now with Voldemort having been resurrected is what remains to be seen, not to forget avoiding "that old hag – Umbridge".
Related:
More intense complexities along with more intricacies added to this mystical world of Harry is what the fifth book is all about. Also, this one has numerous facets attached to the story. Each and every sequence has been written bearing in mind the imparting of some takeaway or other.
Take the court scene for instance. The tyranny and the bias against both Dumbledore as well as Harry are evidently giving us a real-life feel of what politics is like in reality. Even the sequence where the Weasley twins break free of "full-time education" and give Umbridge what she deserves was nothing short of epic. You might have cheered whilst seeing the scene in the movie but guys this one was actually envisioned in a manner to stand out and be with us for life when Rowling wrote it.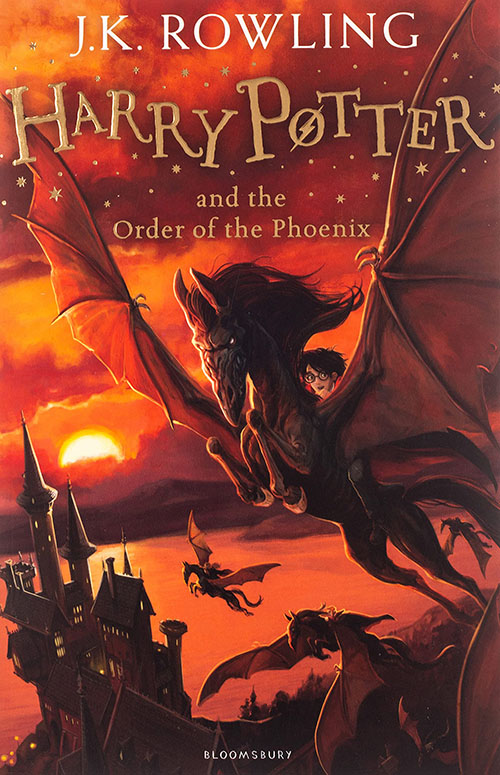 Likewise, the climax when Harry and his friends fight the Death Eaters, the complete duel that ensues, especially the one between Dumbledore and You-know-who was a nail-biting read, one which is pretty tricky I'd say to pull off whilst writing. I mean you know there are certain parts of a story which are best conveyed if picturized. Yet, Rowling has gone way further encapsulating the power of screenplay with visualization using one's mind and eye as a canvas to paint and portray what she wishes to convey and build as far as the story goes. It is not only enigmatic what she creates but also fluid and flamboyant, staying on the canvas of your brain for keeps, compelling you to wait for and prepare to dive into the next with bated breath and excitement to match none.
Surely, that for me is the ultimate spectrum upon which a writer stands tall and successful. To be able to create that kind of excitement through the power of your words, to be able to lead a large (correction! The largest) throng of people to soak in your plot and wait for the next to transpire is what is not only the true recipe for writing successfully, it is also the ideal benchmark any Author ought to set for themselves.
In spite of having so many dark and difficult instances, this one had its share of light moments and indulgences too. I mean come now guys, didn't we all love it whenever Umbridge was being thwarted or her ego "crackered" away into bits? That is where Rowling wins as a true influencer, inspiring the masses against and towards something.
A book that leads on from something, a book which promises to lead onto something this is Harry Potter And The Order Of The Phoenix, the fifth in the series, all grown up yet as simple and innocent at the core as an 11-year-old young, green-eyed Harry stood at King's cross, gobsmacked yet enthralled at the fact that yes! Finally, he was going to a place that could be better, he was going to a place he could eventually call his "second home". And let's face it peeps, Hogwarts is our second home too, ain't it?
Well, I for one wanna be lost in the spiral staircase leading me to Dumbledore's once I finish this blog. What about you? Where do you wish to head to?
Liked this review? Want to get your book reviewed too by us? Click here…
For any queries, click here…
Hope you liked this little attempt of ours, a different kind of musing taking you through the review of the 5th book Harry Potter And The Order Of The Phoenix by J K Rowling. Do let us know in the comments below what other blogs you would like us to get for you. Keep tuning in to catch your daily dose of entertainment, lifestyle, travel, health, food, tech and gadgets and all things bookish. Only here at Booxoul, India's best book and lifestyle blog. Toodle-e-oooo!
I'm participating in #BlogchatterA2Z Challenge.