Book Review of Harry Potter And The Goblet Of Fire
Harry Potter And The Goblet Of Fire
Summary
Let the magic of J.K. Rowling's classic Harry Potter series take you back to Hogwarts School of Witchcraft and Wizardry. This Hufflepuff House Edition of Harry Potter and the Goblet of Fire celebrates the noble character of the Hogwarts house famed for its dedication, patience and loyalty. Harry's fourth year at Hogwarts is packed with more great Hufflepuff moments and characters – not least the heroism and valour of Hogwarts champion Cedric Diggory in the thrilling Triwizard Tournament …

Each Hufflepuff House Edition features vibrant sprayed edges and intricate silver foiling. The Goblet of Fire blazes at the very centre of the front cover, framed by stunning iconography that draws on themes and moments from J.K. Rowling's much-loved story. In addition to a bespoke introduction and exclusive insights into the magical paintings of Hogwarts, the book also boasts new illustrations by Kate Greenaway winner Levi Pinfold, including a spectacular portrait of Hogwarts heartthrob, Cedric Diggory. All seven books in the series will be issued in these highly collectable, beautifully crafted House Editions, designed to be treasured and read for years to come.

A must-have for anyone who has ever imagined sitting under the Sorting Hat in the Great Hall at Hogwarts waiting to hear the words, 'Better be HUFFLEPUFF!'
So, to tell you guys the truth, Harry Potter And The Goblet Of Fire is actually one of my favourite books of the complete series. Reason? Simple. It happens to be one of those books which has so much to give both in terms of fascination as well as in terms of conceptualization and story execution.
The brilliance of this one lies in the fact that it gives an extremely satiating kinda feel to the complete aspect of competitions, the zeal and the excitement that is built both around the events that take place in the book as well as those which transpire on a parallel note in the lives of Harry and all others in this one.
The Story: As It Proceeds
So, at the beginning of this one, fans of Harry Potter are in for a real treat. The Quidditch World Cup which is a huge event marks the start of the fourth book, by which time we have more than comfortably settled down happily with the fact that yes, Harry is not alone and has Sirius to look up to, since he happens to be Harry's Godfather.
Whilst the appearance of the Dark Mark makes things balmy and dark for wizards all over, Harry, Ron and Hermione are busy trying to settle in their new year, what with the arrival of "guests" from abroad at Hogwarts, who signify the conglomeration to the hosting of an event, namely the Triwizard Championship, by Hogwarts, an event as prestigious and revered as it is dangerous and daunting.
Related:
With Harry and his friends simply enjoying and wondering about who will be chosen as the Hogwarts champion (thanks to Dumbledore's age line, they cannot enter as they are not of age, you see), things take a strange turn as Harry's name comes out of the Goblet citing him to be a Triwizard champion.
Will Harry be able to take up this "forced" set of tasks and prove his mettle and capture the cup? Or will it fall prey to a presumably sinister plot designed to maliciously execute nefarious designs 'unspeakable'? Read the book to find out more.
My Musing
To begin with, reading about Quidditch, for me at least was one of the high points of the book. I know you guys will be like ow, come on it's just Quidditch. But trust me, for true HP fans Quidditch is not a game, it is an emotion. So naturally, for me, the book scored a one up solely on the presence of the game alone. I tell you I swear I could hear "Troy, Mullet, Moran" in a non-stop drum roll over and over in my read once I read this one.
Proceeding forward, with the introduction of several new characters, some for the benefit of the story moving forward, this was actually an enjoyable read. Mad eye moody was intimidating whereas Madam Maxime was "strange", not to forget Karkaroff who was "secretive" Each character added a quotient of a new emotion, a new intrigue, a completely new colour to the canvas. There was Krum who was that ideal, world-class, famous persona whilst there was Fleur Delacour who was all beauty but not as sharp brains, I felt.
The tasks portrayed throughout were absolutely spellbinding, ranging from dangerous to downright you know what… To read them was an absolutely enthralling experience and J K Rowling ensured that she put across the plot in a manner where one would feel as if they were watching everything being a spectator along the sidelines, thanks to her amazing, illustrative and captivating depictions.
I mean I for one, literally could taste raw fear when Harry faced the Hungarian Horntail peeps!!
As we proceed along with the dangerous tasks, it was obvious there is more to the whole thing than what meets the eye. A stellar communion of entertainment and intrigue with purpose, not to forget amazingly illustrative details is what makes this one a cut above the rest. As we move towards the climax, one realizes what actually has been building all along and that for me was another high point. But no spoilers on that one for now.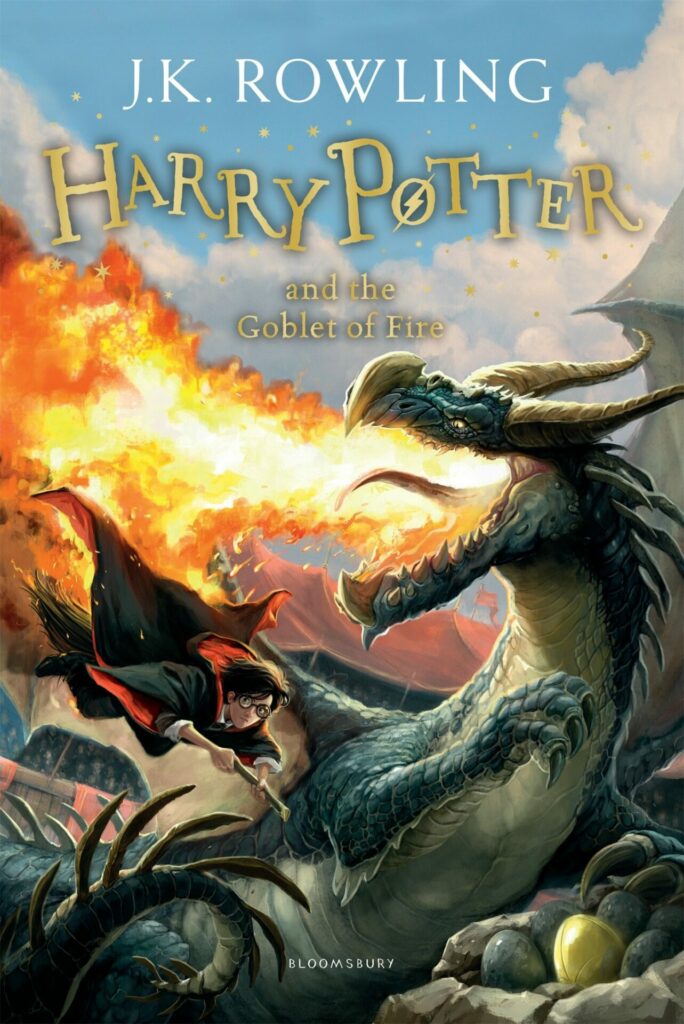 Overall, this is one Harry Potter book that you are bound to enjoy completely as it happens to have the right balance of excitement, suspense as well as emotion attached to it. Rowling scores a super with this one as she has managed to bring forth many of those high points of academia and school life which surely make up for vital moral teaching. As Hermione rightly puts it, the whole point of the tournament is International magical cooperation, for me, the whole point of the book was much more beyond proceeding with the usual story. It was also about character building, moral teaching, the simple and innocent daily little happenings of school life as well as a plethora of a fun-filled rigmarole full of surprises, some shocking yet satiating.
Conclusion
One of the best possible books I have read so far and also surely one of the most enjoyed titles from the Harry Potter series. A roller coaster of fun, learning and lithe story building this one is surely one to be adorning the shelves of all Potter heads for aeons of time.
So, this was my book review of Harry Potter And The Goblet Of Fire for you. Hope you liked this one. Do let us know In the comments below which other blogs you would like us to get for you and we here at Booxoul, one of India's best book blogs for lifestyle, travel, entertainment as well as all things bookish would be glad to get them for you.
I'm participating in #BlogchatterA2Z Challenge.
Get your Book Reviewed by Booxoul, one of India's top book review blogs – Connect us Now.
Booxoul, your haven for books and all things bookish!!
Taddaaa !!