Book Review of Lulla Bai: La La Lala Lori By Anuj Tikku
Lulla Bai: La La Lala Lori
Summary
Shanta Bai ! is an old woman now in her mid-fifties her greatest tragedy was that she could not bear any children she was clinically barren with a cyst on her ovaries and a twisted fallopian tube, and she was told that she could never have children. Her Husband a Kirana Shop owner Gagan Bhai kicked her out of the house and her in-laws torchiere her because she could not bear children. To fend for herself she becomes a babysitter in a housing complex where she babysits for working couples. She finds employment in the Sharma family household. Dr. Sushil Sharma is a renowned dentist and his wife Sujata Sharma works as a primary school teacher in the local Loyola Convent. They have a one-year-old toddler a daughter called Guddi, she is Shanta Bai's first victim as she throws her into a washing machine and kills her. Shanta Bai claims it was an accident and is kicked out by the grieving family.
"Loss and despair fuel fires rekindling the evil inside one worse than even failure and accomplishments."-Anon.
Indeed, despair and sadness are 2 major driving forces that can turn a person from human to something else. They are driving forces which can not only turn someone evil but make them so dastardly and inhuman that it becomes challenging to reform them back to humanity after a point. We, humans, are made up of both the negative traits as well as the positive forces that make our confluence to a complete totality, in balance and harmony with the Universe. If any external forces decide to disrupt these forces, the result is nothing but a horrible travesty of humanity.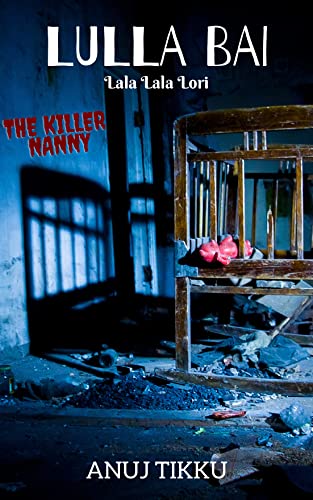 I finished reading this book. To be honest, getting to the descriptions a bit later, here is a tale which shows the melancholy of the dark side of our nature, of despair and loss having gone astray. For starters, here is a writing which is absolutely the one to give you a melancholic, toxic kind of feel as the plot is gory to the point of emotional triggering. Targeting small toddlers as sacrifice and bait in exchange for one's personal sadness and despair is a psychological premise which is deeply unsettling and disturbing at the same time. The story of Shanta Bai progressing towards the dark, uncanny side of her psychology and turning into a killer, targeting small infants is something that can surely be a difficult premise for many to peruse. Shanta who is childless is fed up with the constant bickering of her in-laws and society decides to move out and find a job as a nanny. As we proceed, we realize this is but a ruse and the real reason she has drifted away is to give fuel to her own devilish secret motives which are as barbaric as they are bestial. Murdering them serially, she moves from one job to another, distressed and unsatisfied with but one thing she does not have a child of her own and she deserves to have one which is possible through an advanced medical procedure such as IVF. But, due to financial constraints, she is unable to do the same. She even proceeds to kidnap a high-profile Minister's toddler to demand money for the same. Whether she succeeds or not, read the book to find out more.
As far as the plot goes, it is surely an emotional trigger as it shows a dark, unsought side of human nature. Shanta's character is as spooky and unsettling as it is stark real and brutal. Albeit, I strongly felt the writing needed a very strong bit of editing as far as the grammar, tonality and other syntax were concerned. Anuj would have done way better to get it edited by a good editor for a more refined and crisp version of the book. Also, the details of each murder of every toddler make up for a daunting read which can be unsettling and triggering for many.
As far as character development goes, Shanta Bai as Meera as well as Mary is a scary portrayal. Also, Inspector Suraj, as well as Zen's character, are relatable enough.
A strong story albeit one requiring sprucing up and a good bit of editing.
Related:

So, hope you guys liked this review of Lulla Bai by Anuj Tikku. Do let me know in the comments below which other crime fiction books you guys have read recently and how was your experience. Stay tuned for the best in the field of entertainment, finance, travel, food, fashion, lifestyle, tech and gadgets as well as all things bookish. Only here at Booxoul, India's best book review and lifestyle website.
Adios Amigos!