Pushpa: The Rise Film Review – How Prime Video's Big Flick That Surpassed Bahubali's Collection Failed To Meet My Expectations
Hola folks, what have you guys been doing this wonderful week? Well, to be honest, a nip in the weather, a chill in the temperature always calls for a good movie and hot chocolate. For me, this is completely synonymous with quality family time. Sunday nights at our place are usually a big, fuzzy get together with all of us indulging in what we call "Maa ke haath ka khaana" and a movie to follow which seems to have embedded as a routine, more so in the new 'normal'.
So, this weekend we decided to catch up on Amazon Prime Video's latest movie which is creating waves across and decided to see what the hype actually was all about. So here I am, with the Film review of Pushpa: The Rise, as usual giving you the best of my spicy bits of gossip along with the key pointers I happened to notice.
To be honest, I was disappointed. Agreed, the movie was released last month and still continues to score big at the box office, thanks to Allu Arjun's stupendous performance as Pushpa and all other facts which have made it a rage. However, I had certain qualms and objections to the whole thing which is why I chose to give critical feedback on this film review of Pushpa: The rise, one of the most hyped movies of 2021. Hmm, I know you guys are gonna be like come on, a superb mix of larger than life characters, superb action, fabulous tracks- all these are ingredients of success. But, you know what? Sometimes, some things just don't click ya. Be it bawdy extensions to an unnecessary romance or action which can be more intimidating instead of being gory. Agree, there is something really endearing about Allu Arjun, who is a rage in South India (not to forget one of the highest-paid actors as well). But, I frankly was disappointed. Yes, indeed, because I did not only want to see him fight, dance and cross sandalwood forests with an axe, I wanted much more extricated out of this powerhouse of talent.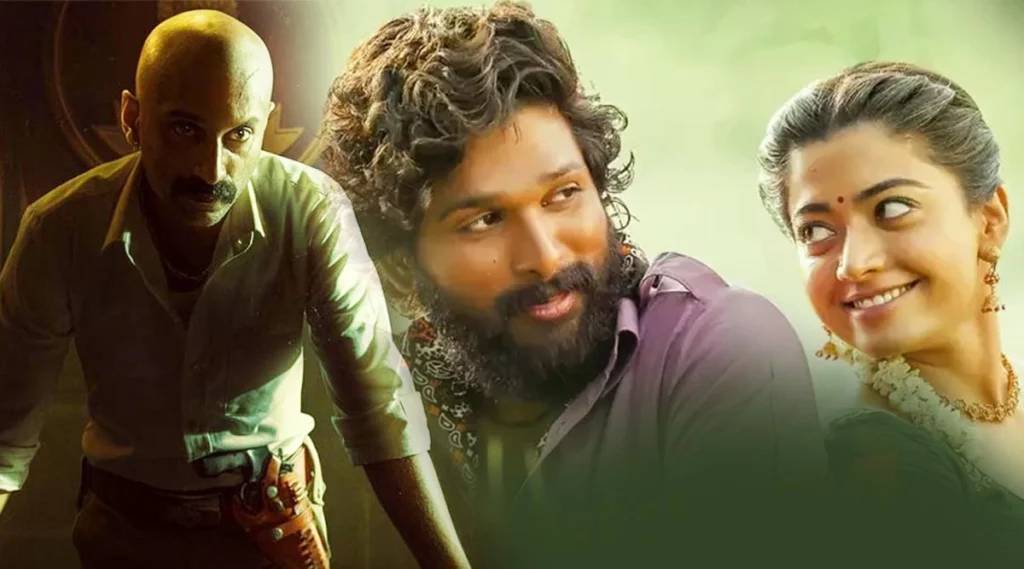 For starters, I was highly uncomfortable with the sensationalizing of quite a few aspects, be it romance or even the depiction of criminal gore, in some sequences. Agreed, they were put there to provide a breakthrough punch and make it nail-biting and gripping but I strongly felt that such a portrayal was something surely you cannot categorize to be a familial watch. Also cumbersome was the somewhat predictable love track between Allu and Rashmika). True they were simply trying to build upon the romantic content, I felt the lecherousness was uncalled for and could have been skipped, what with good cinematography and peppy music. With such good tracks like Srivalli which are genuinely hummable and melodious, what then is the need to simply give the complete love angle such an obscene, indecent kind of a verbal tete a tete? Why drop the bar so low? That too for something of this kind of a stature? I mean Pushpa: The rise is a huge grosser as well as a heavy production as far as budget goes.
Is it so important that such inappropriate content be always used in spite of having a good storyline and cast? Wouldn't it be better had they concentrated a bit more on say pulling off the same in a more subtle, realistic way rather than making it loud and lecherous?
Cut, ditto come to the song Oo Antava. Such a good beauty number but why the bawdiness? True, Samantha Ruth's performance alongside Allu made waves but where did all the decency of the world disappear?
Being released multilingually, Sukumar's movie is surely one with hints of ruggedness and the typical masala, action drama that audiences yearn for at regular intervals. The Chittoor dialect, though a win-win, there are many other facets that seem to make Pushpa fall flat on its face, in spite of the magnanimity and enigma created for the character and his build-up to lead unto the next movie.
With the commonly explored concept of the protagonist being the underdog, Sukumar has used the overly longish run time to simply build up on Pushpa's character which is presumably because he wished to do so in order to establish him out in line with the next in the series. Had he shortened the movie a bit in this regard, say by half an hour maybe and try to cut down on the unnecessary, forced and out of place romance depicted between Allu and Rashmika, this would have been a much better, crispier watch. Not to forget the fact that Rashmika's talent is, unfortunately, more than wasted in this one as there is just nothing for her to do in this one except maybe add to the glamour quotient (Sigh, did I mention lewdness?)
Although the VFX, editing and background score have been worked upon meticulously, I felt that one cannot deny the fact that there surely is some amount of haphazard compilation which is probably because the makers were apparently in a big rush to release it.
The music is good and certain tracks have surely become chartbusters. Oo Antava is one item number that is going to be on the charts for a long, a sure crowd pleaser and whistleblower, this one.
To be honest, Pushpa rides on the shoulders of Allu, through and through. With his brilliant performance, not to forget some astounding and spellbinding action sequences he is that one actor you simply love to watch for his amazing screen presence. I somehow felt that in spite of starting off with a bang, this one just fizzled out, what with all the hype, especially in the second half where it became cumbersome and draggy.
So, to wrap up the film review, a good movie, but too hyped I feel, one which could have done with a decent bit of editing, not to mention snipping away the raunchy overdose in some parts, making it creepier and saucier in the right way.
So tell me guys how did you like my film Pushpa: The rise? Do you agree with my vantage point?
Do let me know your thoughts in the comments below. Would love to know them.
So, that's it from all of us here at Booxoul today. Do tune in for more exciting content from the world of travel, entertainment, lifestyle and Books.
This blog post is part of the blog challenge 'Blogaberry Dazzle' hosted by Cindy D'Silva and Noor Anand Chawla in collaboration.
Taddaaaa!!